As an organization's first point of contact, front desk receptionists have an important role in providing customers with a positive experience. It is their responsibility to perform administrative tasks and manage customer inquiries efficiently and professionally.
This article will outline front desk receptionist job descriptions to provide insight into what these professionals do on a daily basis.
Responsibilities of a Front Desk Receptionist
A Front Desk Receptionist is responsible for a wide array of duties and services to ensure the smooth running of an office or company. Some of the key responsibilities of a front desk receptionist are explained below:
Greeting Customers
The receptionist must maintain a professional attitude and welcome customers as they enter the office, providing appropriate customer service.
Maintaining Reception Area
A receptionist should keep their work area clean and organized at all times. They must also maintain necessary equipment such as computers, phones, printers, etc.
Answering Calls
An essential part of being a front desk receptionist is answering incoming calls in a friendly manner and directing them accordingly. This includes handling inquiries about services, products, and other matters related to the company.
Scheduling Appointments
It's important for a receptionist to be able to efficiently manage appointments, considering time constraints while delivering excellent customer service.
Assisting Visitors
The receptionist should always have information available regarding visitors or personnel who need assistance within the office.
Data Entry
Data entry tasks are often assigned to the receptionist, which involves entering customer data into databases and other software programs.
Excellent Customer Service Skills
As the face of the company, it's essential that a receptionist provides the best possible customer service with every interaction.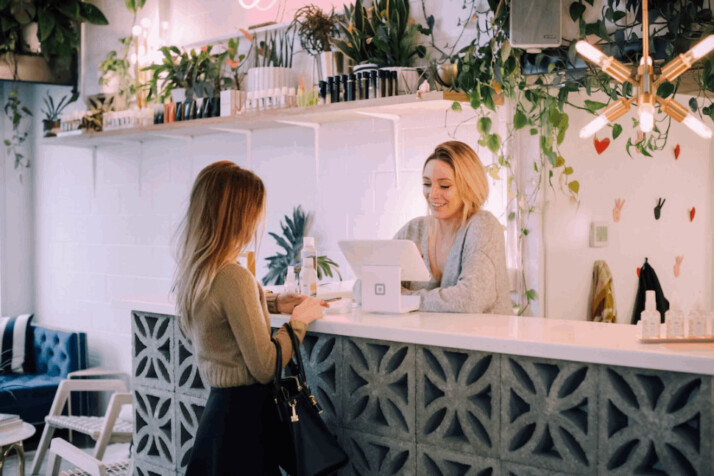 Skills and Qualities of a Front Desk Receptionist
Let's look at some of the essential skills and qualities that employers look for in a front desk receptionist:
Professional, friendly demeanor and excellent communication skills
Discretion with confidential information
Thorough knowledge of organizational systems and processes
Ability to multitask effectively
Proficiency in computer programs such as Microsoft Office Suite and scheduling software
Competent in various administrative tasks, including filing, faxing, photocopying, data entry, and record keeping
Proactive problem-solving abilities and efficient resolution of customer inquiries
Time management and organizational skills for prioritizing requests from visitors and colleagues
Attention to detail for accuracy when logging guest entries
Adherence to established protocols and procedures
Front Desk Receptionist Job Descriptions Example
Below are two examples of front desk receptionist job descriptions that will help you understand the requirements of this position:
Example 1:
We are looking for an experienced and reliable Front Desk Receptionist to join our team. In this role, you will be the first point of contact for visitors, providing a warm and welcoming environment while also managing administrative tasks. You should have excellent interpersonal skills and be well-organized and detail-oriented.
Responsibilities:
Greet guests and answer incoming calls politely and professionally
Manage appointment scheduling and calendar management
Handle administrative duties such as filing documents and data entry
Assist with organizing meetings, events, and conferences
Maintain reception area cleanliness and organization
Skills & Qualifications:
High school diploma or equivalent
Excellent communication and customer service skills
Ability to multitask and prioritize tasks effectively
Knowledgeable in Microsoft Office programs (Word, Excel, Outlook)
Familiarity with office equipment such as printers and copiers
At our company, we value collaboration, innovation, and professionalism. We offer competitive salaries, great benefits packages, and career growth opportunities. If you think you have what it takes to fill this vital position, apply now!
Example 2:
A fantastic opportunity has arisen for a front desk receptionist to join our team! We are looking for someone with experience in providing excellent customer service and an enthusiastic approach to their work.
Responsibilities:
Welcome visitors warmly and offer them refreshments
Answer all incoming calls professionally, efficiently directing the caller to the appropriate personnel
Assist colleagues with administrative duties as requested
Monitor office supplies inventory and place orders when necessary
Collect mail/courier packages and distribute them accordingly
Coordinate boardroom bookings and catering arrangements
Skills & Qualities:
Excellent interpersonal skills with a friendly demeanor
Ability to multitask and prioritize tasks effectively
Confident in handling cash and credit card transactions
Highly organized with strong attention to detail
Proficient in using Microsoft Office applications
Culture & Benefits: Our company is committed to creating a positive work environment that encourages collaboration, creativity, and growth opportunities. In return for your hard work, you can enjoy competitive benefits, including paid time off and a bonus system. Apply now and become part of this dynamic team!
Conclusion
The role of the front desk receptionist is critical for any business. It requires a person who is organized, reliable, and capable of multitasking to ensure customers receive exceptional service.
By taking on this responsibility, the receptionist will ensure visitors have an enjoyable experience as they come in contact with your company. With the right qualifications, attitude, and commitment to excellent customer service, this job can be gratifying and fulfilling.
Explore All
Write Job Descriptions Articles