A Human Resources officer is an invaluable asset for any organization, ensuring their success by effectively managing their staff. From hiring and firing employees to providing a safe working environment, they are crucial for developing strategies for nurturing and retaining the best talents.
This free Human Resources officer job description guide provides a comprehensive overview of the responsibilities and requirements of this essential role.
What Are the Responsibilities of an HR Officer?
An HR officer is an essential component of any successful organization. They play a pivotal role in the development and implementation of long-term strategies for excellent staffing.
Ensure Proper Staff Management
The primary responsibility of an HR officer is to ensure that employees are well-managed, efficient and productive within their roles. They do this by developing and implementing effective human resource plans that encompass hiring, firing, performance evaluation and salary increases.
To fulfill this duty, HR officers must be knowledgeable about legal requirements concerning the employment process, such as health insurance and minimum wage regulations. They also need to stay informed on current trends in labor markets in order to attract high-quality applicants who will strengthen the workforce.
Act As Intermediaries Between Staff and Management
HR officers also act as liaisons between employees and management by responding to requests or complaints regarding workplace conditions or pay. In some cases, they may also provide mentorship opportunities to help foster career development among staff members.
Additionally, they often manage employee benefits programs such as vacation time, sick days and bonuses, ensuring compliance with corporate policies.
Mitigate Risks
Another major area of responsibility for HR officers is risk mitigation. They must identify potential safety hazards or security breaches which could compromise the success of the business.
Through regular safety audits and putting procedures into place to protect confidential information, they can mitigate risks associated with employees' negligence or malicious intent.
Monitor Workplace Dynamics
Finally, HR officers also monitor workplace dynamics to ensure there are no instances of discrimination or harassment in the office environment.
They do this through informal check-ins with employees and formal reviews of relevant documents such as attendance records and disciplinary actions taken against violators. It is important for these professionals to possess excellent communication skills since they will be interacting frequently with managers and colleagues alike.
Human Resources Officer Job Description Samples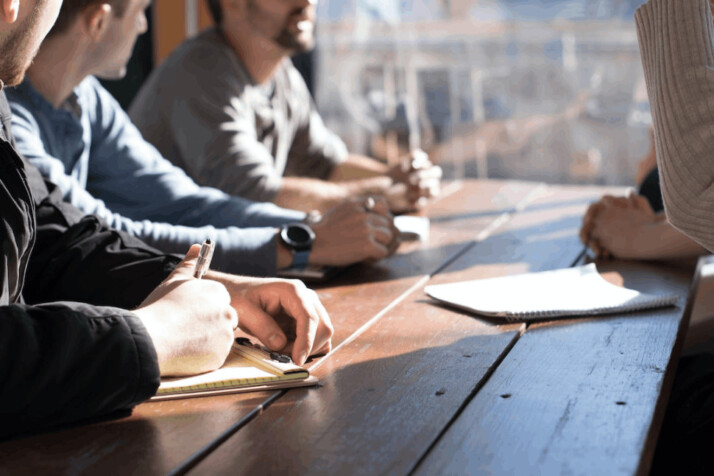 If you need a well-written example of a Human Resources officer job description, you will find it here.
Template 1
We are looking for an experienced Human Resources officer to join our dynamic and fast-paced team. The ideal candidate will have at least five years of experience in HR, including three years of experience in recruitment and staff training.
The HR officer must possess excellent communication skills, both verbal and written, with the ability to communicate with colleagues from various backgrounds and disciplines. A good understanding of relevant legislation and current best practices is essential. You must be able to multitask while also ensuring that all documentation and procedures are accurately maintained and kept up-to-date.
Responsibilities:
Develop and implement effective HR strategies to meet organizational objectives.
Manage employee recruitment processes by posting job advertisements, shortlisting suitable candidates, arranging interviews, making offers, etc.
Review resumes, conduct background checks, reference verifications and drug tests.
Monitor staff performance, provide feedback, and evaluates results regularly.
Maintain accurate records related to staffing, such as time sheets, attendance records, and payroll information.
Evaluate and recommend changes to existing HR procedures.
Provide guidance on legal issues regarding employees' rights.
Ensure compliance with labor regulations and applicable laws.
Negotiate terms of employment contracts.
Administer compensation and benefits packages.
Requirements:
Bachelor's degree in Human Resources Management or equivalent qualifications
Proven work experience as a Human Resources Officer for at least five years
Knowledge of common HR systems and databases
Excellent knowledge of Labor Law and other related regulations
Outstanding organizational and multitasking abilities
Proficiency in MS Office applications (Word, Excel)
Ability to relate to people at all levels within the company
Strong interpersonal skills with an aptitude for problem-solving
Positive attitude and ability to stay calm under pressure
Template 2
We are seeking an experienced Human Resources officer to join our team and help us navigate the ever-changing needs of a growing business. This is an exciting opportunity for a motivated professional who is passionate about fostering employee development and organizational excellence.
Duties and Responsibilities:
Assist in developing strategies and programs that support the employer's overall objectives
Analyze trends in personnel matters, such as turnover, recruitment, and training requirements
Plan and administer all personnel functions, including recruiting, hiring, disciplinary actions, salary administration, benefits, staff performance evaluations, employee relations, orientation and training
Design job postings and other documents related to personnel management
Prepare and maintain employee handbook outlining company policies and procedures.
Monitor and track current information on federal and state labor laws and regulations
Ensure compliance with applicable laws
Maintain knowledge of industry trends and employment legislation
Develop or recommend innovative approaches to improve personnel processes or reduce costs
Organize educational activities for employees and employers' representatives to increase their understanding of human resources topics
Requirements:
Bachelor's degree in Human Resources Management or equivalent field
Proven experience working in the Human Resources department
Excellent problem-solving and communication skills
Ability to establish rapport with colleagues quickly
Knowledge of payroll principles
Working knowledge of MS Office suite (Word, Excel)
Understanding of legal aspects related to HRM
Familiarity with record-keeping practices and filing systems
Final Thoughts
An HR officer is an integral part of any organization, tasked with facilitating essential processes such as recruitment, onboarding, benefits administration, and employee engagement. This position requires a broad range of skills. Thus, writing a comprehensive job description is crucial.
Explore All
Write Job Descriptions Articles