Bakers play a vital role in the culinary industry, providing us with delicious breads, pastries, cakes, and more. Producing these baked goods requires skill, creativity, and passion, which is why having a clear job description for baker is so essential. A good baker must know excellent baking techniques and recipes, from mixing ingredients to glazing finished products.
An overview of what a baker must do and the requirements associated with the career will be presented in this article. A baker must work quickly and accurately while paying attention to detail.
To do this effectively, bakers should possess strong organizational skills and be comfortable working under pressure. Also, excellent customer service skills are essential for success.
Who Is a Baker?
A baker is a culinary craftsman who specializes in preparing and baking an assortment of sweet or savory goods. Bakers may create cakes, pies, cookies, breads, muffins, pastries, doughnuts, croissants, and more. In addition to baking these delectable treats, they also decorate them with intricate designs.
Bakers spend long hours learning advanced techniques and trying out different ingredients and flavors to create unique products that delight their customers. In some cases, they may be involved in developing new recipes and products.
Furthermore, many bakers take pride in creating works of art using only simple tools such as molds, icing bags, and colored sugar. A career as a baker can be gratifying for those with an artistic eye, technical skill, and an undying passion for cooking.
Duties & Responsibilities of a Baker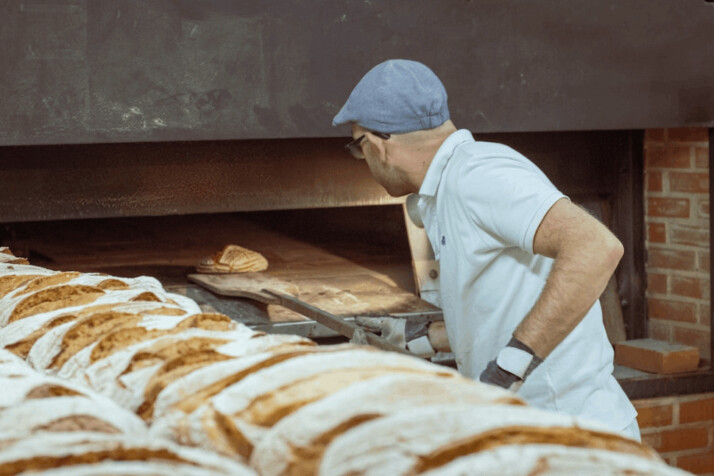 Baking is an art, a craft, and a science. As such, being a baker requires creativity, attention to detail, and technical skill.
A good baker should take pride in their work and ensure that each product meets customer expectations. Below are some of the duties and responsibilities of a professional baker:
Prepare batters and dough for cakes, cookies, pastries, breads, and other baked goods according to recipes or special customer requests.
Mix ingredients by hand or using electric mixers, blenders, and other equipment.
Monitor oven temperature, baking times, and textures to ensure consistent quality.
Monitor product quality. Bakers inspect their finished products regularly to ensure they meet standards for flavor, texture, appearance, and safety.
Decorate finished products as required, including frosting cakes and piping decorative designs.
Design custom cakes and pastries based on customer requests and specifications.
Operate cash registers and process customer payments accurately.
Keep accurate records of inventory, orders, and production levels.
Train new staff members in the correct operation of bakery equipment and techniques for producing quality baked goods.
Follow strict hygiene standards when handling food items and adhere to health department regulations regarding food safety.
Maintain cleanliness of all kitchen and dining room areas during service hours.
Skills and Requirements for a Baker
To become an excellent baker, some fundamental skills must be mastered. Some of these skills include:
Comprehensive Knowledge of Baking Techniques
A proficient baker needs to have a comprehensive understanding of how various dough work together and an ability to create unique flavors.
Creativity
A good baker must be creative, trying out new recipes, approaches, and methods that are both rewarding and fun. A good baker will improve their craft over time by utilizing new ingredients and techniques and studying how to make pastries more precisely.
How to Write an Excellent Job Description for Baker
Writing an excellent job description for a baker is no easy feat. It requires knowledge of the specific duties and responsibilities of the position and creativity to make sure the description stands out from other postings.
Below are some tips to help you write an effective and engaging job description that will attract the best candidates.
Establish Clear Goals
Clearly define what success looks like for the role so that potential applicants know what it takes to excel in this position.
Explain Required Duties
Outline all essential duties and tasks that a successful applicant must be able to perform. This could include baking goods on schedule, managing inventory, and keeping up with cleaning and sanitation standards.
Articulate Preferred Qualifications
Specify any qualifications or experience that would give a candidate an advantage when applying. Make sure to communicate these preferred qualifications, so applicants can determine if they meet them.
Be Specific About Workplace Culture
Describe your company's work environment, including hours and days worked, attire requirements, and safety protocols.
Provide an Overview of Benefits
Potential hires often consider benefits before taking a job, so don't forget to list any competitive benefits packages available to employees at your company.
Include Your Company Logo
To add a professional touch to your job listing, include your company logo at the top or bottom of the page. This helps boost brand recognition and attract more qualified applicants.
Use Creative Language
Use creative language to describe the job opening and attract people who may not consider applying.
Proofread Carefully
Before publishing your job description, proofread carefully for errors or typos that could affect how interested candidates view your company's professionalism.
Consider Relevant Keywords
Using industry-specific keywords throughout your job description can ensure your job description reaches the right target audience.
End With a Call-to-Action
A call-to-action can encourage potential bakers to apply or ask – even if it's just to inquire more about the opportunity!
Sample Job Description for Baker
Baker Wanted: Be a Part of Our Delicious Team!
Location: Anywhere, USA
Type: Full-Time
We are looking for an enthusiastic baker to join our delectable team and prepare delicious baked goods. As a baker, you will be in charge of baking all types of pastries and other baked goods according to established recipes. The ideal candidate must possess excellent culinary skills, attention to detail, and the ability to stay organized in a fast-paced environment. If this sounds like you, apply today!
Job Duties
Follow recipes and production standards to create high-quality baked goods such as bread, cookies, cakes, muffins, doughnuts, and other pastries.
Monitor stock levels throughout the day and restock ingredients when necessary.
Ensure that equipment is adequately cleaned and maintained regularly.
Provide exceptional customer service while taking orders or answering questions.
Work with supervisors to create new recipes based on seasonal products and trends.
Oversee proper food safety procedures at all times.
Qualifications
Bakery or pastry chef experience is preferred.
Ability to adhere to established baking recipes and instructions.
Proficiency with standard kitchen equipment.
Excellent organizational and multitasking abilities.
Outstanding customer service skills.
Capacity to work nights and weekends as needed.
If you're passionate about baking and have the qualifications we're seeking, don't wait – apply now! We'd love to have you as part of our savory team.
Conclusion
A job description communicates the responsibilities and expectations of a job role, ensuring that both parties are on the same page.
With a well-written job description, companies can provide job applicants with a clear picture of the job and the skills required.
Explore All
Write Job Descriptions Articles