A construction project manager is a key role in any construction project. The individual essentially oversees every aspect of the construction project. Therefore, writing a job description for construction project manager role requires thoughtful consideration.
This article makes your work easier as it details the duties and responsibilities of a construction project manager. In addition, it includes some well-written examples of job descriptions for construction project manager roles.
Duties of a Construction Project Manager
A construction project manager is an integral part of any successful building endeavor. They are responsible for overseeing the entire process from start to finish. In doing this, they ensure that all necessary tasks and objectives are met in a timely manner.
This includes staying on top of budgets, scheduling, manpower needs, materials procurement, and other important aspects of the job.
Coordinating Operations
The primary duty of a construction project manager is to coordinate and manage the day-to-day operations of the project. This means they must remain highly organized and have a firm grasp on the progress being made at each stage of the project. It also entails delegating tasks to team members and making sure everyone is aware of their duties and responsibilities.
Additionally, they need to be able to make decisions quickly while keeping quality and safety in mind.
Liaising Between Clients and Contractors
A construction project manager will also act as a liaison between contractors, suppliers, and clients. They regularly communicate with them to ensure deadlines are met, and expectations are exceeded. In addition to leading meetings about project updates and reviews, they may also be required to provide feedback on designs or drawings. They need to attend site visits and inspections and arrange for permits and licenses where needed.
Budgeting
Another responsibility of a construction project manager is to ensure the accurate cost of materials and equipment used during the course of the project. This requires strong financial management skills as well as a deep understanding of what constitutes realistic cost estimates versus actual costs incurred.
They must also monitor changes or delays that could affect the budget and find ways to mitigate potential losses.
Qualities of a Good Construction Project Manager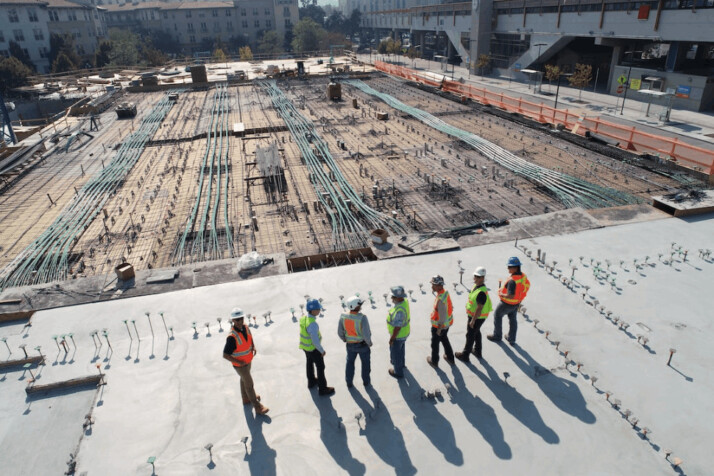 Construction project managers need certain attributes to succeed. Let's check these attributes.
Problem-Solving
It's essential for a construction project manager to have excellent problem-solving abilities in order to identify issues before they become major problems. From personnel conflicts to unexpected events, they need to know how to effectively manage these issues with minimal disruption to timelines and overall workflows.
Communication Skills
A construction project manager works with different stakeholders. They should be able to maintain open communication with all stakeholders throughout the duration of the project. This means they should be able to address any questions or concerns promptly.
Attention to Detail
A construction project manager is like the glue that holds several parts together on a project. This is why it is important for them to pay attention to detail. They must be able to identify discrepancies that could derail the project or hold it up.
A construction project manager has numerous roles and responsibilities related to the success of a building project. With effective planning, attention to detail, and great problem-solving skills, construction project managers keep everything running smoothly from beginning to end.
Examples of Job Descriptions for Construction Project Managers
What does a well-written job description for construction project manager look like? You will find the answer to this question below.
Job Description for Construction Project Manager 1
We are looking for a highly experienced Construction Project Manager to handle our projects. The successful candidate must have excellent knowledge of engineering and project management. They will be responsible for ensuring that all tasks assigned to them are completed on time, within budget, and to an acceptable quality standard.
The ideal applicant should have at least five years of professional experience in the field and possess strong organizational, interpersonal, problem-solving and communication skills. They must also be capable of managing multiple projects simultaneously and reporting back with detailed progress reports.
Duties & Responsibilities:
Developing project plans from inception to completion
Overseeing design work and making sure it meets standards
Establishing budgets and timelines for construction
Working closely with engineers, architects, contractors, subcontractors, clients, etc.
Inspecting sites regularly to ensure compliance with safety regulations and high-quality results
Preparing weekly reports detailing costs, schedules, issues encountered, and solutions implemented
Liaising between teams, vendors and stakeholders
Ensuring projects meet their goals on time and within budget
Qualifications & Requirements:
Bachelor's degree in Engineering or a related field
Proven track record of successfully leading large-scale construction projects
Extensive knowledge of building techniques, materials and processes
Ability to solve problems creatively while maintaining quality control
Excellent understanding of local building codes and safety regulations
Computer-literate with working knowledge of relevant software such as MS Office Suite
Highly organized with superior attention to detail
Strong verbal and written communication skills
Job Description for Construction Project Manager 2
We are looking for highly experienced Construction Project Managers to join our fast-paced and high-performing team. The successful candidates will have an engineering background with at least five years of experience in the construction sector.
The main responsibilities include project planning, scheduling, cost control and client liaison. Successful applicants will also lead site activities to ensure that projects are completed on time and within budget. A good understanding of building regulations is also essential.
You must demonstrate excellent communication skills, both verbal and written. Also, you must possess strong leadership qualities coupled with great problem-solving abilities. The ideal candidate should be adept at managing multiple tasks, prioritizing work and meeting tight deadlines. Attention to detail and accuracy is paramount when creating reports and documentation.
Qualifications:
A degree or equivalent qualification in Engineering (preferably Civil/ Structural)
At least five years of experience in the construction industry
Knowledge of relevant health & safety legislation
Familiarity with AutoCAD or similar software
Excellent communicator with excellent organizational and project management skills.
Ability to assess risk and make difficult decisions quickly
Willingness to travel to other sites occasionally
Wrapping Up
Hiring a qualified construction project manager can prove to be a masterstroke. Deploying a qualified and experienced construction project manager will save you money in the long run. In addition, it will improve your chances of a timely and successful project.
Explore All
Write Job Descriptions Articles