Chefs are the masterminds behind every great meal. Great chefs have an unbelievable passion for food, which drives them to make mouthwatering dishes. Behind every appealing and delicious dish is a truly amazing chef — but finding the right chef can be challenging.
If you own a food-serving establishment, you'll want to hire a world-class chef that will satisfy your customers with savory dishes. Crafting a great job description of a chef is the first step to hiring the best candidate.
As an individual seeking a job as a chef, you'll need to brace yourself for the responsibilities of the position. A job description ensures that prospective employees are clear on the expectations and responsibilities of the position.
This allows for a common understanding between the employer and employees. This article highlights the specifics of a job description of a chef.
Who is a Chef?
A chef is a professional cook proficient in all aspects of food preparation. They are employed in restaurants, homes, or other food-serving establishments.
Chefs are responsible for creating menus, ordering supplies, overseeing food preparation and presentation, and managing kitchen staff. In some cases, chefs may also be responsible for managing the business side of a restaurant, such as budgeting and pricing menu items.
Job Description of A Chef: Duties and Responsibilities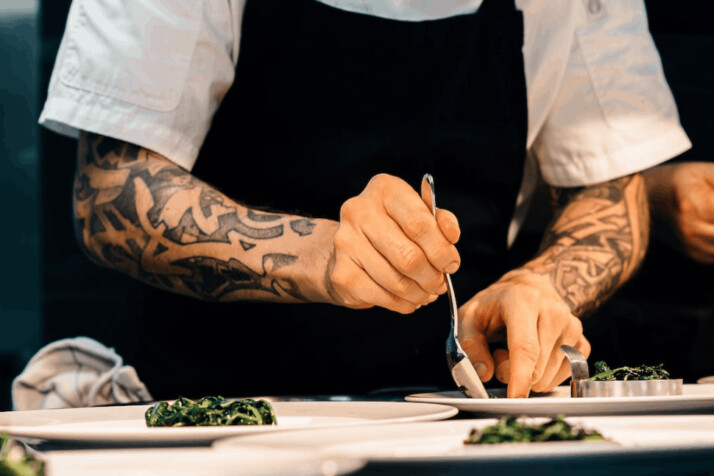 The duties and responsibilities of a good chef may include the following:
Planning and creating menus.
Managing the kitchen staff, including hiring and training new employees.
Ordering and purchasing food and kitchen supplies.
Managing the budget for the kitchen.
Ensuring food is prepared and presented to the highest standards.
Maintaining a clean and organized kitchen.
Managing and maintaining kitchen equipment.
Ensuring that all kitchen staff follows food safety and hygiene regulations.
Managing food and labor costs to ensure the restaurant is profitable.
Creating new and innovative dishes to add to the menu.
Managing food inventory and controlling food costs.
Required Skills
A chef's most important skill is the ability to cook delicious meals. They must also be able to present meals attractively.
Other skills that are commonly required for a chef:
An understanding of food, including ingredients, cooking techniques, and food presentation.
Creativity.
Organization skills.
Attention to detail.
Time management skills.
Physical strength.
Great customer service.
Ability to communicate clearly.
Leadership skills.
Ability to adapt to changing situations, such as unexpected ingredient shortages or special requests.
Education and Training Requirement
To become a successful chef, one must have a formal education and training in culinary arts. This training can be obtained through a culinary school program.
Culinary school programs may take two to four years to complete. An apprenticeship is another way to gain education and training to become qualified chefs. Typically, chefs do not receive training on the job. It is expected they already know how to cook and present meals.
The chef apprenticeship program is a great way to receive on-the-job training from an expert chef. Apprenticeships are often sponsored by professional organizations, such as the American Culinary Federation, or by individual chefs or restaurants.
Experience Requirements
The experience required of a chef will typically depend on the employer and the specific position. Most employees require a few years of experience working as a chef.
Salary Range
A chef makes an average of $14 to $23.04 an hour. Chefs receive additional income from tips, which can significantly increase their overall earnings. The salary, however, depends on the location, employer, and chef experience.
Examples of Job Description of a Chef
Example 1
Job Summary
A qualified and experienced chef is required to join the kitchen team of a renowned restaurant. The ideal candidate will be passionate about creating unforgettable guest dining experiences while exceeding customer expectations. This position oversees all restaurant food preparation, presentation, and service activities.
Duties
Develop menus that excite customers by utilizing fresh ingredients and innovative ideas.
Oversee daily kitchen operations, including training new staff members, setting cooking schedules, and supervising junior chefs.
Monitor inventory levels to ensure an adequate supply of ingredients to meet orders placed.
Prepare high-quality dishes according to recipes and presentation standards.
Follow health and safety regulations at all times.
Maintain cleanliness and organization in the kitchen area.
Qualifications
Proven culinary experience as a head or sous chef in a restaurant or similar environment.
Extensive knowledge of various cuisines and cooking techniques.
Ability to work under pressure and meet deadlines.
Excellent organizational skills with strong attention to detail.
Great teamwork and customer service capabilities
Salary
Competitive salary based on experience.
Benefits
Full range of benefits including vacation days, medical insurance, and meal discounts.
Shifts
Flexible shifts are available.
Education/Experience Requirements
Bachelor's degree in Culinary Arts or equivalent; 5+ years of professional experience in a top-tier establishment preferred.
Example 2
Job Summary
A dynamic restaurant is seeking an experienced and enthusiastic Chef to help develop its exciting new menu. The successful candidate will have a comprehensive knowledge of food preparation, management skills, and creative flair. They must be passionate about providing excellent service while ensuring the highest standards of quality and consistency in every dish they produce.
Duties and Responsibilities
Develop innovative and intriguing recipes to tantalize customers' taste buds.
Curate menus according to seasonal ingredients and the latest trends in cuisine.
Maintain a high level of culinary standards by adhering to health and safety regulations.
Hire and supervise kitchen staff, delegating tasks effectively for optimal productivity.
Train other chefs in preparing dishes with precision and attention to detail.
Schedule and oversee meal services from start to finish.
Ensure accurate inventory tracking and ordering of supplies when necessary.
Troubleshoot problems as needed in the course of the shift.
Qualifications
Minimum of 5 years experience as a Chef or similar role in the hospitality industry.
Familiarity with professional cooking techniques and standard kitchen equipment.
Passionate about creating delicious meals using fresh ingredients.
Exceptional organizational skills and time management abilities.
Ability to work calmly under pressure in a fast-paced environment.
Knowledgeable in various regional cuisines and global flavors.
Demonstrated ability to lead and motivate others.
Willingness to stay current with evolving trends in food preparation.
Aptitude for maintaining high sanitation standards.
Salary and Benefits
The Chef position offers competitive wages plus a generous benefits package that includes vacation time, medical insurance, retirement plan options, and more.
Shifts
This is a full-time position requiring shifts that include nights, weekends, and holidays.
Education and Experience Requirements
Bachelor's Degree/Diploma in Culinary Arts/Hospitality Management or equivalent experience required.
Wrapping Up
Beyond serving tasty meals, meals must be a delight to look at – this is what great chefs are great at handling.
Hiring the best chefs in the home, restaurant, or food-serving establishment is crucial. Take the time to create an outstanding job description, and you will land the best candidates.
Explore All
Write Job Descriptions Articles