A personal trainer is more than just someone to count your reps – they are an invaluable partner on your fitness journey. With the right trainer, you can maximize results and reach your goals in record time. And to find the right person for the job, a well-written job description of personal trainer is paramount.
By clearly defining a role, responsibilities, and expectations for trainers, employers can ensure that the people they hire can fulfill their duties effectively. This can also help aspiring personal trainers get to know the role and assess whether they're a good fit.
Who Is Qualified to Be a Personal Trainer?
A personal trainer should be able to provide individualized, comprehensive, and knowledgeable guidance on exercise, nutrition, and lifestyle. To become a successful personal trainer, an individual must possess certain characteristics such as:
Enthusiasm for fitness
Excellent communication skills
Empathy
Physical and mental strength
Dependability
Creativity and good problem-solving capabilities
Employers may also require certifications from accredited organizations that demonstrate mastery of the knowledge required to advise clients on health and fitness goals competently. In addition, being able to inspire, motivate and challenge people are invaluable qualities for those aspiring to be personal trainers.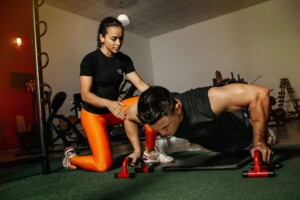 What Does a Personal Trainer Do?
A personal trainer is someone who helps people reach their fitness goals, whether that means building muscle or losing weight.
Good personal trainers go far beyond just teaching exercise techniques. They motivate clients to push themselves further and help them develop healthy habits for long-term success.
A good personal trainer also monitors client progress and designs customized training plans tailored to their needs. No two individuals are alike. By taking into account age, gender, current fitness level, and other factors, the best trainers create workouts that deliver the most effective results.
Other personal trainer tasks include:
Develop customized fitness plans
Monitor client progress
Motivate clients
Teach proper form and technique
Educate about nutrition and supplementation
Provide continual support
Job Description of Personal Trainer Example
We are seeking an experienced and passionate Personal Trainer to join our team. As a key member of our fitness facility, you will help clients achieve their health goals through tailored exercise programs and inspiring motivation.
To be successful in this role, you must possess the knowledge and expertise necessary to guide clients toward success. You'll also need to have a positive attitude and strong interpersonal skills.
Qualifications:
Demonstrated experience as a Personal Trainer or related profession
Extensive knowledge of current fitness techniques and trends
Passionate commitment to helping others improve their physical wellbeing
Outstanding verbal communication and customer service capabilities
Ability to motivate and inspire individuals with different abilities
Certified in CPR and first aid
Diligent adherence to safety protocols and procedures
Responsibilities:
Develop comprehensive training plans for clients according to their individual needs, goals, and abilities
Guide clients through safe and effective workouts while providing feedback on form, technique, and progress
Monitor the client's progress, adjust the program as needed, and provide encouragement when appropriate
Establish rapport and maintain ongoing relationships with existing and new customers
Assist in creating promotional material for marketing campaigns
Ensure all equipment is properly cleaned and maintained
What Makes a Good Personal Trainer?
Ethical leadership: Trainers are expected to provide guidance and direction to clients. A great coach welcomes this responsibility and motivates clients to reach their fitness goals without judgment, discrimination, or dishonesty.
Effective communication: Good trainers must communicate their knowledge clearly and concisely to clients while addressing their concerns.
Assess fitness levels: Being able to assess fitness levels and create appropriate training regimens is crucial to a positive personal training experience.
Weight management & nutrition: Having an in-depth understanding of nutrition and dietary nutrition will differentiate you from other personal trainer candidates.
Exercise science: An extensive collection of exercises is a good thing for fitness coaches to have. They must also understand the science behind exercises such as pre-and post-workout intervals, stretching, proper session length, bodily limits, and so on.
Critical thinking: Almost every client is unique, and trainers will encounter a wide range of fitness journeys. A personal trainer must understand people and find creative ways to maximize their clients' fitness needs.
Final Words
A personal trainer is invaluable to any individual striving for fitness goals. Not only do they provide support and motivation, but they also help you structure your workouts so that you can maximize their effectiveness.
Having a well-defined job description of personal trainer is not just about finding the best fit — it's also about setting expectations and goals. By creating clear objectives and responsibilities, both trainers and clients can be sure they are on the same page regarding delivering results.
Explore All
Write Job Descriptions Articles