Every construction project requires a retinue of workers to handle various tasks. It is important to hire qualified personnel to ensure that the project meets the expectations of the client and the company. This is why job descriptions for construction workers have to be detailed and precise.
Construction workers handle different tasks depending on the specific project. In addition to examples of job descriptions for construction workers, this article explains the duties of construction workers.
What Are the Duties of Construction Workers?
As stated earlier, the specific duty of a construction worker varies from one building project to the other. This section of the article explains some of the most important duties of construction workers.
Erecting Scaffolding
One of the most common responsibilities of construction workers is to erect scaffolding.
Scaffolding is a temporary tower of metal poles and wooden planks that holds workers and materials such as tools, materials, and supplies. Scaffolds are subsequently taken down when they are no longer needed at the work site.
Loading and Unloading Building Materials
Construction workers also help with loading and unloading building materials at the warehouse and construction site. They may also help with heavy lifting and, where necessary, assistance with the maneuvering and use of heavy equipment.
Removing Debris
Construction workers also help with removing debris on the site. They handle general site cleaning and protect the site from unwanted materials, contaminants, and trash.
Examples of Job Descriptions for Construction Workers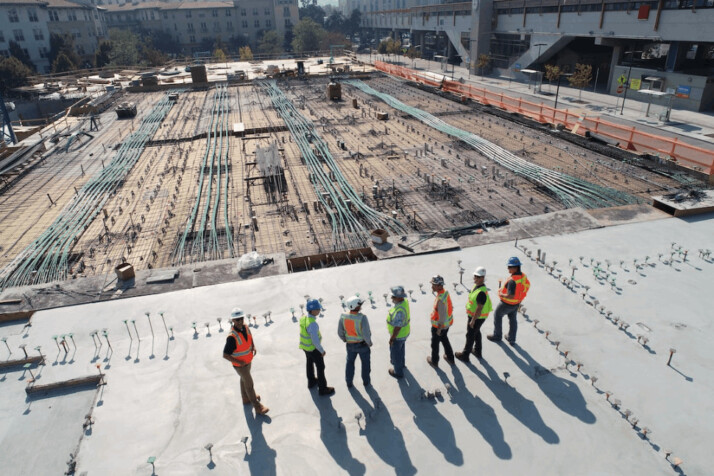 For enhanced clarity, the following job descriptions will show you exactly what your job description for construction worker roles should look like.
Template 1
We are looking for an experienced and hardworking Construction Worker to join our team. The ideal candidate should have a solid understanding of the principles and techniques used in construction work and excellent communication skills.
Responsibilities:
Gather tools and materials required for the job
Maintain the cleanliness and safety of the worksite
Lift, carry and hold building materials or tools
Operate equipment such as electric saws, hammers, drills, etc.
Perform tasks assigned by supervisor/manager
Collaborate with team members to achieve desired results
Evaluate construction plans and make modifications if necessary
Requirements:
High school diploma or equivalent qualification
Previous experience working in a related field
Familiarity with basic power tools
Able to read drawings and blueprints accurately
Aptitude for manual labor and physical stamina
Excellent hand-eye coordination and dexterity
Able to work both independently and collaboratively
A valid driver's license is preferred
Template 2
We are currently looking to hire a Construction Worker for our projects. The successful applicant must have extensive knowledge and experience in the field of construction, such as carpentry, drywall installation, plastering, and other related tasks.
Duties and Responsibilities:
Prepare necessary materials and tools for work activities;
Construct structures following blueprints and instructions provided by the supervisor;
Assemble building components, including windows, walls, doors and flooring;
Clean up the worksite after finishing the job;
Provide suggestions on how to improve project outcome;
Take responsibility for any errors or flaws in their own work.
Requirements:
Proven experience as a construction worker;
Knowledge of various construction methods and procedures;
Good understanding of basic concepts related to construction processes and techniques;
Ability to read and interpret blueprints and plans;
Working knowledge of safety regulations;
Strong hand-eye coordination;
Attention to detail and problem-solving abilities;
Must be able to lift heavy objects when needed.
If you meet all the above requirements and have the desire to succeed in this role, then please apply now! We look forward to hearing from you.
Final Thoughts
The job description should provide a comprehensive picture of what duties are necessary to succeed in the role. This will be based on the type of construction project and the skill set required for that particular construction project. With the examples above, you have well-written templates to guide you.
Explore All
Write Job Descriptions Articles