It goes without saying that having a qualified and competent kitchen manager is indispensable in running a restaurant successfully. A successful kitchen manager will ensure to serve delicious meals while adhering to health regulations and creating an enjoyable working atmosphere. If you're looking to hire a good kitchen manager, then these kitchen manager job descriptions can definitely help you out!
An accurate job description helps to attract high-quality candidates who can effectively fill the role. And by getting to know the role of a kitchen manager, you will have a better idea of the ideal candidate.
What Does a Kitchen Manager Do?
A kitchen manager oversees the day-to-day operations of a restaurant's kitchen. Their tasks range from maintaining a clean and efficient workspace to monitoring food quality and inventory. This role requires an adept individual who thrives under pressure.
The job also entails ensuring that health regulations are followed in the kitchen at all times and managing staff performance. At its core, a kitchen manager needs to have excellent organizational and communication skills with the ability to remain cool under pressure.
Who Is Qualified To Be a Kitchen Manager?
A qualified kitchen manager must possess a myriad of skills and qualifications, ranging from food safety knowledge to resourcefulness in managing staff. The ideal candidate should have an expansive culinary background with experience working in a professional kitchen setting. They should also have a thorough understanding of the safe handling and preparation of different types of cuisine.
In addition to these essential requirements, the individual must also demonstrate exceptional organizational acumen, resiliency under pressure, and attention to detail. An exemplary kitchen manager will be adept at inspiring teamwork while exhibiting sound judgment and unwavering commitment to providing remarkable dining experiences.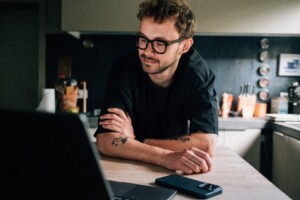 Kitchen Manager Job Descriptions
Example 1
We are looking for a passionate and experienced Kitchen Manager to join our team! The ideal candidate should have an expert understanding of kitchen operations, staff management, as well as menu planning and execution. They must possess excellent interpersonal communication skills and the ability to multitask in a fast-paced work environment.
A successful Kitchen Manager will be responsible for overseeing all food preparation processes and ensuring safety standards are met. Additionally, they will train and manage kitchen personnel, develop new recipes and techniques, supervise inventory, and coordinate with front-of-house staff.
Qualifications:
Extensive experience working in a professional kitchen
Familiarity with HACCP regulations
Good leadership and organizational skills
Culinary degree or similar certification
Excellent knowledge of cooking methods and procedures
Strong problem-solving abilities
Outstanding customer service orientation
Responsibilities:
Maintain food quality standards by monitoring product freshness and ingredients
Hire, train, and supervise kitchen personnel
Create menus and track daily sales performance
Maintain efficient kitchen operations by setting schedules, assigning tasks, and managing resources
Ensure compliance with health and safety guidelines
Control labor costs and minimize waste
Troubleshoot problems promptly to ensure customer satisfaction
Example 2
A Kitchen Manager is responsible for the daily operations of a kitchen. They must have immense knowledge of culinary practices, cuisine styles, and food safety standards. This position requires excellent communication skills, managerial experience, and leadership qualities. The ideal candidate will be highly organized, able to manage their time well, maintain accurate inventories, and supervise employees in a fast-paced environment.
Qualifications:
At least 3 years of professional cooking experience
Bachelor's degree in Culinary Arts or related field preferred
Hands-on supervisory experience with a minimum 3 years of team management experience
Knowledgeable of current trends in the culinary industry
Meticulous record-keeping capabilities
Responsibilities:
Manage a staff of kitchen workers ensuring they are working efficiently and effectively at all times
Oversee food preparation activities to ensure that food is cooked according to recipes and customer specifications
Fosters positive work relationships amongst colleagues while adhering to company policy and procedures
Maintain sanitation and safety standards by completing regular inspections throughout kitchen areas
Controls inventory levels and ensures accuracy of order fulfillment
Conducts ongoing training for new hires as well as current employees to enhance the quality of service
Final Words
Well-written kitchen manager job descriptions should clearly define all duties associated with the position.
By having this information outlined before beginning the recruitment process, employers can more accurately evaluate potential candidates. And they can make sure they are choosing the best possible hire!
Explore All
Write Job Descriptions Articles