A line cook job description is an intricate and often overlooked aspect of the restaurant industry. It takes experience, skill, and knowledge to craft one that accurately represents the position and highlights the unique qualities that make the job desirable.
With this in mind, let's delve into the details of crafting a proper line cook job description. This article will discuss the role in detail, from the key responsibilities to what skills are necessary for success.
Primary Responsibilities of a Line Cook
The primary responsibilities of a line cook are as follows:
Prepare Food
The line cook is responsible for preparing food in the kitchen according to restaurant recipes, plating orders, and keeping their work area clean. They must ensure all ingredients are fresh and correctly measured before cooking them.
Follow Recipes & Cooking Instructions
A line cook's job is to follow specific instructions while creating dishes. This requires knowledge of different techniques, ingredients, and equipment and being able to read, interpret, and adhere to recipes.
Stock Inventory & Re-Supply Kitchen
Line cooks must maintain kitchen inventory by checking stock levels and re-supplying when necessary. They also need to be aware of any special supplies that may need to be ordered for certain meals or tasks throughout their shift.
Maintain Cleanliness & Hygiene Standards
Line cooks have the important task of ensuring the kitchen is always up to safety standards. This includes ensuring food preparation areas are sanitized, cleaning utensils and tools after each use, and disposing of leftover food properly.
Working Closely With Chef/Sous Chef
Line cooks are expected to work closely with the chef and sous chef to execute menu items correctly and efficiently. They need to communicate effectively, take direction from higher-ups, and coordinate tasks with other kitchen staff members.
Knowledge of Knife Skills
Good knife skills are essential for any line cook position as they are often required to chop vegetables quickly and accurately without causing injury. It's vital for them to know how to sharpen and maintain knives and safely handle sharp objects while on the job.
Multitasking Abilities
As a line cook, you will likely be required to multitask during busy periods. This means handling multiple orders at once while still ensuring quality control and meeting deadlines set by chefs or supervisors.
Troubleshoot Problems & Adapt Quickly
Being a line cook involves having the ability to troubleshoot problems quickly. You must come up with creative solutions to keep the kitchen running smoothly. This can include anything from fixing broken equipment to dealing with unexpected issues.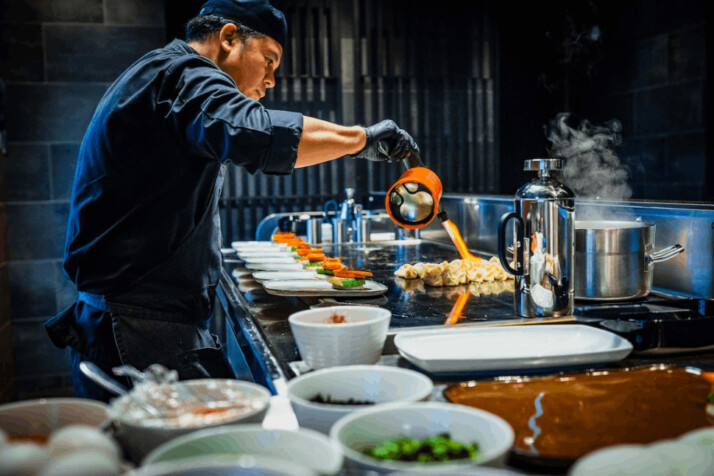 Skills and Qualities of a Line Cook
Let's look at the key skills and qualities of a line cook that will help you craft an ideal line cook job description:
Ability to work quickly and accurately in a fast-paced environment
Thorough knowledge of kitchen safety protocols
Proficient multitasking abilities
Demonstrated culinary creativity and expertise
Ability to remain composed under pressure
Strong dexterity, agility, and coordination skills
Exceptional team collaboration skills
Meticulous attention to detail and cleanliness standards
Capacity to follow complex recipes accurately and efficiently
Adept at adjusting cooking techniques based on recipe requirements
Line Cook Job Description Example
Are you a passionate and experienced Line Cook looking for an exciting new opportunity? We are currently hiring at [COMPANY], and we would love to have you join our team!
As a Line Cook, you will be responsible for the following:
Preparing and cooking food items as directed by the Head Chef
Using kitchen equipment to chop, mix, and prepare ingredients
Ensuring all recipes are prepared in line with company standards
Keeping work areas clean, safe, and organized at all times
Complying with all health codes and safety regulations
The ideal candidate should possess the following skills & qualities:
Proven experience in a commercial kitchen setting
Expertise in food preparation techniques
Aptitude for working with a knife and other kitchen utensils
Ability to multitask and work under pressure
Excellent communication and teamwork skills
Flexibility to accommodate special requests or orders from customers
At [COMPANY], we foster a culture of growth and development. As part of our team, you will receive training on the job while enjoying competitive compensation and generous benefits.
If this job sounds like the ideal fit for you, apply now!
Conclusion
Overall, the job of a line cook is an integral part of any kitchen. It requires hard work, dedication, and passion for food to ensure that each dish leaves the kitchen as perfect as possible.
With knowledge of cooking techniques and ingredients, combined with excellent multitasking skills, line cooks are essential in creating delicious meals for customers.
Explore All
Write Job Descriptions Articles