Are you looking to explore a career as a logo designer? If so, you've come to the right place. As a logo designer, you will create an eye-catching and memorable symbol representing your client's brand or organization.
Logo design is not just about aesthetics; it's also about conveying the values and mission of your client in a creative way. Let's get started with our logo designer job description.
What Is a Logo Designer Job Description?
A logo designer job description includes various tasks, from creating logos to designing marketing materials and website graphics.
Logo designers need to be creative and understand color theory, typography, and design principles. They should possess excellent communication skills to collaborate with clients to ensure their vision is accurately represented in their designs.
Additionally, logo designers must be well-versed in software such as Photoshop or Illustrator to create digital versions of their logos.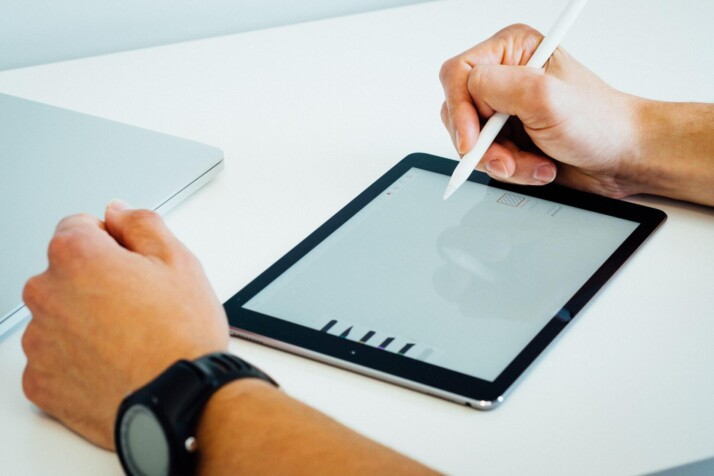 What Does a Logo Designer Do?
Logo designers are responsible for the visual identity of an organization or brand. They work closely with clients to understand their mission and values before crafting unique designs that represent them appropriately.
A successful logo design should be memorable and be able to convey a message in just one look. Logo designers should also have the ability to work within given budgets and timelines.
They can understand how their designs will be used in different mediums (such as websites, printed materials, signage, etc.).
Duties and Responsibilities
As a logo designer, you'll need to have strong visual communication skills and knowledge of graphic design principles. Your primary goal is to create visually appealing logos that make an impact on viewers and help position clients' businesses in the marketplace. Your responsibilities might include the following:
Researching current trends in logo design
Working with clients to understand their brand and vision
Brainstorming and sketching logo concepts
Utilizing photo editing software to refine designs
Creating multiple versions of logos
Presenting logos to clients for feedback and approval
Making changes based on client feedback
Finalizing the logo design in various formats for printing or web use.
Qualifications & Skills
To be a successful logo designer, you should have an eye for creating visually appealing logos and designs. You'll need to understand color theory, typography, and design principles such as balance and symmetry.
Additional qualifications & skills include:
Knowledge of graphic design software such as Adobe Photoshop, Illustrator, or InDesign
Creative thinking and problem-solving skills
Strong attention to detail
Ability to take direction well
Excellent communication skills (verbal & written)
Time management skills with the ability to meet deadlines.
How to Become a Logo Designer
Get an Education
A degree or certificate program in graphic design is a good option to start if you're looking to become a logo designer. This will give you the foundation of knowledge that you need to understand color theory, typography, and design principles.
Additionally, it will help you learn the software used for creating digital designs.
Build Your Portfolio
As a logo designer, your portfolio is essential to success. Start by creating logos for friends and family members who are starting businesses or organizations and participating in online design competitions and challenges.
Be sure to include selections from each type of work that you do – such as illustrations, website graphics, etc.
Network & Promote Yourself
Once your portfolio is in good shape, start networking with other graphic designers and companies. Get involved in design communities (such as Dribbble or Behance) and promote your work. You can also use social media channels to reach potential clients.
Find Gigs & Build Your Client Base
Finding the proper gigs can be challenging, but starting small and building up your client base over time is important.
Look for job postings on job boards, freelance websites, or even cold emailing businesses directly. Word-of-mouth referrals will help you grow your business even more as you continue to take on projects.
Salary Range for a Logo Designer
The salary range for logo designers can vary depending on experience, location, and type of client. Generally speaking, entry-level logo designers make an average annual salary of $30,000 – $40,000 USD, while experienced professionals make closer to $50,000 – $70,000 USD.
Higher salaries may be available in larger cities with more job opportunities. Freelance logo designers are typically paid per project or hourly basis. They budget accordingly to cover overhead costs such as software licenses and marketing materials.
FAQs
Is a Graphic Designer a Good Designer?
A great Designer must have a natural eye for design, color, and creative content that resonates with their audience. The company also has to use various marketing tools to create beautiful work that is tailored to the needs of its customers.
How Does a Graphic Designer Work?
A graphic designer usually works on a team with other designers and marketing experts. A senior designer often supervises and leads the team on different tasks to complete the project.
What Obligations and Duties Do Graphic Designers Have?
Graphic designers develop various types of creative content for advertisements, brochures, or magazines. Depending on the mean and aim of the project, they work with multiple tools.
Why Use Template for Graphic Designer Job Descriptions (ready-to-Use)?
According to a survey for New World of Work 2022, remote work is fading and hybrid work is taking over.
A graphic designer is similar to an artist who creates visual text and imagery. They create content for online campaigns, print ads, websites, and even videos.
What Are Some of the Best Paid Jobs for Graduates?
Find out how your degree discipline could affect your earning potential and how your career outlook might impact your salary.
What Are the Several Responsibilities of a Graphic Designer?
Designing images and layouts by hand or by using design software.
Testing graphics across different media.
For a variety of media, we are looking for a Graphic Designer to create engaging, on-brand graphics.
Conclusion
A career as a logo designer is a great way to express your creativity and share it with the world. If you're passionate about design and have the skills needed to create memorable logos, this job could be a great fit for you.
Be sure to build your portfolio, promote yourself online, and start networking with other designers. This is to get hired for gigs and build your client base. With persistence, you can make your dream of becoming a logo designer come true!
Explore All
Write Job Descriptions Articles