Crafting an effective job description for a marketing intern is no easy feat. It requires a distinct combination of industry knowledge, writing prowess and creative vision to accurately portray the demands and expectations of this position.
Even experienced recruiters may struggle to define their ideal candidate in words. Therefore, it is vital to prioritize quality with well-written job descriptions that can attract promising applicants.
This article has a couple of marketing internship job description samples for you to try.
What Are the Qualities of a Good Marketing Intern?
A successful marketing intern should possess a set of both tangible and intangible qualities to be successful. A good marketing intern must have strong communication skills, excellent organizational abilities, creativity, curiosity and passion for their work.
Communication Skills
First, a great marketing intern must have the ability to effectively communicate with customers, colleagues and stakeholders. This includes being able to speak in public, writing effective emails and making persuasive presentations. Furthermore, they need to develop interpersonal relationships through networking and outreach.
Organizational Skills
Organizational skills are also essential since an intern will be managing multiple projects at once. They should be highly organized when it comes to planning and scheduling tasks and be comfortable multitasking between different assignments. In addition, interns must show attention to detail when analyzing data or conducting research in order to ensure accuracy.
Curiosity and Problem-Solving Skills
Creative problem-solving is key for any marketing intern. While there may not be one right answer, brainstorming outside the box can help them find innovative ways to solve problems. Additionally, having a curious mind helps interns stay up-to-date on industry trends while uncovering new opportunities and tactics within their field.
Passion for Marketing
Having a genuine passion for marketing is an important quality for an intern to possess. Being enthusiastic about learning all aspects of the job makes them eager to learn more, take the initiative and complete tasks without prompting. It's also beneficial if they already understand basic concepts such as advertising, design, digital media and analytics.
In conclusion, these qualities make up an ideal marketing intern who demonstrates drive, ambition and professionalism during their internship period. With the right combination of knowledge, experience and enthusiasm, you can find the best fit for your organization and maximize their potential.
Marketing Internship Job Description Templates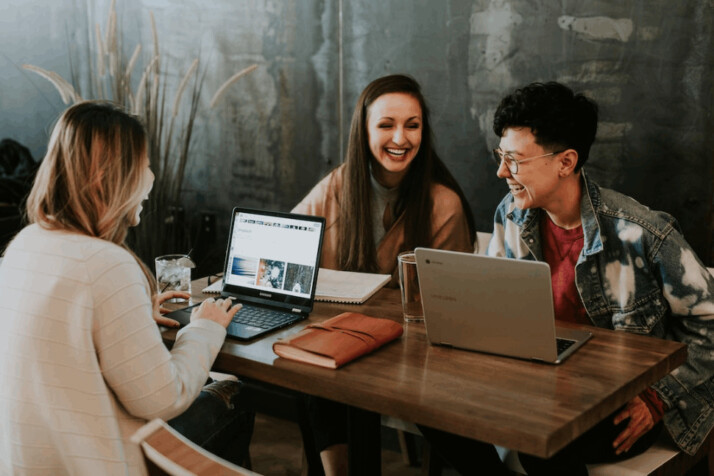 Before you think your marketing internship job description covers it all, be sure you've spelled out all the requirements. Check the marketing internship job description templates below for inspiration.
Template 1
Our company is hiring a Marketing Intern to assist in the development and implementation of our marketing strategy. This individual should have exceptional interpersonal, analytical and administrative skills as well as experience or knowledge of market analysis techniques.
We are looking for an ambitious professional who has excellent organizational abilities, a keen eye for detail and a passion for discovering creative solutions. The successful candidate will be comfortable working both independently and collaboratively with different teams. They must possess strong research acumen and demonstrate proficiency with materials needed to execute campaigns effectively.
Responsibilities:
Conduct market analysis and research on competitors
Monitor industry trends, opportunities and threats
Assist in developing effective marketing strategies and tactics
Support the execution of various marketing initiatives (e.g., social media posts, campaigns etc.)
Prepare promotional presentations
Gather feedback from customers on products/services
Suggest new approaches to increase customer engagement
Qualifications:
Bachelor's degree in marketing or a relevant field
Strong understanding of marketing principles and current trends
Outstanding communication, writing and research skills
Ability to manage multiple tasks simultaneously
Highly organized and detail-oriented
Self-motivated and driven
Proficiency in Microsoft Office Suite and other applicable software
Template 2
We are looking for a talented Marketing Intern to join our growing team and assist with administrative tasks, market analysis, and promotional materials. Applicants must be experienced in marketing, have an eye for detail, and have the ability to work independently and as part of a team.
Duties & Responsibilities:
Assist with creating and executing marketing strategies
Analyze customer feedback and develop innovative solutions to improve performance
Design and update promotional materials such as brochures, flyers, web pages, and email campaigns
Coordinate with other departments on product launches and promotions
Conduct market research, compile data reports, and keep abreast of industry trends
Contribute creative ideas to the development of new marketing plans
Qualifications:
Proven experience in marketing or related field
Experience using analytical tools (e.g., Google Analytics)
Ability to multitask and manage multiple projects at once
Strong organizational and problem-solving skills
Excellent written and verbal communication skills
Proficiency in Microsoft Office Suite (Word, Excel, PowerPoint)
Final Thoughts
Marketing internships enable budding marketers to hone their skills. Such internships aren't for everybody. This is why you should spell out the requirements for the role in your job description. With the examples above, we've given you templates to make it easier to draft your job description.
Explore All
Write Job Descriptions Articles