Masseuses are a vital part of many people's lives, from providing relaxation and comfort to aiding in the rehabilitation process. Crafting effective masseuse job descriptions is a critical step for employers looking to recruit these talented professionals.
If you're not sure where to start when it comes to writing up your massage therapist job listing, look no further. This free guide will explain the core qualities of a masseuse to aid you when writing a masseuse job description. In addition, a section of the article gives you well-written examples of masseuse job descriptions.
What Are the Qualities of a Masseuse
A masseuse must possess a range of qualities in order to provide a successful and beneficial massage experience. These qualities are essential for all massage therapists, regardless of their specialties or the setting they work in.
Physical Strength
First and foremost, masseuses need excellent physical strength, endurance, coordination and dexterity. They have to remain standing for long periods while performing their job and should be able to lift heavy equipment if necessary.
Knowledge of Physiology and Anatomy
Masseuses should also be highly knowledgeable about anatomy and physiology, as well as different types of massage techniques. It is important for them to understand how each massage type affects the body. They must understand which muscles the massage works on and when it is appropriate to use particular techniques.
Eye for Detail
A keen eye for detail is also an invaluable asset for masseuses. During every massage session, they must evaluate the condition of their client's skin and detect any changes in muscle tone or tension levels. They should be able to recognize any areas that require extra attention or care.
Empathy
Empathy is another crucial quality of a great masseuse. Having the ability to read into nonverbal cues helps a masseuse get an understanding of the client's needs, goals and preferences. With these, they can create a tailored plan accordingly. Clients expect masseuses to be caring, patient and attentive throughout the process.
Great Customer Service
Additionally, outstanding customer service skills are imperative for providing exceptional customer experiences. A masseuse must always treat customers with respect and maintain professionalism at all times. They must display good communication abilities and show genuine interest in listening and responding to clients' concerns.
Problem-Solving Skills
Finally, having problem-solving capabilities enables masseuses to respond quickly to sudden obstacles. Whether dealing with uncomfortable clients or unexpected issues during the massage session, it's important for masseuses to think on their feet. They should have the ability to come up with effective solutions promptly.
Masseuse Job Description Templates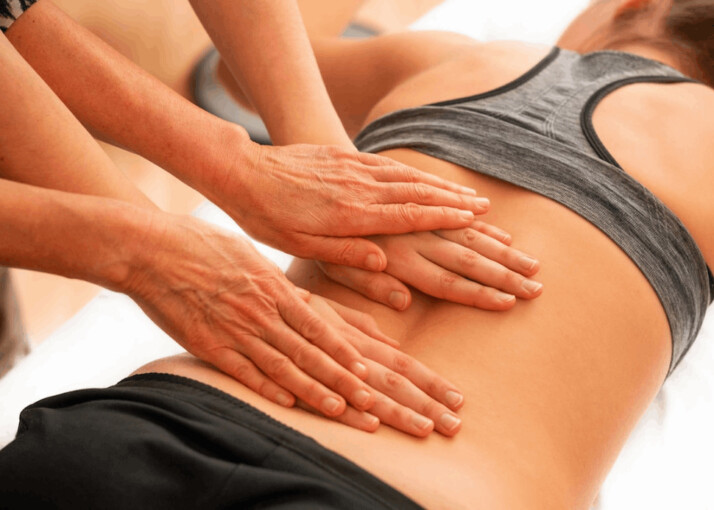 Still wondering how to write a masseuse job description? Check out the templates below.
Template 1
We are looking for an experienced Masseuse to provide therapeutic massage services and health treatments in our spa. The successful candidate will have a deep understanding of anatomy and physiology. They must know how to use various techniques to promote relaxation, reduce pain, improve physical function and range of motion, and heal injury.
The ideal masseuse should be comfortable working independently and collaboratively with other staff members at our home-based spa. They should also demonstrate strong communication skills and possess excellent customer service skills.
Qualifications:
A valid certification or diploma in Massage Therapy from an accredited program
Hands-on experience performing all types of massages, including Swedish, deep tissue, and sports massage
Familiarity with the operation of electronic medical record software
Proficiency in English (written & spoken)
Responsibilities:
Evaluate clients by conducting physical assessments
Conduct therapeutic massages designed to relax muscles, improve circulation and relieve stress
Determine appropriate massage treatment plans based on each client's needs
Maintain accurate records using computerized systems
Follow safety protocols when working with clients.
Provide recommendations and advice regarding diet, posture, lifestyle modifications and exercises
Template 2
A masseuse is needed for a busy health spa.
We are looking for an experienced Masseuse to join our team of professionals and provide exceptional therapeutic services in a relaxing environment. The ideal candidate should have experience providing massage therapy, including Swedish massage, deep tissue massage, hot stone massage, reflexology, and sports massage.
Requirements:
At least two years of experience as a professional masseuse.
A valid state license with certification from the National Certification Board for Therapeutic Massage & Bodywork (NCBTMB).
CPR/AED certified.
Knowledge of home treatments and medical terminology.
Able to create and maintain a tranquil atmosphere while performing various types of massage therapies.
Excellent communication skills with customers and fellow colleagues.
Responsibilities:
Greet clients upon arrival and explain spa services available
Evaluate client needs and suggest suitable massage types
Conduct massages according to established standards and protocols
Utilize proper draping techniques to ensure the client's comfort during treatment
Assist in maintaining the cleanliness and orderliness of the spa area
Uphold safety practices related to all equipment used for massage
Serve as a positive representative of the spa's brand at all times
Final Thoughts
Masseuses provide an invaluable service to their clients, whether they are looking for relaxation, healing from a physical injury or simply wanting some pampering. The duties of a masseuse can vary depending on the type of massage therapy provided and the area in which it is offered. Thus, it is important to have a clear masseuse job description that outlines the masseuse's duties.
Explore All
Write Job Descriptions Articles