The demand for healthcare specialists is at an all-time high. Yet, hiring qualified candidates to fill some positions is becoming even more difficult. One notable position that falls into this category is the Medical Technician.
Medical technicians perform a wide range of duties involving taking samples for tests. While doctors schedule patients for fluid, blood, and tissue tests, the Med tech takes samples and reviews the results.
Despite the competitive nature of this space, ramping up your hiring efforts improve your chances of recruiting the best talents. The best way to brush up on your recruitment process is by writing an incredible Medical Technician job description.
Here's a detailed guide explaining the responsibilities of med techs and proven samples to get you ahead of recruitment difficulties.
Who Is A Medical Technologist?
A Medical Technologist (MT) works in a laboratory where they test, perform diagnostic procedures, or draw blood using sophisticated equipment. Their duty includes conducting several clinical laboratory tests to offer data for diagnosis and treatments. After running tests, MT analyzes the result and sends it back to doctors.
They may also set up doctor's appointments, order medical tests, and perform other administrative tasks.
Med techs ensure patients don't have any medical problems that could cause harm and explain treatments to them when needed. However, they don't have clinical responsibilities or perform procedures.
Medical Technologists or Medical Technicians work under professionals like physicians, registered nurses, and other caregivers.
Med Techs Duties And Responsibilities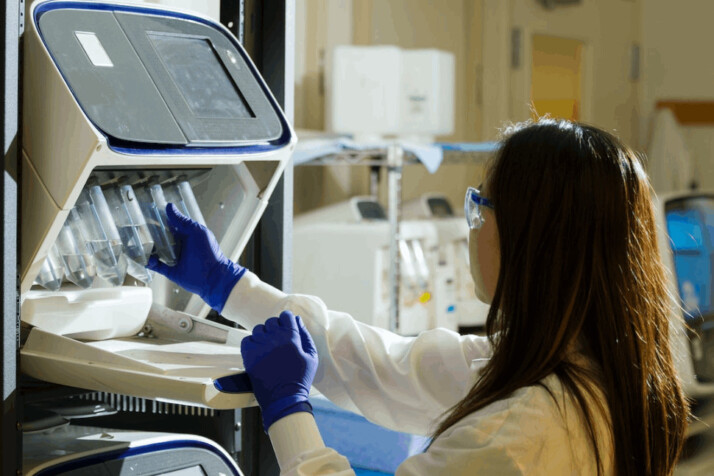 Provide technical support to healthcare professionals by performing laboratory tests and ensuring the accuracy of results.
Collect, label, and process specimens for analysis using various automated equipment and specialized techniques.
Maintain a meticulous record-keeping system to document all analyses, ensuring adherence to regulatory standards.
Troubleshoot problems with lab equipment and instruments, repairing or calibrating as necessary.
Perform periodic quality control testing on samples to ensure the precision and accuracy of results.
Analyze test data and report findings to appropriate personnel, providing interpretive explanations when needed.
Assist in training new technicians and other staff members on using lab supplies and equipment.
Keep abreast of the latest trends in the med tech industry, attending seminars and workshops as needed.
Skills And Requirements For A Medical Technologist
Medical Technologists are highly skilled individuals who must possess a combination of knowledge and experience in the medical field.
They require comprehensive training that includes theoretical and practical aspects, enabling them to identify and diagnose diseases.
Their expertise lies in laboratory tests such as hematology, biochemistry, serology, urinalysis, parasitology, and bacteriology.
Moreover, they should also be proficient in using specialized equipment like centrifuges, microscopes, and automated instruments for testing.
They must maintain hygiene standards while conducting examinations and take preventive measures against biohazards.
Furthermore, Medical Technologists need excellent communication skills to collaborate with other healthcare professionals effectively.
Medical Technician Job Description Template
Job Brief
Health Expert seeks seasoned Medical Technicians. You will be responsible for providing technical assistance to medical personnel in a healthcare facility. You must be an experienced professional able to accurately and efficiently perform laboratory testing, maintain equipment, collect specimens, and provide patient care services.
Requirements:
Bachelor's degree in medical technology or related field
Minimum of 2 Years experience in a medical technician role.
Familiarity with basic medical terminology
Strong interpersonal and communication skills
Ability to prioritize tasks.
Knowledgeable about safety protocols and infection control procedures.
Skills:
Perform laboratory tests on blood samples and other bodily fluids.
Maintain records of lab results and keep accurate documentation.
Carry out sterilization processes using autoclaves.
Order supplies when necessary and ensure all instruments are in proper working condition.
Assist doctors during clinical trials by collecting vital signs, taking ECG readings, and administering medications
Compensation:
This position offers competitive compensation commensurate with experience plus a complete benefits package including health insurance, paid vacation and sick leave, 401K plan, etc.
Conclusions
With healthcare becoming a priority, there is a definite need for skilled medical technicians.
Hiring qualified medical technicians can offer a fair amount of challenge, but they are well worth the effort. Because their impact makes a remarkable difference in healthcare.
Write a better Medical Technician job description to hire the best candidates in the industry. People's well-being depends on it.
Explore All
Write Job Descriptions Articles