Merchants are the driving force behind the success of a company's product line. They handle inventory and product display. Without effective merchants, products would be chaotic and disorganized, leading to frustrated customers and company loss.
Merchandising requires more than just paying attention to product details. It involves a combination of creativity, strategy, and business acumen. That's why it's so crucial for employers to write an excellent merchant job description when looking to hire merchants for the company.
Putting out a great job description is the first step in pulling qualified candidates to your company. A well-outlined description will state your expectations from the candidate. This helps to attract only the best and most qualified ones to apply for the position. This way, you hire the perfect fit and are rest assured that your product is in skilled hands.
Read on to learn how to draft an excellent merchant job description.
Who is a Merchant?
A merchandiser is a person who is responsible for planning and managing the purchase and sale of a company's goods. They determine what products should be displayed and what positions will look more attractive to customers.
Merchants manage inventory levels and set prices. They may also be responsible for creating displays and marketing materials to promote the company's products. They also track product sales to determine customer preference. The primary duty of a merchant is to analyze products and ensure sales.
Merchant Duties and Responsibilities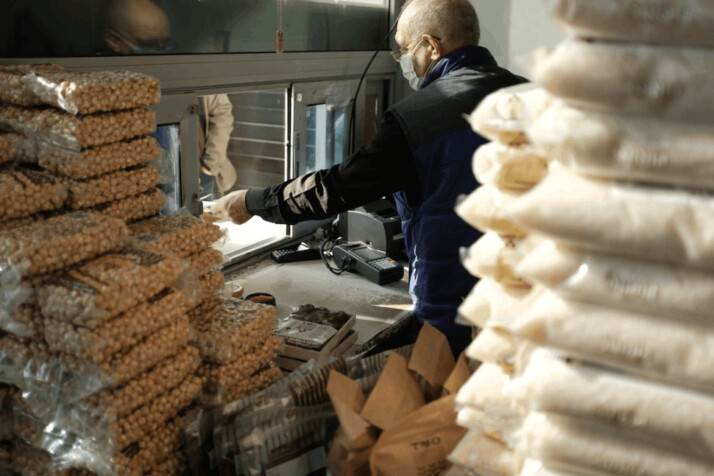 A merchant is responsible for selecting, procuring, and managing products. Some typical responsibilities include:
Identifying and sourcing new products to add to the company's product line.
Identifying losses or wastage.
Negotiating prices and terms with suppliers and manufacturers to get the best deals on products.
Managing inventory levels to ensure that products are available for customers.
Analyzing sales data to identify trends and make informed decisions about product selection and pricing.
Collaborating with marketing and sales teams to develop promotional strategies and campaigns.
Creating and maintaining product listings, descriptions, and images for online and offline sales channels.
Forecasting future demand for products and adjusting purchasing and inventory management accordingly.
Tracking and managing product returns and exchanges.
Providing customer service and support related to products.
Working with buyers and product managers to select the right mix of products to meet the needs and preferences of customers.
Providing feedback and recommendations to management on improving the product mix and customer experience.
Training and supervising staff on product knowledge and sales techniques.
Staying up-to-date on industry trends and new products to ensure that the retail business is competitive and relevant.
Merchant Skills
To be successful in the field, merchants require some skills. These skills include:
Planning and organization skills.
A great understanding of the products they are marketing.
Ability to analyze sales data and market trends to make informed decisions.
Communication and presentation skills.
Ability to pay close attention to even the tiniest detail.
Ability to adapt to new market trends and customer preferences.
Great negotiation skills.
Creativity.
Educational Requirements
There are no specific education or training requirements for merchants. People with a variety of educational and professional backgrounds can do the job. However, merchants need to have at least a high school diploma. Some candidates possess a Bachelor's degree in marketing or a related field.
A lot of merchants receive on-the-job training. They learn about the products they will be responsible for selling and the company's policies and procedures.
Some employers may also provide more formal training programs for new merchants. Additionally, there are many professional development opportunities available to merchants. These could include conferences, and online courses, to help them stay up-to-date on industry trends.
Merchant Experience Requirement
Experience requirements vary depending on the employer and the level of the position. Some entry-level merchandising positions may not require any prior experience.
Others may require one to two years of experience in a related field, especially for those with Bachelor's degrees. For more advanced positions or leadership roles, a merchandiser may be expected to have several years of experience. This may include experience in supervising and training others.
Earnings
The salary rate depends on various factors like level of experience. The size and location of the store are also factors that determine earnings. However, the payments range from $10.51 to $27.06 per hour.
Merchant Job Description Examples
MEGHGATE CORP is looking to hire a driven, experienced Merchant with a knack for problem-solving and tackling challenges.
Job Summary
This position requires an individual that can generate innovative approaches to acquire new customers and keep existing ones loyal. This includes developing strategies to drive revenue growth by enhancing customer experience and designing promotions/sales initiatives to engage customers in our services.
The successful applicant will be expected to stay up-to-date on industry trends. And analyze market data and customer feedback to optimize sales plans and meet targets. They should also be able to oversee all merchandising efforts, including purchasing decisions and product display configurations.
Skills
The ideal candidate must possess excellent organizational skills, sharp analytical abilities, and the ability to communicate their ideas to colleagues effectively.
A thorough understanding of market dynamics. They must also understand consumer behavior and be able to manage multiple projects simultaneously while delivering quality results. A minimum of 3+ years of relevant work experience as a merchant is highly desired.
What We're Offering
We offer a competitive salary package, vacation time, healthcare benefits, retirement contributions, and more. We also provide ample opportunities for career advancement based on demonstrated excellence in your role. Our dynamic working environment fosters creativity, collaboration, and innovation – come join us!
Job Demands
Developing merchandising strategies and sales tactics to increase ROI and customer satisfaction.
Analyzing market trends and performing competitor analyzes to understand consumer behaviors.
Setting sales goals, tracking performance metrics, and reporting findings regularly.
Negotiating contracts with vendors and managing inventory levels.
Maintaining high standards for customer service.
Assisting with marketing campaigns such as social media outreach and email blasts.
Experience & Education Qualification
A Bachelor's degree in Business Administration or a similar field is required. A Master's degree or additional certification would be considered advantageous. Experience working with merchandising systems and vendor relationships is essential.
Earnings
Compensation depends upon qualifications, experience, and performance.
Wrapping Up
Merchants are significant in stores and the retail industry. They organize and manage the display of products and make products attractive and appealing to customers.
An unqualified merchant can prevent customers from making purchases. So, create a detailed job description that will attract talented merchants to apply for this position at your company.
Explore All
Write Job Descriptions Articles