Network Engineering is a critical role– especially if you handle sensitive in-house data. It entails enhancing the swift operations of all computer networks in the company. However, recruiting for this role could be elusive without a proper Networking Engineer Job Description.
With the versatility of this position, it's essential to understand the primary responsibilities necessary to succeed as a Networking Engineer. This will inform the content of your job description.
In this article, we'll provide top samples of proven Network Engineering job descriptions and the fundamental duties of a Network Engineer.
Let's dive in.
Who is A Network Engineer?
Network engineers design, install, maintain and monitor several computer networks using hardware and software. Besides maintaining current networks, they implement new ones to drive better operations. They handle wide and local area networks (WAN/LAN).
Networking Engineers work closely with other IT team members to identify IT solutions that meet strategic business goals.
Companies often rely on the Network Engineer to make critical network decisions. As a result, they have ultimate authority to complete critical tasks. The scope of their duties is relatively broad, including responsibilities like testing, planning security, and handling networking issues.
The Network Engineer is also the gatekeeper for projects relating to new networks and the technologies that affect them. Overall they regulate networks and technology to ensure that they are effective, safe, and up-to-date.
To execute their duties expertly, these professionals require customer service skills and the ability to work without direct supervision. A Network Engineer should also have deep knowledge of network communication standards, such as Ethernet and Ethernet switches.
Essential Roles Of A Networking Engineer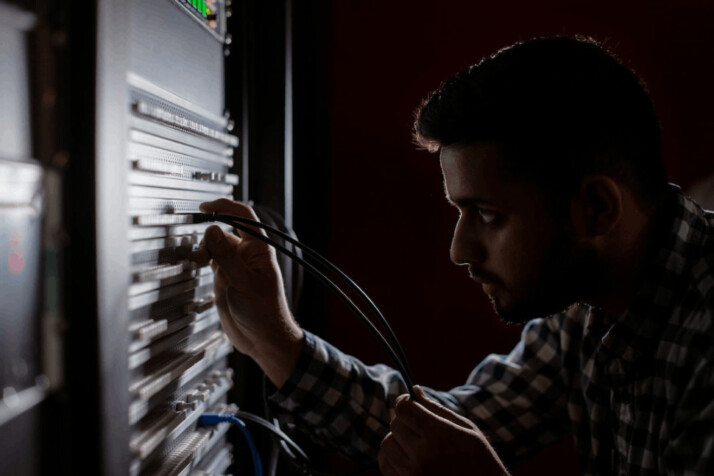 Design and implement new networks
Enhancing pre-existing networks
Installation and configuration of virtual network devices like WAN accelerators, routers, DNS, etc.
Detecting network errors
Reporting current status to management
Securing network equipment and managing subcontractors during network installations
Optimizing network performance by troubleshooting when necessary.
Configuring security systems and routing to boost security.
Networking Engineer Job Description Samples
Sample 1
We seek a networking engineer who is a highly-skilled IT professional with experience in deploying, configuring, and maintaining computer networks.
You should deeply understand current protocols, technologies, and concepts related to computer networks and security systems. In addition, to these skills, you need to be detail-oriented, have strong problem-solving skills, excellent communication abilities, and have an aptitude for learning new technologies quickly.
The ability to demonstrate good technical competencies in areas like the deployment and maintenance of LANs/WANs, routers configuration, switches, firewalls, and VPNs is essential.
Other necessary areas of expertise include:
Installing and troubleshooting network hardware.
Software and applications.
IP addressing.
And routing expertise.
Do these roles play to your strengths? Apply to join our team now.
Sample 2
A Networking Engineer is required to manage, design, and deploy cutting-edge networking solutions for our clients. To excel in our company, you should possess excellent technical know-how and an aptitude for problem-solving or complex troubleshooting.
This challenging role requires a candidate with a flair for multitasking. You must be able to prioritize tasks while maintaining exceptional customer service quickly. A team player attitude is also vital.
Your duties will include designing and implementing LANs/WANs, configuring routers and switches, monitoring networks, ensuring optimal system performance, and resolving faults.
Additionally, you should have demonstrable experience in virtualization technologies, network security, and cloud computing.
Conversance with technological advancements, strong interpersonal skills, and the ability to work autonomously are prerequisites for this position. Finally, this position demands a unique understanding of protocols (TCP/IP, DHCP, DNS, etc.) and knowledge of Wireless Access Point (WAP) administration and VoIP systems.
Are you our ideal candidate? Apply immediately!
Conclusion
If you want to find the best network engineer, you must have a clear idea of what you're looking for. We suggest you define your company's needs before writing a job posting. Remember to highlight the skills and experience required for this position in your Networking Engineer job description.
With our guide, you can create a stellar job description to help you find the perfect candidate for your company.
Explore All
Write Job Descriptions Articles