With the ever-expanding complexity of the medical field, becoming a pharmacy technician has become an increasingly attractive career option. This is especially true for those interested in healthcare and science. As such, it is essential to understand what this job entails, so you can make an informed decision about pursuing it as a profession.
This article will explore the duties associated with this position, including a detailed pharmacy technician job description example to help.
The Primary Duties of a Pharmacy Technician
We have listed below the primary duties of a pharmacy technician:
Packing & Labelling Medication
A pharmacy technician is tasked with packaging and labeling medication accurately according to prescriptions. They ensure that the information provided on labels meets local regulations and legal requirements.
Receiving Prescriptions
The technician also assists in receiving prescriptions from patients or healthcare professionals, verifying their accuracy, and entering them into the system.
Assisting Pharmacist
Pharmacy technicians help pharmacists complete tasks such as compound medications, preparing sterile products, providing patient counseling, and other duties.
Maintaining Patient Records
Pharmacy technicians maintain accurate records of all patient transactions, including payment records, insurance claims, and other medical information.
Sterilization of Equipment
Experienced technicians must know how to sterilize equipment used in compounding medications in accordance with safety protocols.
Ordering Supplies
An experienced pharmacy technician is capable of ordering supplies required for compounding medications, including raw materials and packaging items.
Filling Prescriptions
Pharmacy technicians assist in filling prescription orders and ensuring they are labeled correctly before being given to customers.
Conducting Inventory
A pharmacy technician may be asked to conduct inventory management. It involves counting and monitoring drugs, disposing of outdated ones, and updating inventories when needed.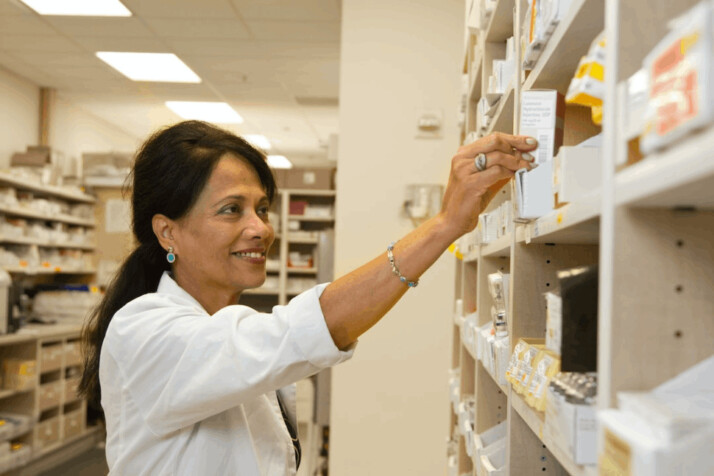 Pharmacy Technician Job Description Example
Understanding what organizations are looking for in a pharmacy technician will help candidates prepare themselves better. So, let's look at what goes into a well-crafted pharmacy technician job description:
Job Description Example:
We're looking for a skilled and experienced Pharmacy Technician to join our fast-paced and professional team! In this role, you will assist the pharmacy staff in managing prescriptions by preparing medications and providing customer service. The ideal candidate has an eye for detail, possesses excellent customer relations skills, and works well with others in a collaborative environment.
Responsibilities:
Counting tablets and caplets accurately
Maintaining patient records of prescription information
Processing insurance claims and payments
Interpreting physicians' orders
Assisting customers with questions or concerns
Ensuring compliance with applicable laws, regulations, and standards
Skills & Qualities:
Working knowledge of federal and state laws of pharmacy operations
Ability to maintain accurate records and ensure confidentiality of sensitive data
Strong organizational skills and attention to detail
A valid Pharmacy Technician license;
Knowledge of pharmaceuticals, medical terminology, and abbreviations;
Proficiency in computer software related to drug database management
Our organization values teamwork, collaboration, respect, commitment, diversity, and innovation. We offer competitive salaries and benefits packages and plenty of growth opportunities. If you think you possess these qualities and have the necessary experience for the job, apply now!
Conclusion
A pharmacy technician's role is an essential part of the healthcare system. It requires strong attention to detail and knowledge of both medical terminology and drug names. This job can be highly rewarding, as technicians are often able to help people in need on a daily basis. If you think you have the qualifications for this position, make sure to research local opportunities and apply!
Explore All
Write Job Descriptions Articles