Public relations managers must maintain a steady yet dynamic presence in their field. They harness the powerful capabilities of language to optimize outcomes and galvanize audiences. It is an ever-evolving job as it requires nuanced knowledge, keen intuition, and deft creativity to successfully promote a company or brand.
From crafting effective press releases to fostering meaningful connections with media outlets, PR managers draw on diverse competencies to inform strategy and meet objectives. This article unpacks the multifaceted expectations associated with this role and its scope of responsibilities.
The article also contains well-written PR manager job description samples for more clarity.
What Are the Duties of a PR Manager
A PR manager is responsible for creating, managing and executing public relations campaigns. They are often tasked with the job of generating positive publicity for their company or organization. The primary duties of a PR manager are explained below.
Effective Press Releases
A skilled PR manager must be able to create succinct, informative press releases that grab the attention of journalists and media outlets. They must also have strong writing skills and an understanding of how to craft persuasive messages tailored to specific audiences.
Building Relationships With Key Influencers
Establishing and maintaining meaningful connections with influential individuals in the industry is critical for any successful PR campaign. From bloggers and journalists to investors and other stakeholders, having a network of supportive contacts helps get your message out there quickly and effectively.
Developing Promotional Strategies
It's important to be able to analyze market trends and identify suitable tactics for gaining visibility and credibility. To do this, a PR manager must stay abreast of current events, industry developments, and consumer sentiment.
Monitoring Brand Performance
Keeping track of how various marketing efforts are performing requires an eye for detail and keen analytical abilities. This includes analyzing data from social media campaigns, press coverage, and website.
PR Manager Job Description Samples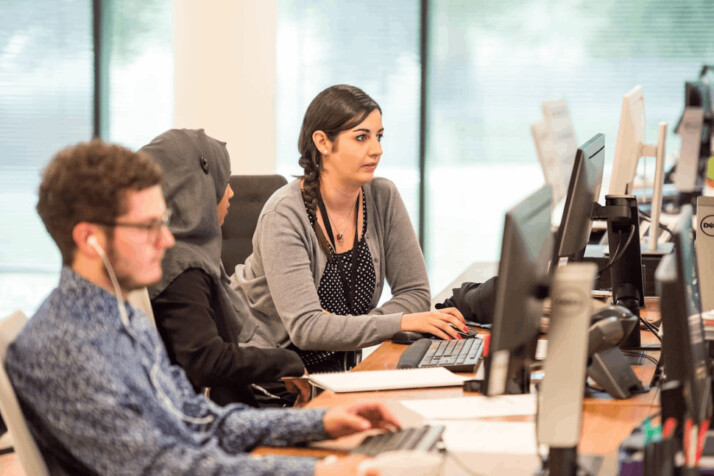 We have some well-written public relations manager job descriptions for you. You can use the descriptions as they are or edit them to suit your needs.
PR Manager Job Description Sample 1
We are looking for a dynamic Public Relations Manager to join our team and lead the company's public relations efforts. The ideal candidate should have excellent communication skills and demonstrated experience in PR, content creation, social media management, event planning, and creative writing.
The role of the Public Relations Manager is to shape and influence public opinion through strategic initiatives that drive brand awareness and reputation. To succeed in this position, you have to be well-versed in digital marketing trends, up-to-date with industry news, and capable of developing innovative campaigns.
Responsibilities:
Develop strategies to improve the company's public image by creating engaging promotional materials such as press releases, newsletters, articles, podcasts, webcasts etc.
Maintain relationships with key stakeholders and other third parties involved in public relations activities.
Conduct research on current trends and events relevant to the company's services or products.
Organize events such as product launches, conferences, trade shows, interviews and press meetings.
Serve as the primary contact for media inquiries and responds promptly to requests from members of the press.
Evaluate advertising opportunities based on cost-effectiveness and return on investment (ROI).
Manages crisis communications and implement damage control measures when necessary.
Monitor feedback from customers, competitors, and influencers to identify areas of improvement for future projects.
Requirements:
Bachelor's degree in Journalism or Public Relations.
Minimum of eight years of work experience in a related field.
Outstanding written and verbal communication skills.
Able to think quickly and develop effective solutions under pressure.
Familiarity with social media platforms and monitoring tools.
Willingness to travel as needed for events or conferences.
PR Manager Job Description Sample 2
We are looking to hire a Public Relations Manager to head our media department. The individual should be an experienced and reliable professional with the ability to take on different media-related responsibilities. The ideal candidate must be able to work autonomously while still maintaining good communication with subordinates and superiors.
Responsibilities:
Develop strategic public relations plans and campaigns that help promote the organization's mission and drive greater visibility
Manage day-to-day activities associated with PR, such as writing press releases, responding to media inquiries, arranging interviews and managing speaking engagements
Monitor coverage of the company and competitors through press release analysis, blogs, articles and other mediums
Foster strong relationships with external stakeholders, journalists, bloggers and influencers
Organize events, launch campaigns and produce marketing materials related to product launches or promotions
Utilize data analytics tools to measure the impact of PR campaigns, track industry trends and adjust strategies accordingly
Requirements:
Bachelor's degree in Communications, Journalism, Public Relations or a relevant field
At least five years of experience in corporate communications/public relations
Proven success in designing effective public relations strategies and campaigns
Excellent written and verbal communication skills
Ability to think strategically, manage multiple tasks simultaneously and prioritize workloads
Strong understanding of digital marketing concepts, SEO practices and social media management
Final Thoughts
With the well-written PR manager job description samples above, you should be able to write a good job description for the role. You can even do it faster by using the new INK AI assistant to generate your job descriptions faster.
Explore All
Write Job Descriptions Articles