Your radiologist job description can be an effective tool when adding valuable talents to your company's human resources. Since a company's employees are its most important asset, you must focus on building a network of skilled employees.
Writing an excellent radiologist job description is the first step to actualizing this.
In this article, we've curated the full responsibilities of a radiologist and a sample job description to help you hire a skilled radiologist.
What Does A Radiologist Do?
A Radiologist is a medical doctor who specializes in diagnosing and treating diseases. Besides this, they also diagnose injuries using imaging technology like X-Rays, Ultrasound, CT Scans, MRIs, and Nuclear Medicine.
Radiologists review images produced by these diagnostic tests to identify any abnormalities or areas of concern that may require further investigation or treatment.
They use their expertise to assess the patient's condition and provide care recommendations accordingly.
In addition to diagnosing conditions, radiologists also play an essential role in providing preventive health care services by screening for cancer and other diseases.
Primary Duties Of A Radiologist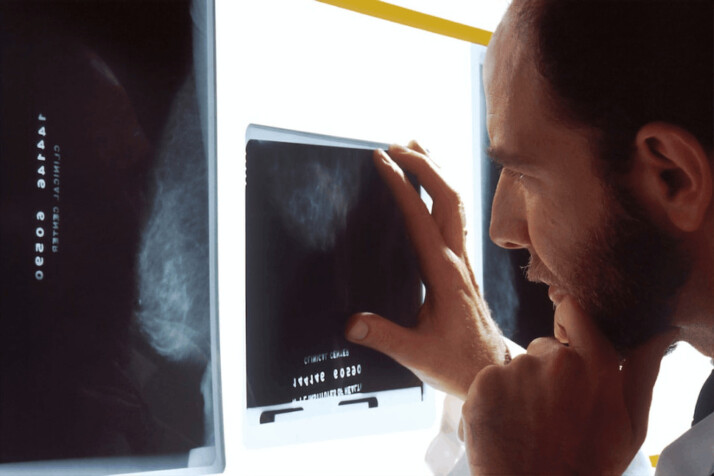 A radiology technician performs a diverse range of tasks within a radiologic department. Their work focuses on detecting defects with technology and the ability to execute these tasks:
Evaluating medical images to diagnose and treat illnesses.
Using sophisticated imaging technology like X-Rays, MRIs, CTs, and ultrasounds, radiologists assess the anatomical features of a patient's body. This aids in the detection of anomalies which could indicate an illness.
Conducting image-guided procedures
Radiologists may use their knowledge of medical imagery to guide surgical instruments or other probes through the body during a process.
Researching new treatment technologies
Due to their extensive experience with imaging technology, they often investigate new treatments. Another core responsibility is that they explore modalities that could improve patients' diagnostic accuracy and outcomes.
Maintaining accurate patient records
As part of the diagnostic process, radiologists keep precise notes on the results of each scan. This ensures that all information is accurately communicated to physicians and other healthcare personnel.
Fostering collaborative relationships with colleagues
To diagnose and treat patients properly, radiologists must work collaboratively with other professionals like surgeons, nurses, lab technicians, and general practitioners.
Primary Skills Essential For A Radiologist
A radiologist must have a comprehensive set of skills to perform their job successfully.
Firstly, they should possess excellent problem-solving and critical thinking capabilities to interpret imaging tests precisely.
They also need to recognize patterns quickly and make accurate diagnoses based on the data provided.
A radiologist must have strong communication skills to explain their findings to patients, colleagues, and other healthcare professionals.
Moreover, due to ever-evolving medical advances, radiologists must stay abreast of new developments in the field to keep up with best practices.
Lastly, a radiologist must be highly organized and detail-oriented to manage multiple cases simultaneously.
Radiologist Job Description Sample
(Company ABC) is looking for a highly experienced Radiologist to join our team of healthcare professionals. As an expert in this field, you will diagnose and treat patients with illnesses related to their bones, joints, organs, muscles, or nervous system.
Job Brief:
You must be well-versed in utilizing sophisticated medical imaging techniques like X-rays, ultrasounds, CTs, MRIs, and PET. An exceptional Radiologist applicant should demonstrate sound judgment when diagnosing and prescribing treatments.
You should be compassionate, detail-oriented, and adept at diagnosing and treating patients who may require radiologic assistance.
Requirements:
Proven experience as a Radiologist.
In-depth knowledge of modern technology and imaging techniques.
Familiarity with radiological equipment and software.
Proficiency in written and spoken English.
Excellent interpersonal and communication skills.
Ability to make sound decisions.
License from an accredited organization.
Commitment to staying abreast of the latest developments in radiology.
Skills:
Problem-Solving Skills.
Interpersonal Skills.
Organizational Skills.
Analytical Thinking.
Attention to Detail.
Communication Abilities.
Remuneration:
Competitive remuneration commensurate with experience.
Send a Resume and Cover Letter if you are fit for this role. Send By Email: Sharon@radon-b2b.co.za
Conclusions
Duties of a radiologist may be difficult to understand for individuals without some experience. We suggest studying the duties highlighted in this article and conducting further research to understand the role.
Finally, an excellent radiologist job description should outline the prerequisite skills and criteria expected of your radiology technician.
Explore All
Write Job Descriptions Articles