A Receiving Warehouse Clerk is a key member of the warehouse team. They ensure efficient and effective operations by verifying, inspecting, and stocking all incoming shipments. If you want the right person for the job, you will need a well-written receiving warehouse job description.
In this article, we'll be looking at some job description examples for receiving warehouse clerks. We'll also walk you through the important tasks that come with this important role. Whether you're looking to hire or apply for this job, this article will prove to be very helpful.
Importance of a Receiving Warehouse Clerk
A Receiving Warehouse Clerk plays a critical role in output management, as they manage the flow of materials entering and leaving the warehouse.
By ensuring that shipments are accurate, timely, and complete upon arrival, Receiving Warehouse Clerks help to reduce production delays. They can also minimize inventory costs and improve customer satisfaction.
What Does a Receiving Warehouse Clerk Do?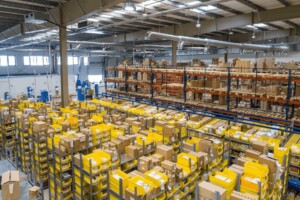 A Receiving Warehouse Clerk is a vital cog in the logistics and supply chain of any business. They are responsible for managing the flow of incoming materials, such as items purchased from vendors or raw materials used to manufacture goods. Upon arrival at the warehouse, receiving clerks check shipments against invoices to ensure they have received what was ordered free of damage.
If discrepancies arise, they must quickly contact the vendor to arrange replacement products or refunds. This position requires strong attention to detail, organizational skills, and knowledge of inventory tracking systems.
Receiving Warehouse Job Description Examples
Example 1
We are looking for a Receiving Warehouse Clerk with excellent organizational skills and an eye for detail to join our warehouse team. The ideal candidate must be comfortable working in fast-paced environments, have strong problem-solving abilities, and understand the principles of inventory control.
Responsibilities:
Receive incoming shipments and check contents against purchase orders; verify accuracy and completeness
Unpack boxes, inspect goods and repack as necessary
Record receipt of materials into the inventory system accurately
Ensure all items received match invoices, packing slips, and delivery documents
Create and manage stock locations within the warehouse
Maintain cleanliness and orderliness of warehouse receiving area
Perform regular cycle counts and help coordinate larger physical inventories
Qualifications:
Previous experience working in a warehouse or related environment preferred
Knowledge of best practices in shipping/receiving processes
Ability to lift up to 50 lbs regularly and stand/bend/stoop during shift
Excellent attention to detail and numeracy skills
Adeptness at multitasking and prioritizing workflows in high-volume settings
Proficiency in Microsoft Office Suite (Outlook, Excel, Word)
Conclusion
A Receiving Warehouse job description is essential as it outlines the requirements and expectations of the position. It provides a clear understanding of the role, from duties to qualifications.
By having an accurate job description, employers can ensure they are hiring the right candidate with the necessary skill set.
Explore All
Write Job Descriptions Articles