A sales representative job description is a crucial tool for success in recruiting and hiring top talent in the industry.
With so much competition for these positions, employers must have an effective sales representative job description that communicates their expectations clearly and accurately.
Crafting such a document requires a good understanding of the role and its duties. From identifying target customers and qualifying leads to closing deals and providing after-sales support, there are many facets to being an effective sales rep.
This article provides some great examples of sales representative job descriptions to help you write one effectively.
What Is a Sales Representative?
A Sales Representative is a dynamic professional responsible for generating business by networking with clients, building relationships, and promoting products or services. Their ability to think on their feet and quickly adapt to diverse environments make them ideal candidates to close deals. They can develop profitable relationships with customers.
They have an intrinsic knack for persuasive sales techniques, exceptional communication skills, and a high-energy level. It makes them indispensable when it comes to achieving goals. Ultimately, the purpose of a Sales Rep is to utilize their knowledge and expertise to drive growth in a company's bottom line.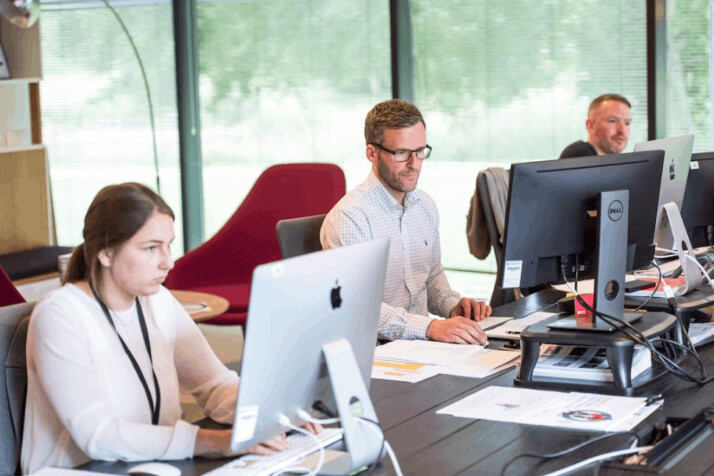 Sales Representative Job Description Examples
Below are some great examples of a sales representative job description:
Job Description Example 1:
We are looking for an experienced Sales Representative to join our team and help us meet the challenging goals that we have set. The ideal candidate should have a good understanding of sales techniques. They must have the ability to maintain relationships with clients and potential customers and have the ability to work autonomously.
The primary responsibility of the Sales Representative is to represent our brand in the marketplace, identify new opportunities and nurture existing relationships. We need someone who has strong interpersonal skills and can quickly build rapport with others and demonstrate excellent problem-solving abilities. Furthermore, they must possess the necessary experience and expertise to negotiate contracts and close deals.
If you think you have what it takes to become part of our dynamic team of representatives, then don't hesitate. Apply now!
Job Description Example 2:
Are you trying to find an exciting job in sales? We seek a highly driven individual Sales Representative to join our team!
In this role, you will be responsible for promoting and selling our products and services through effective market research, communication, and meeting customer needs. As part of the team, you'll have access to training resources and gain experience that can help advance your career.
If you're passionate about selling, we want to hear from you!
Job Description Example 3:
We are looking for an experienced Sales Representative to join our team and help us grow our business by selling our products and services. The ideal candidate should have a passion for sales, be able to drive new opportunities, and possess the confidence necessary for meeting potential clients. This is an exciting opportunity to jumpstart your career in a highly dynamic environment.
You will be responsible for researching markets and developing sales plans to maximize revenue from existing customers and generate new prospects. You'll need excellent communication skills to engage effectively with current and prospective customers while providing exceptional customer service. Attention to detail and staying organized are key in this role. You must keep track of data, report market trends, monitor competitors, and review monthly performance against objectives.
If this sounds like the right job for you, we look forward to hearing from you!
Job Description Example 4:
We are looking for a talented and experienced Sales Representative to join our dynamic team! The perfect candidate will possess excellent communication, interpersonal, and organizational skills. Your main goal is to increase our company's market share through research, meetings with potential clients, and post-sales follow-up activities.
A successful applicant must have a proven track record in sales, including experience in achieving targets and forging successful relationships with customers. If you believe you can contribute to our mission while remaining motivated in any situation, this job may be the right fit for you!
We offer competitive benefits packages and career advancement opportunities within our growing company. Apply now and start meeting your goals today!
Conclusion
It's important to consider all aspects when creating a job description for a sales representative. It should accurately describe the position, focus on essential skills and abilities, highlight any experience or qualifications necessary, and be concise yet comprehensive.
With the right job description in place, you can ensure that you are attracting the best candidates for the role.
Explore All
Write Job Descriptions Articles