The key to crafting successful sales and marketing job descriptions is to have an authoritative yet inviting voice that outlines the duties succinctly.
However, this can often be easier said than done — especially when attempting to capture your own experience and expertise in just a few words. But with this free guide, you'll learn how to effectively define what makes your sales job unique while engaging potential applicants.
In the end, you'll be able to write sales and marketing job descriptions with ease.
Who Is a Sales Representative
A sales representative is a professional responsible for the marketing, sales and distribution of products or services. They work with clients to identify needs and provide advice on purchasing decisions.
Sales representatives develop strong relationships with their customers, build trust and loyalty and create long-term business opportunities. Additionally, they often collaborate with internal teams like product development, customer service, and logistics to ensure that customer orders are met on time.
Qualities of a Good Sales Representative
Below are some of the most important qualities a good sales representative must possess.
Excellent Communication Skills
A sales representative must have excellent communication skills in order to understand and meet client needs effectively. This includes being able to present product information confidently, explain complex details clearly and negotiate deals professionally.
They need to be persuasive in order to close sales, so charisma and negotiation tactics come in handy. In addition, they should be well-versed in current trends within the industry and maintain a comprehensive knowledge base on available offerings.
Customer Service Skills
An effective sales representative understands the importance of having great customer service skills. By providing exceptional customer service, you can gain repeat business from existing customers, generate referrals for new leads and maximize your sales volume.
From follow-up calls to ensuring consistent quality standards, effective sales representatives go above and beyond to meet the expectations of their customers.
Understanding of Market Trends
Successful sales representatives also have an in-depth understanding of the latest market trends. From technological advances to consumer demand, staying up-to-date helps them offer valuable insights into potential opportunities for growth.
As such, it's important for them to keep track of any changes within their respective markets and make adjustments when necessary.
Interpersonal Skills
Finally, because sales representatives typically interact with multiple stakeholders both inside and outside of their organization, they must also demonstrate strong interpersonal skills. Good teamwork abilities help them establish successful partnerships while showing leadership capabilities give them more credibility amongst colleagues.
In conclusion, sales representatives play an integral role in connecting buyers and sellers together by identifying needs and negotiating deals. From clear communication to strong customer service, these professionals possess many skill sets which allow them to thrive in a competitive environment.
With the right combination of expertise and experience, they are able to successfully drive sales volumes and grow customer relations over the long term.
Examples of Sales and Marketing Job Descriptions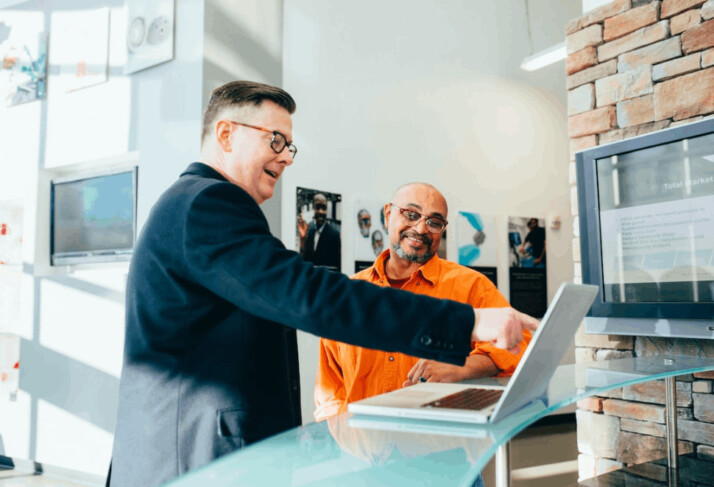 To ensure you start on the right note, we have some examples of sales and marketing job descriptions for you.
Example 1
We are seeking an experienced and highly motivated sales and marketing professional for a full-time post within our company. The successful candidate will be responsible for developing, implementing, and managing all aspects of the sales and marketing strategy related to our products.
This position requires an individual with excellent interpersonal skills, proven success in driving revenue growth, and creative problem-solving capabilities. We also require a degree in Marketing or equivalent experience in business management.
The ideal candidate should possess the following:
Extensive knowledge and understanding of the sales and marketing process
Experience building relationships with customers, vendors, and other stakeholders
Ability to communicate effectively, both orally and in writing
Strong analytical and critical thinking skills
Advanced organizational skills with impeccable attention to detail
Proven ability to lead teams and delegate tasks
Proficiency with technology tools used in marketing and sales (e.g., CRM systems)
Ability to work under pressure and develop sales strategies
The employee selected for this role will design strategies to increase market share, identify potential opportunities, and analyze customer data. They will implement campaigns across multiple channels, optimize website content for improved search rankings, develop pricing strategies, and more. In addition, they will be tasked with tracking results, preparing reports, and leading staff meetings as needed.
If you have the drive, ambition, and expertise necessary to fulfill this essential role, please submit your application today!
Example 2
This is an exciting opportunity for a highly experienced and knowledgeable sales and marketing professional to join our growing team. The successful candidate will be tasked with developing effective marketing strategies, driving sales growth, and providing leadership support to employees.
A suitable applicant must possess a degree in Business Management or a related field, as well as prior experience in a similar position. An excellent understanding of modern trends in the industry is also necessary to ensure success. They should have exceptional communication skills, both written and verbal, coupled with outstanding customer service and problem-solving abilities. Proficiency in using various software packages such as Microsoft Office Suite is required.
In this post, the individual will need to devise creative ways to promote company products while ensuring that all goals are met. Additionally, they will work closely with management to coordinate events, campaigns, and meetings while regularly assessing progress against set objectives. A strong ability to identify new opportunities and manage existing relationships with clients is essential.
The role requires the individual to remain updated on competitive developments in the market and research consumer behaviors and attitudes toward the brand. They will also use data-driven insights to optimize marketing efforts. Furthermore, they should demonstrate creativity when it comes to executing business initiatives designed to improve overall performance.
Example 3
We are looking for an experienced marketing manager to head our sales team. The individual must have exceptional management skills. This role involves developing, managing and optimizing innovative online strategies to drive business growth.
The ideal candidate should have a Bachelor's degree in Business or Marketing and a minimum of three years of experience in the same field. Additionally, they must possess excellent communication skills, be confident using social media platforms, and demonstrate sound decision-making capabilities.
This position requires creativity and attention to detail, with responsibilities that include formulating strategies, planning campaigns, analyzing data and trends, and maximizing ROI. The ideal candidate should be able to lead multidisciplinary teams, identify opportunities for improvement, and develop engaging social media content.
Familiarity with analytics software like Google Analytics is required, as well as a willingness to stay up-to-date on industry developments and emerging technologies. If you believe you can meet these qualifications, please don't hesitate to apply!
Conclusion
Hiring quality hands into your sales and marketing department is one of the most important investments you can make. But there are so many decisions to make, and the pressure is on to get it right. With the right job description, you can ensure applicants meet the requirements.
Explore All
Write Job Descriptions Articles