Being an office manager is a challenging but rewarding job. It involves overseeing the operations of an office, managing personnel, and other administrative tasks.
An office manager must possess exceptional organizational skills and be able to problem-solve quickly and efficiently. This is why a sample office manager job description is important.
In this blog post, we will be looking at the duties and responsibilities of an office manager. This way, you can decide if it's a role that interests you.
What Is a Sample Office Manager Job Description?
An office manager's job description involves overseeing the day-to-day operations of an office. This includes supervising personnel, managing administrative tasks, and ensuring everything run smoothly.
Office managers are also responsible for budgeting and financial management, driving records and filing systems, and handling customer service inquiries.
Office Manager Duties Can Vary From One Company to Another, but in General, They Involve the Following:
Managing a team of staff members, including assigning tasks and making sure all deadlines are met
Organizing meetings and taking notes
Scheduling appointments and booking travel arrangements
Creating reports and maintaining data accuracy
Handling customer service inquiries promptly
Managing office supplies, equipment, and facilities
Analyzing the need for new products or services and making suggestions
Ensuring that local, state, and federal regulations is in check
Skills Required for an Office Manager Position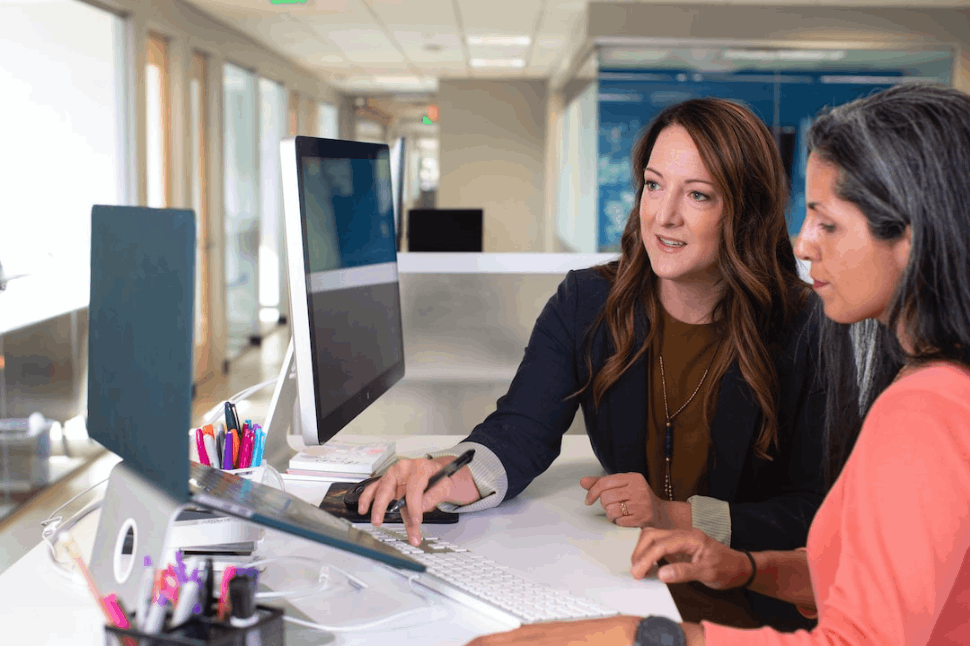 To be successful in a role as an office manager, there are specific skills that you will need to possess:
Organizational Skills
Office managers must stay organized to track deadlines and ensure they complete tasks on time.
Communication Skills
This is important when it comes to interacting with staff members and customers. It's also essential when writing reports or other documents.
Problem-Solving Skills
Office managers must be able to think quickly and come up with solutions when issues arise.
Leadership Skills
Office managers are often responsible for leading a team, so they must have strong leadership abilities.
Time Management Skills
Office managers need to be able to manage their own time as well as keep track of deadlines for staff members.
Technical Skills
Most modern offices rely on technology, so you must know how to use computers and other digital tools effectively.
FAQs
What Are Office Manager Skills Most Sought After?
Most specialist recruiters seek to hire office manager candidates with these skills, but the most highly sought-after roles are:
Excellent interpersonal and communication skills.
A proactive attitude – a candidate who shares duties' to get a job done.
You'll be working with a wide range of personalities if you have a good sense of humor and diplomatic skills.
How Much Should I Be Paid?
You can compare your current salary with jobs in your vicinity using salary checkers online.
How Does an Office Manager Operate?
Our office manager's duties include the following:
Scheduling meetings and appointments.
Making office supplies arrangements.
Greeting visitors.
Providing general administrative support.
Experience in Front Office Management or Office Administration would be an asset.
How Do You Choose a Good Office Manager?
A good office manager is more than just an efficient assistant. The right Office Manager needs to have strong communication and problem-solving skills.
How Do Office Managers Work?
Administrative Assistants, Office Assistants, and Human Resources Assistants interact with office managers. Business Owners, Directors, or Department Heads are usually their central oversight.
Can You Customize Your Sample Office Manager Job Description?
If you advertise an office manager job, we encourage you to include details about the role at your company. The office manager job description sample is editable or expandable to get the job description you want.
What Else Would Be the Term for Office Managers?
Applicants seeking office manager positions may also be on the lookout for business office manager or administrative services' manager places. Job postings for office managers can help prospective applicants find your listing if they still need to be posted.
What Are the Top Nine Tricky Interview Questions You Should Ask
There are a few tough interview questions you may encounter in your graduate job interviews. Use tips on how to respond to them that will help you manage your nerves.
Conclusion
Being an office manager is a challenging but rewarding job. It requires someone who is organized, communicative, and can handle any issues. If this role might suit your skill set, look for the correct office manager job description and apply for the position!
Good luck!
Explore All
Write Job Descriptions Articles