An effective site engineer job description can help you understand what is required of the role to be successful in the site engineering field. From managing personnel to maintaining safety protocols, this profession requires an individual with experience, knowledge, and attention to detail.
In this article, we will discuss a site engineer's key skills and responsibilities with a well-detailed example. Reading through this guide will give you a better understanding of what it takes to excel in the position of a site engineer.
What Is a Site Engineer?
A site engineer is a highly skilled professional who oversees the day-to-day engineering operations on construction sites. With an extensive understanding of multiple disciplines, they are adept in liaising with stakeholders to ensure projects progress on schedule and within budget constraints.
From planning and surveying to coordinating materials delivery, monitoring safety compliance, and overseeing personnel management, site engineers juggle numerous responsibilities. This is a job that requires dexterity, attention to detail, and unyielding perseverance.
Skills and Responsibilities of a Site Engineer
Below are some of the essential skills and responsibilities of a site engineer:
Work Execution
A site engineer must have the technical ability to effectively execute construction projects as specified by their company or client. They should possess skills in civil engineering, such as reading blueprints and plans for new constructions.
Technical Support
Site engineers must provide technical support throughout the project to ensure the accuracy of design standards and safety regulations are being met. This includes inspections of materials on-site and regularly monitoring progress.
Company Representation
The engineer will be required to represent their company's interests at all times on the job site. This means ensuring proper adherence to the company's code of conduct and any contractual obligations made with the client.
Project Management
Managing various tasks across multiple phases of the project is part of this role. Being able to handle administrative tasks like budget tracking, scheduling, and resource planning will help streamline the project's timeline and maximize efficiency.
Leadership Skills
The engineer is responsible for leading crews on-site and ensuring every individual understands their respective duties toward completing the project. This requires good communication and problem-solving skills to resolve any issues that may arise during the process.
Effective Collaboration
Successful completion of most projects requires cooperation between different departments within the organization. It is the duty of the engineer to foster collaboration among colleagues while also efficiently delegating tasks.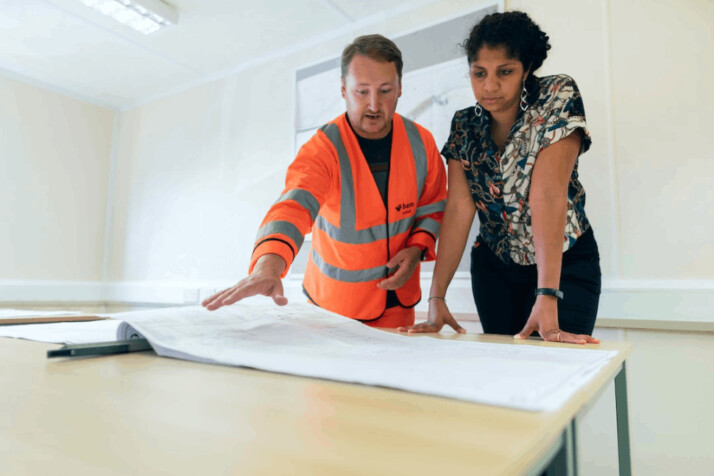 Site Engineer Job Description Example
Here's a great example of a site engineer job description that clearly outlines the skills and qualifications associated with the position.
Job Description Example:
We're looking for a passionate and experienced Site Engineer to join our team! You'll be responsible for managing and coordinating construction activities on site. The perfect candidate will possess excellent technical skills and problem-solving abilities to ensure projects are completed on time, within budget, and of high quality.
Responsibilities:
Coordinate, manage, and monitor construction works in accordance with plans, specifications, and regulations
Supervise subcontractors to ensure compliance with project requirements
Conduct inspections throughout the construction project and assess any potential risks or delays
Monitor progress and maintain schedules
Prepare and present reports on progress, issues, and related matters
Skills/Qualities:
Excellent knowledge of civil engineering principles and practices
Ability to cooperate and work as a team
Strong problem-solving and decision-making skills
Highly organized and detail-oriented
Proficiency with AutoCAD or similar software
Good communication and interpersonal skills
At our company, we believe in cultivating a positive culture where everyone is supported and encouraged. We offer competitive salaries and excellent benefits such as medical coverage, retirement savings plans, and more. Join us today and help shape our future!
To Wrap Up
A site engineer is an essential position for any construction project. They must possess an array of skills and knowledge to ensure the success of the build. They are responsible for overseeing all engineering aspects from planning and design through to delivery and completion.
Site engineers also need to be able to work in challenging conditions. They must adhere to regulations and health and safety protocols and stay up-to-date with new technology that could benefit their projects. It's a highly demanding job that requires creativity, discipline, and dedication.
Explore All
Write Job Descriptions Articles