A site foreman initiates and directs active construction or construction management activities on-site. Are you in search of a site foreman job description template? If so, look no further!
Writing your foreman job description can be tricky and often time-consuming. With the free examples in this article, the process is much simpler. We've crafted it to include all the necessary information while ensuring it's easy to understand.
Duties of a Site Foreman
A site foreman is a key individual in the construction industry and is expected to carry out various duties. Foremen are primarily responsible for managing crew members on-site. Find out more about their duties below.
Managing Personnel on the Site
The primary responsibility of a site foreman is to manage personnel, materials, equipment, and other resources on a given construction project. The foreman must be able to direct their team effectively while also maintaining order among them. In addition, the foreman is responsible for delegating tasks to ensure each job is completed correctly and efficiently. Furthermore, it's the foreman's duty to ensure the appropriate permits have been obtained for any on-site activity. They must also maintain records of all activities, inventory levels, and staff performance.
Enforcing Safety Procedures
In addition to overseeing day-to-day operations, the foreman must enforce safety procedures to prevent injuries or accidents from occurring on-site. This includes following Occupational Safety and Health Administration (OSHA) standards and providing personal protective equipment (PPE) such as hard hats where necessary. It's also the foreman's responsibility to inspect tools and equipment regularly to identify potential hazards before they become problems.
Planning
It's up to the site foreman to plan out all the necessary steps and activities for a project. This means creating a timeline, scheduling deliveries and personnel, and organizing resources. The better the planning, the smoother the entire process will run.
Budget Management
A big part of being a site foreman involves managing the budget of the project. This means tracking expenses, controlling costs, and ensuring that the project stays within its allocated funds. If done well, this can save money and keep things running smoothly.
Problem-Solving
No matter how carefully planned out everything may be, problems are bound to arise throughout the course of the project.
As such, it's the role of the site foreman to identify these issues quickly and come up with solutions. This could involve troubleshooting mechanical problems or finding alternate ways to complete tasks if something goes wrong.
Site Foreman Job Description Samples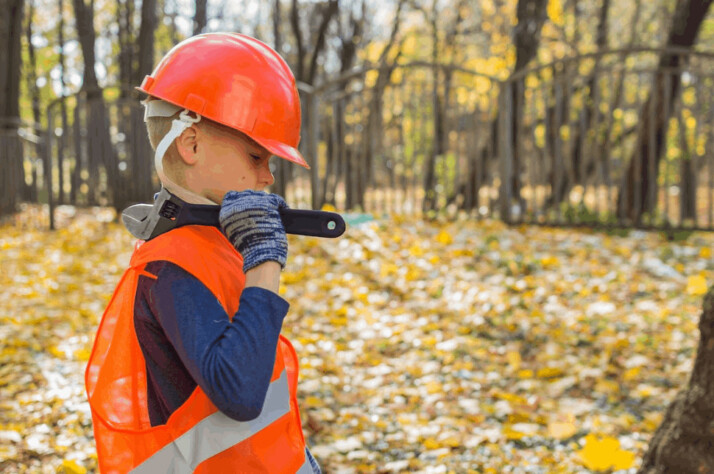 Before writing your site foreman job description, check out the examples below.
Site Foreman Job Description Template 1
We are seeking an experienced and motivated Site Foreman to join our team. The ideal candidate will be able to lead and motivate workers, plan and direct construction activities, manage resources, and maintain safety standards on-site.
Responsibilities:
Supervise construction projects from beginning to end, including coordinating material deliveries, tracking the progress of the project, monitoring costs, and budgeting;
Recruit, train, evaluate and discipline personnel;
Lead safety meetings with workers;
Plan and assign daily tasks for crew members;
Monitor productivity and output of workers;
Maintain records of materials used and time sheets of employees;
Inspect finished works and ensure adherence to applicable building codes.
Requirements
High school diploma or equivalent;
5+ years experience as a site foreman in the construction field;
Extensive knowledge of construction methods, procedures, materials, and tools;
Ability to read blueprints accurately;
Proficiency in Microsoft Office applications (e.g., Word, Excel);
Excellent communication, interpersonal and organizational skills;
Strong problem-solving, decision-making, and leadership abilities.
Site Foreman Job Description Template 2
We are seeking an experienced Site Foreman to join our team. The ideal candidate should have a proven record of successfully supervising and leading workers while maintaining the highest safety standards on construction sites.
Responsibilities:
Oversee day-to-day operations, including monitoring the work of subcontractors
Create and manage project plans and schedules
Train personnel in proper equipment operation and maintenance
Provide guidance and motivate crew members to meet production goals
Develop strategies for improving efficiency, productivity, quality control, and cost reduction
Ensure all workers adhere to company policies and safety regulations
Coordinate with other departments to ensure the timely completion of projects
Requirements:
High school diploma or equivalent
Proven experience as a supervisor, foreman, or similar role
Knowledge of general construction methods and materials
Ability to read blueprints, schematics, and diagrams
Demonstrated aptitude for problem-solving and decision-making
Excellent organizational and leadership skills
Outstanding communication abilities (verbal & written)
Final Thoughts
A site foreman is a vital part of any construction or building project. As the person in charge, they have many responsibilities and duties that must be carried out correctly for the job to go smoothly. This is why it is important to ensure that the job description covers all angles.
Explore All
Write Job Descriptions Articles