Working as a barista at Starbucks is an incredible opportunity and a stepping stone to a flourishing career. Not only do you have the opportunity to make meaningful connections with customers, but you can also cultivate important skills. For your resume to stand out, it can help to look at a Starbucks barista job description for resume.
By getting to know the role in greater detail, you can optimize your resume to highlight the exact skills the company is looking for. It will give employers a clear indication that you are the right person for the job.
What are the Responsibilities of a Starbucks Barista?
A Starbucks Barista prepares and serves coffee drinks according to company recipes. As the front line of customer service, they also need to welcome customers and handle any orders or inquiries. Baristas must maintain a clean work area throughout their shift and ensure that all equipment is in working order.
Additionally, baristas should remain current on new products and promotional offers. And when necessary, they must inform customers about product ingredients and special promotions.
Qualifications To Become a Starbucks Barista
To become a qualified barista at Starbucks, you must have the requisite knowledge and experience in coffee-making techniques. You must be able to understand customer orders quickly and accurately, prepare drinks with precision, and demonstrate the utmost hospitality.
Additionally, you should showcase a commitment to consistent learning and professional development. Acquiring relevant certifications or gaining mastery of different beverage preparation methods will prove your dedication to excellence.
Potential baristas should embrace flexibility, as peak hours may require them to work long shifts without compromising quality standards. All these qualities constitute an ideal candidate for becoming a skilled barista at Starbucks.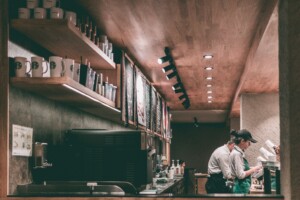 Starbucks Barista Job Description for Resume
Starbucks is searching for an experienced Barista to join our fun team. The ideal candidate should be passionate about coffee and customer service, possess impeccable attention to detail, and have a cheerful disposition.
A successful Barista must demonstrate excellent communication skills, have superb problem-solving abilities, and have experience with all types of espresso machines and grinders. Additionally, the qualified candidate should have a positive attitude and maintain knowledge of beverage recipes and delivery techniques.
Responsibilities:
Make customers feel welcome
Accurately process transactions using the POS system
Maintain knowledge of Starbucks products and promotions
Fulfill orders according to customer requests
Troubleshoot equipment issues when needed
Provide excellent customer service at all times
Maintain cleanliness standards throughout the store
Qualifications:
At least 1 year of previous barista or customer service experience required
Knowledge of specialty beverages, including espresso-based drinks
Proficiency in operating cash registers, scales, blenders, and so on.
Sensitivity to confidential matters & attentiveness to details
Possess strong organizational and multitasking capabilities
Commitment to teamwork and collaboration
Unexceptional dexterity and reliability
Final Words
A Starbucks Barista must possess an array of qualifications to be successful in the job. And you can get to know about these qualifications through a Starbucks barista job description for resume. Make sure to highlight relevant skills they are looking for to increase your chances of landing that job!
Explore All
Write Job Descriptions Articles