A surveyor engineer job description details the responsibilities, duties, and skills required for a surveyor engineer in the construction industry.
This article includes an overview of surveyor engineering and a template for writing an effective surveyor job description to attract qualified individuals.
Who Is a Surveyor Engineer?
A Surveyor Engineer is an experienced professional who uses their expertise to measure land, provide accurate mapping and create detailed plans for large-scale projects.
To calculate and measure accurately, they map terrain, define borders, and capture data points using LiDAR and advanced surveying equipment.
Surveyor engineers carefully assess dangers, examine soil types, study terrain, and generate maps that completely understand any area under survey.
Primary Duties of a Good Surveyor Engineer
A competent Surveyor Engineer is responsible for surveying, mapping, and recording the topographical features of a given site. This involves collecting data using specialized equipment like total stations, levels, GPS receivers, and other instruments to analyze land elevation, area, and boundaries.
They must also produce accurate maps and reports to present their findings in an understandable format. As part of their primary duties, they must ensure that all work complies with local legislation, environmental standards, and safety regulations.
Furthermore, they must vigilantly observe and document changes on the ground over time to identify any potential issues or hazards. Ultimately, the role requires precision, creativity, knowledge, and skillful manipulation of new technologies.
Essential Skills and Qualifications of a Surveyor Engineer
A Surveyor Engineer is an experienced professional with a deep understanding of spatial measurement and construction processes. As such, they must possess essential skills and qualifications to execute their role in the field effectively.
These include the following;
Strong analytical and numerical capabilities
Exceptional communication and interpersonal abilities
An aptitude for detail-oriented work
Technical proficiency in surveying instruments and methods
Excellent organizational research and problem-solving abilities
Familiarity with the various local laws related to land surveys
Ability to interpret architectural plans, drawings, and sketches
Experience utilizing Geographic Information Systems (GIS) or other mapping software.
Surveyor Engineers must maintain a license given by the state where they practice. This indicates that they have satisfied the educational and practical standards established by the governing body.
Ultimately, it is through these core competencies – combined with a great knowledge base – that Surveyor Engineers can achieve precise results in their domain.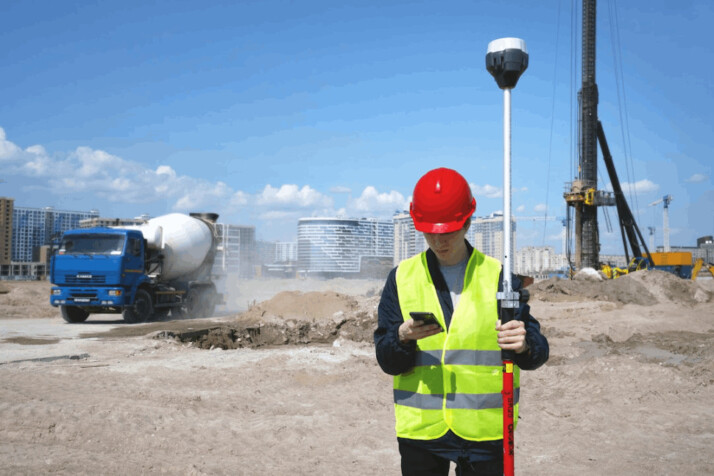 Template: Surveyor Engineer Job Description
Company XYZ is looking for an experienced and highly motivated Surveyor Engineer to join their team. In this role, you will be responsible for creating topographic surveys of construction sites, identifying potential risks, and planning cost-effective solutions.
You will also conduct field measurements using high-precision instruments and analyze survey data to inform project designs and engineering plans.
This profession requires problem-solving, attention to detail, pressure-handling, and communication abilities. You must also demonstrate familiarity with industry standards and regulations. You should ensure projects are completed accurately and efficiently while adhering to safety protocols.
Duties & Responsibilities:
Accurately measure land features such as distances, elevations, angles, slopes, curves, points, contours, and ground cover using surveying equipment.
Interpret survey data to create detailed maps and drawings
Analyze collected information to identify potential issues or problems
Plan cost-efficient design alternatives according to local zoning laws and safety guidelines
Set up site boundaries and property corners using stakes, flags, monuments, and other markers
Monitor changes onsite during construction and provide periodic updates.
Ensure compliance with all relevant regulations and quality control standards
Prepare reports describing observations and conclusions of surveys.
Maintain accurate records of measurements and analysis results
Requirements:
Proven experience as a Surveyor Engineer or similar role
Familiarity with surveying software and tools (e.g., AutoCAD)
Working knowledge of GPS systems and laser levels
Excellent analytical and problem-solving abilities
Ability to interpret complex legal documents related to boundary disputes
Outstanding organizational and time management skills
Good verbal and written communication skills
Adherence to strict health and safety protocols
Final Words
Writing a surveyor engineer job descriptiongives a sense of the role, especially if those responsibilities aren't well-defined in the company guidelines. Use our template to highlight the key qualifications your company expects from a surveyor engineer.
Explore All
Write Job Descriptions Articles