You'll need a system engineering job description to hire a systems engineer or bolster the engineering department.
Every organization has its concept of what a systems engineer performs, and there is no standard framework for a job description. However, some features are commonly found in a sound system engineering job description.
Learn the general abilities and responsibilities that a system engineer job description should include, along with an example to assist you in writing one.
Who Is a System Engineer?
A System Engineer is a highly skilled professional with the experience and knowledge to design and install computers, computer hardware, and software issues.
A System Engineer may be responsible for working on various projects, from designing entire networks to developing solutions to common issues.
They must also research new technologies and develop strategies to into existing systems. The system engineer has analytic solid and processes, identifies areas of improvement, and produces a plan of action for all components working together.
What Does a System Engineering Job Entail?
A System Engineer is a professional responsible for designing, implementing, and maintaining computer systems.
System engineers make sure software and hardware work together to create efficient, dependable, and secure IT systems. It involves managing projects from conception to delivery, developing and maintaining processes, testing and evaluating performance, monitoring systems, and supporting users.
The successful completion of a systems engineering job requires a combination of technical know-how and managerial abilities.
Managers must introduce new technologies, maintain high standards, boost efficiency, and solve challenges with creative ideas. They will also need to inspire and hold project teams accountable, manage resources, and comply with industry certifications to drive organizational growth.
Primary Duties of a System Engineer Job
The responsibility of system engineers is to manage, supervise, and maintain high standards in infrastructure, application development, and service delivery. Other duties include the following:
Providing the best technical solutions to meet the needs of their team and company.
Keeping track of new technologies and requirements to ensure that the system meets business objectives.
Quality assurance and testing activities to increase the reliability and accuracy of any systems implemented.
System engineers can work as project managers or administrators to resolve challenges and maintain operating systems.
Essential Skills of a System Engineer
Here are the essential skills a system engineer should possess to deliver optimal performance and quality solutions;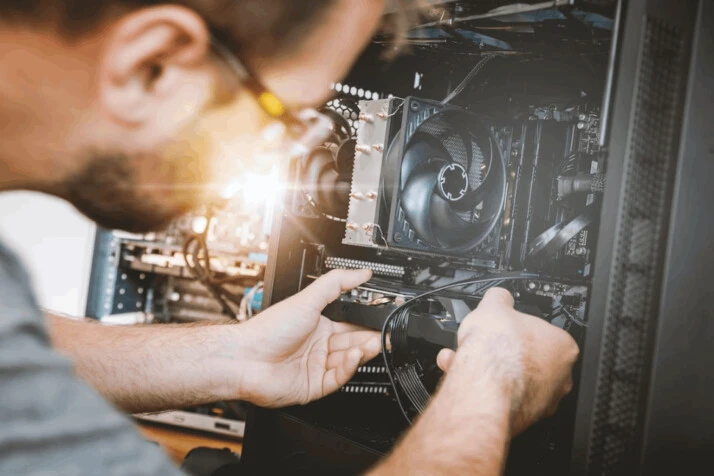 1. Analytical Skills
A system engineer should be able to identify, diagnose and solve issues effectively. He/she should be able to drive innovation by developing solutions to keep costs low while increasing efficiency.
2. Technical Knowledge
The System Engineer must possess knowledge in multiple areas, including network design, information security, computer science, databases, and software engineering. To ensure the company's technology is cutting-edge, he/she must stay current.
3. Managerial Skills
The System Engineer must possess strong management skills to manage and support different teams within the organization. This includes managing resources as well as ensuring optimal results for all projects.
He/she should be able to identify potential growth and innovation opportunities to maintain a competitive edge.
System Engineering Job Description Sample
Company XYZ is looking for a seasoned System Engineer to help design and maintain its IT systems. The ideal candidate must possess an impressive set of skills, including experience with network security, software engineering, hardware maintenance, and troubleshooting.
They should also have excellent problem-solving abilities, work autonomously, and communicate complex concepts effectively. A successful applicant will require a solid background in system design, operation, optimization, installation, and configuration of enterprise networks.
He/she will monitor performance, scalability, and availability; conduct research and technical evaluations; resolving application problems.
The candidate will recommend solutions, develop detailed project plans, and present results to executive team members. This role requires thinking on one's feet and quick execution of tasks when needed.
A unique sense of creativity and aptitude for innovation are critical traits sought after in this position. The engineer must employ forward-thinking tactics that keep the organization ahead of the competition while protecting data integrity and confidentiality. Furthermore, they must cultivate a culture of collaboration between departments to drive growth and efficiency.
The ideal applicant must have an eye for detail, understand deadlines, be trustworthy under pressure, and be dedicated to client satisfaction. If you're passionate about technology and have the expertise to push us into the future, please apply now!
Wrapping Up
Your system engineering job description should list your needed abilities and match the tasks. Take the time to write a detailed job description so that you can attract qualified individuals and meet company requirements.
Explore All
Write Job Descriptions Articles