In the current world of web design, it is essential to understand the different roles and responsibilities of a UX/UI Designer. A UX UI Designer job description outlines the tasks needed to create an experience that users find pleasant, attractive, and engaging. Through research, wire framing, prototyping, testing, and other processes, designer develop experiences that are both functional and aesthetically pleasing.
This article will provide a complete review of what makes up a UX/UI designer's Job Description. It also provides examples of the UX/UI designer job description.
UI UX Designer Duties and Responsibilities
The duties and responsibilities of a UX/UI designer may include the following:
Designing the overall look and feel of a product's user interface, including layout, visual design, and usability.
Creating wireframes, prototypes, and high-fidelity mockups to communicate design ideas and gather feedback.
Conducting user research and testing to understand user needs and identify areas for improvement.
Collaborating with the product team to define features and gather requirements.
Ensuring that the final product is technically feasible and meets design specifications.
Staying up-to-date with design and technology trends and best practices.
Mentoring and guiding less experienced designers.
Participating in the design review process to gather feedback and make improvements.
Working with developers to implement and iterate on designs.
Continuously iterating and improving the product using user feedback and data.
What makes a Good Ui Ux Designer?
User-Centered Design
A good UX/UI Designer should have a strong understanding of user-centered design principles and be able to design with the end user in mind. These design principles include conducting user research and testing to ensure that the design meets the user's needs.
Technical Skills:
In terms of technical skills, a good UX/UI Designer should be proficient in design tools such as Adobe Creative Suite, Sketch, and InVision. A basic knowledge of HTML, CSS, and JavaScript will help them communicate effectively with developers.
Problem-Solving Ability
A good UX/UI Designer should have strong problem-solving skills and be able to come up with creative solutions to design challenges.
Communication and Collaboration
A good UX/UI Designer should have strong communication and collaboration skills. UX/UI Designers work closely with cross-functional teams, including product managers, developers, and stakeholders, and should be able to communicate and justify their design decisions.
Sample UX UI Designer Job Description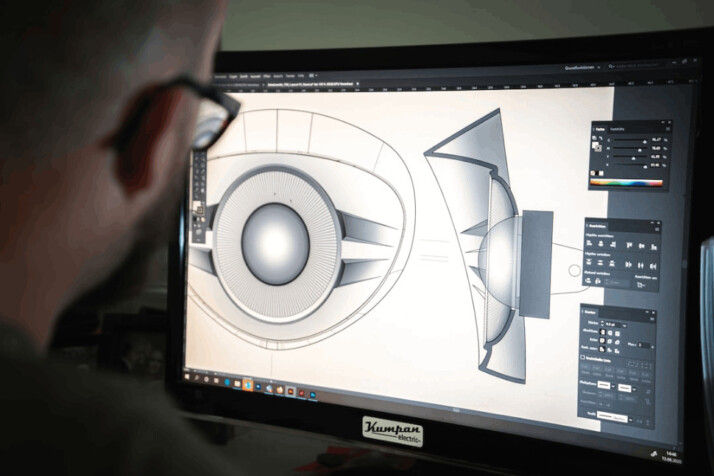 Job Title: UX/UI Designer
Location: San Francisco, CA
Job Description
We seek a talented, experienced UX/UI Designer to join our growing team. The chosen candidate will be responsible for creating and implementing user-friendly systems and aesthetically pleasing user experiences for our web and mobile applications.
As a UX/UI Designer, you will work with the product and engineering department to understand user needs. You will also create wireframes, prototypes, and high-fidelity designs. You should be able to take a project from initial concept through to final implementation, ensuring a consistent and cohesive experience across all platforms.
Responsibilities
Collaborate with product and engineering departments to define and implement innovative design solutions for web and mobile applications.
Create wireframes, prototypes, and high-fidelity designs to communicate interaction and design ideas effectively.
Conduct user research and usability testing to direct design decisions.
Continuously iterate and improve the design of existing products.
Stay up-to-date with the latest design trends and techniques.
Requirements
3+ years of experience in UX/UI design.
Proficiency in digital design tools such as Sketch, Adobe Creative Suite, and InVision.
Strong portfolio of design work that demonstrates your design process and problem-solving skills.
Experience conducting user research and usability testing.
Excellent communication and teamwork skills.
Experience with HTML, CSS, and JavaScript is a plus.
Tips to Get Started in UX UI Designer Career Path
Here are some tips for getting started in a UX/UI Designer career path:
1. Build a Strong Portfolio
As a UX/UI Designer, it is crucial to have a strong portfolio that showcases your design skills and process. This can include projects you have completed for school, personal projects, or even design challenges.
2. Learn the Tools of the Trade
Some design tools are commonly used in the industry, such as Adobe Creative Suite, Sketch, and InVision. To be competitive in the job market, it is essential to become proficient in these tools.
3. Gain Experience Through Internships or Freelance Work
Internships or Freelance Work Can Provide Valuable Experience and Help You Build Your Portfolio. These Opportunities Can Also Help You Network and Make Connections in the Industry.
4. Stay up to Date With Industry Trends
Stay abreast with the latest design trends and best practices is vital in UX/UI Design. This can be achieved through continuing education, attending conferences, or following design blogs and publications.
5. Network and Build Relationships
Building relationships with other professionals in the field can be beneficial for finding job opportunities and getting advice from experienced designers. Networking can be done through industry events, online communities, or joining a professional organization.
Conclusion
The UX/UI Designer job involves creating intuitive, user-friendly designs for software and web applications. This includes conducting user research, prototyping, and testing to ensure that the design meets the user's needs. The role also involves working closely with developers to ensure the design is technically feasible and implementing design changes based on user feedback.
This role is crucial in any digital product, as the UX/UI Designer creates an enjoyable and efficient experience. The UX UI Designer job descriptionrequires a mix of creative design skills and technical expertise. This makes it a challenging and rewarding career for those passionate about design and technology.
Explore All
Write Job Descriptions Articles