The position of a video editor is an exciting and creative one that comes with plenty of responsibility. With the right mix of technical knowledge and artistic talent, this job can be rewarding for those passionate about producing high-quality visuals. When crafting a video editor job description, employers need to clearly outline the essential skills and qualifications in detail to hire the best candidate.
This article explores the role of a video editor, breaking down all the essential skills and qualities with a well-crafted sample job description.
Essential Skills and Qualities of a Video Editor
A video editor is required to do a variety of tasks, demonstrating their creativity, knowledge, and sense of aesthetics. Below are some of the key skills and qualities of a video editor:
Experience With Editing Software
A video editor must have experience with the tools and techniques necessary to create high-quality digital video products. They must be familiar with editing software such as Adobe Premiere, After Effects, and Final Cut Pro.
Graphic Designing
The video editor should possess knowledge of graphic design and visual effects to create animations and special effects for the project. They are required to use graphic design tools like Photoshop to create custom titles and graphics for video production.
Completing Different Types of Projects
As video editors, they will need to complete various projects such as films, commercials, music videos, or documentaries. They are responsible for understanding the project's concept and delivering results that adhere to the client's instructions.
Editing Footage
This is one of the most important roles of a video editor. They should be able to edit footage accurately while using creative elements to tell stories. They are responsible for cutting and trimming video clips according to the project needs while maintaining a sense of continuity throughout the whole project.
Sound Design
A video editor must be familiar with sound design principles to mix and adjust music and sound effects. They are required to possess these skills to create a dynamic and engaging piece of work.
Knowledge of Workflow
A video editor must understand workflows related to the post-production process. It involves everything from ingesting media files to creating an output that can be viewed or distributed.
Applying Effect on Videos
Lastly, the video editor should strive to achieve maximum impact on viewers by manipulating visuals and audio through different techniques. They should be able to apply special effects such as color correction, chroma key compositing, image stabilization, audio mixing, etc., to enhance videos.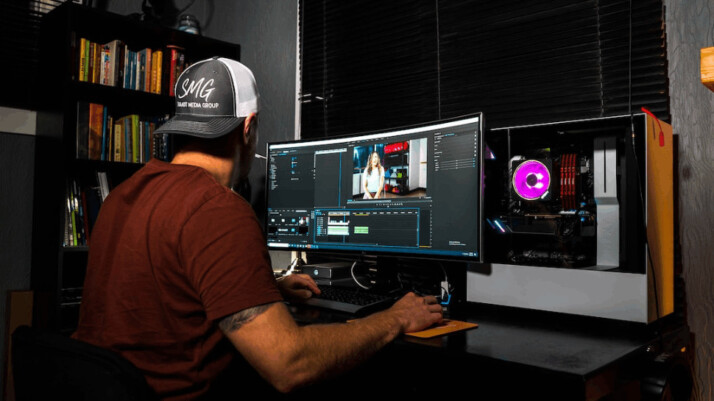 Video Editor Job Description Example
We have compiled a well-crafted example of a video editor job description that details the expectations associated with this role:
Job Description Example:
We are seeking an experienced Video Editor to join our team and help create engaging videos for a wide range of audiences. In this role, you will be responsible for editing video footage in accordance with the project's requirements. You must also ensure that all content is up to standard and meets deadlines.
Responsibilities:
Utilize advanced editing techniques and software to produce professional-quality visuals
Effectively combine audio/video components into well-crafted final products
Assess various types of source material, including sound recordings, dialogue, graphics, special effects, etc.
Maintain consistent communication with producers regarding timelines and changes throughout the production process
Ensure alignment with brand standards through creative direction and guidance
Skills & Qualifications:
Knowledge of Adobe Creative Suite (Premiere Pro, After Effects)
Proficiency in both Windows and Mac OSX operating systems
Familiarity with color correction, motion graphics, and audio mixing/editing best practices
Great eye for composition and detail
Ability to think on your feet and make decisions under pressure
Our company strives to build meaningful relationships by providing great customer service and innovative solutions. We value collaboration, creativity, and accountability – each of which contributes to a positive work environment. Our employees enjoy competitive salaries and benefits packages. If you're passionate about becoming a key contributor to our dynamic and growing team, apply today!
Conclusion
The role of a video editor is an exciting and ever-evolving job that requires creative technical abilities. Video editors are instrumental in producing content for various media channels, and they must be highly organized and possess excellent communication skills. The job description may vary depending on the production team. But having a solid foundation in post-production and editing is essential to becoming successful as a video editor.
Explore All
Write Job Descriptions Articles