Customizing your videographer job description to suit your company's needs is vital. It improves your chances of hiring befitting talents that would impact your business positively.
This article focuses on creating a scalable and marketable video production company by refining your recruitment process. To help initiate your hiring procedure, we've curated a videographer's basic duties and provided a great job description sample for professional guidance.
What Does Working As A Videographer Entail?
A videographer is someone who captures visuals for a variety of purposes, from feature films to commercial advertisements.
Working as a videographer entails using cameras and other audio-visual equipment to capture stunning footage. Such footage can be used in production, post-production, and ultimately broadcasted or distributed.
This job requires artistry, creativity, and technical proficiency. And it often involves working with people under tight deadlines.
Videographers must also stay updated on technology trends to create meaningful visual pieces.
The job may involve long hours and hectic schedules, but it's rewarding for people passionate about capturing stories behind the lens.
Primary Duties Of A Videographer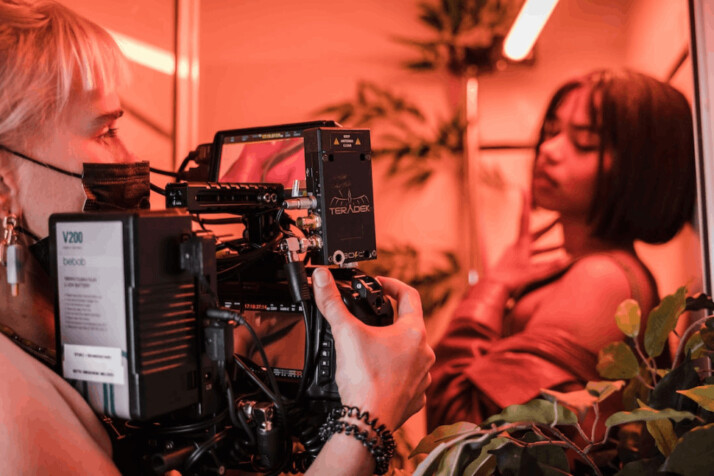 Video professionals work in the entertainment industry. And their primary duties include:
Cinematography.
They capture visuals and audio through various cameras and sound recording equipment to create high-quality videos.
Editing
They are also responsible for electing, combining, and arranging footage into an engaging narrative with transitions, effects, graphics, music, and color correction.
Lighting
A videographer also uses specialized techniques like bounce lights, diffusers, reflectors, softboxes, and scrims for optimal illumination of sets and scenes.
Collaboration
Furthermore, they work closely with producers and directors to ensure that visual elements align with creative objectives.
Storytelling
Videographers craft compelling stories that align with a client's vision. They also create meaningful visuals that convey emotion and drive action.
Requisite Skills For A Videographer
A successful videographer must possess a unique combination of technical aptitude and creative vision.
From operating cameras to editing footage, they should be highly proficient in every aspect of the production process. Videographers must possess strong storytelling abilities to create compelling content that resonates with viewers.
Generally, they should understand camera operation, exposure settings, and lighting techniques. Video formats and audio recording knowledge is also essential for capturing quality shots.
Moreover, knowledge of nonlinear editing software like Adobe Premiere Pro helps them piece footage into a cohesive narrative.
As you may have guessed, creativity is equally a primal skill. It informs the composition, motion graphics, and visual effects needed to convey apt emotions/atmosphere.
An acute interpersonal skill enhances working relationships with clients and teams on set. Hence, videographers should understand how to collaborate effectively and build solid relationships.
Self-direction, organization, and discipline are other valuable traits instrumental to completing projects on time and within budget.
Ultimately, a great videographer requires technical proficiency, creativity, problem-solving, communication, and collaboration capabilities. Of course, a passion for creating engaging stories is non-negotiable.
Videographer Job Description Sample
(Company ABC) seeks an experienced and talented Videographer to join our dynamic team. You will be responsible for creating high-quality videos for a variety of projects.
Job brief:
As the Videographer, you will capture video content for various multimedia outlets like television, streaming services, or other forms of media. You aim to create engaging and visually appealing video material that appeals to the intended audience.
Requirements:
Bachelor's degree in Video Production, Film Studies, Communications, Visual Arts, or a related field.
Minimum of 6 years experience in videography.
Familiarity with professional audio/video equipment, including cameras, lighting, and sound recording devices.
Proficiency in editing software such as Adobe Premiere Pro, Final Cut Pro X, or Avid Media Composer.
Excellent organizational and problem-solving skills.
Able to collaborate well with creative teams.
Skills:
Keen eye for detail and composition.
Creative vision and flair.
Ability to communicate ideas clearly.
Aptitude for working seamlessly under pressure.
Passion for creativity and storytelling.
Benefits:
At our company, we offer competitive salaries, flexible hours, health insurance, vacation pay, and other benefits. This is an excellent opportunity for someone looking to hone their craft and develop their career as a Videographer.
If you think you have what it takes to take on this exciting role, please apply today!
Wrapping Up
Do you want your content to reach a wider audience and become more impactful? Then hire a videographer!
The qualifications, responsibilities, skills, and benefits for this job are as diverse. Hence, when hiring a videographer, it is desirable to have a broader understanding of the work in demand. And it's crucial to write a befitting videographer job description.
Explore All
Write Job Descriptions Articles