From everyday operations to logistical complexities, being a warehouse manager requires exceptional organizational and multitasking skills. Understanding the nuances of the warehouse manager job description is essential for ensuring you find the right person for the role.
In this article, we'll look at the responsibilities of a warehouse manager and go over a job description example for your reference.
Roles & Responsibilities of a Warehouse Manager
We have compiled some of the key responsibilities of a warehouse manager to help you understand the role better:
Manage Logistics
A warehouse manager is responsible for overseeing the entire process of receiving, storing, and distributing goods. To maximize efficiency, they must ensure that materials are efficiently organized and accurately tracked.
Employee Management
A warehouse manager must be able to manage personnel, such as assigning tasks, monitoring performance, and managing payroll. They should also be able to troubleshoot any issues that may arise to maintain a productive working environment.
Warehouse Storage and Receiving
The warehouse manager is responsible for properly storing materials and keeping inventory updated. This includes ensuring proper labeling of items and updating databases with accurate information.
Additionally, they must ensure that incoming shipments are received, inspected, and stored correctly.
Distribution and Inventory Control
The warehouse manager is responsible for organizing and managing inventory control systems.
They must oversee the distribution of products within the warehouse while maintaining appropriate stock levels to avoid overstock or shortages.
Job Skills
A successful warehouse manager should possess excellent problem-solving skills, interpersonal communication abilities, and organizational expertise.
They should be highly knowledgeable about safety protocols, efficient processes, and computer software programs related to warehouse operations.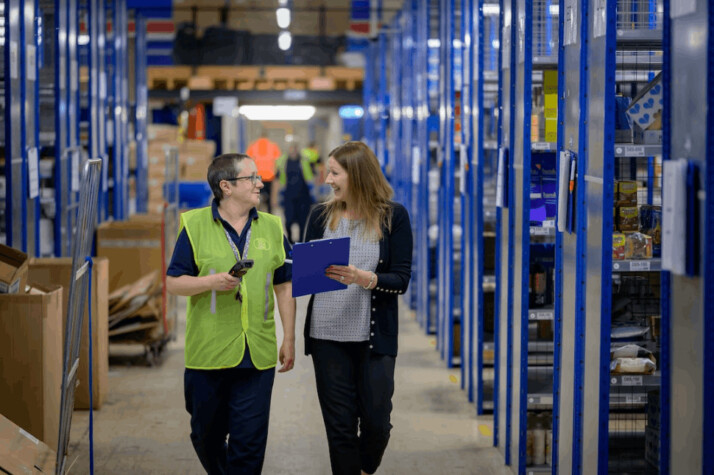 Warehouse Manager Job Description Example
Here's a great example of a warehouse manager job description to help you understand the position better.
Job Description Example:
We are looking for a talented and experienced Warehouse Manager to join our dynamic team. You will be responsible for overseeing the effective operation of our warehouse while ensuring safety protocols are in place.
Responsibilities:
Oversee day-to-day operations of the warehouse
Implement efficiencies that decrease turnaround time, improve accuracy, and reduce costs
Supervise staff and ensure proper training is provided
Design and implement inventory control systems
Develop strategies for loading/unloading freight and increasing storage space utilization
Monitor stock levels and order supplies when necessary
Handle customer inquiries and complaints
Ensure compliance with all applicable laws and regulations
Skills & Qualities:
Proven work experience as a Warehouse Manager or similar role
Proficient computer skills; knowledge of data analysis techniques
Ability to create and manage schedules
Excellent organizational, leadership, communication, and problem-solving skills
Knowledge of safety procedures and quality assurance standards
At this company, we prioritize creating a fun and welcoming workplace culture. We also offer competitive compensation packages with benefits such as health insurance and retirement plans. Join us today!
Conclusion
A warehouse manager plays a vital role in any business that deals with the storage and transportation of products. Their skill set should include problem-solving, critical thinking, organization, leadership, effective communication, and the ability to multitask effectively.
Warehouse managers are essential for running an efficient operation and ensuring customer satisfaction. With this job description example as a guide, businesses can ensure they have the right person for the job.
Explore All
Write Job Descriptions Articles