A welder job description requires much more than just the technical knowledge of joining metals. It is an occupation that demands physical strength, focus, and determination to perform dangerous tasks in hazardous environments.
Experienced welders bring technical expertise and a level of craftsmanship and artistry that sets them apart from other tradespeople. This article will explore the job description of a welder and what qualities are necessary to succeed in this role.
Roles and Responsibilities of a Welder
An effective welder is expected to fulfill the following roles and responsibilities:
Inspecting Equipment
A welder must inspect their welding equipment and tools to ensure they are working properly before use. This includes checking for wear, damage, and proper operation.
Interpreting Blueprints:
The job of a welder involves interpreting blueprints in order to correctly perform the necessary welds. They must be able to read drawings accurately to execute each job precisely.
Setting up Processes
Before starting any welding project, welders must determine the best process for completing the task efficiently. This includes determining what type of metal should be used and setting up any specialized tools or machines needed for the welding job.
Fabricating Metal Components
Welders are responsible for fabricating metal components according to specifications outlined in blueprints. This requires them to use various techniques, such as oxy-fuel welding and arc welding.
Operating Machines
As part of their job duties, welders may be required to operate complex machinery to complete jobs. They must be familiar with operating lathes, milling machines, grinders, and other specialized tools related to their profession.
Finishing Work
Once the fabrication is complete, welders must ensure all surfaces are smooth and free from imperfections. Additionally, they may need to polish or sand down the finished product prior to the final inspection.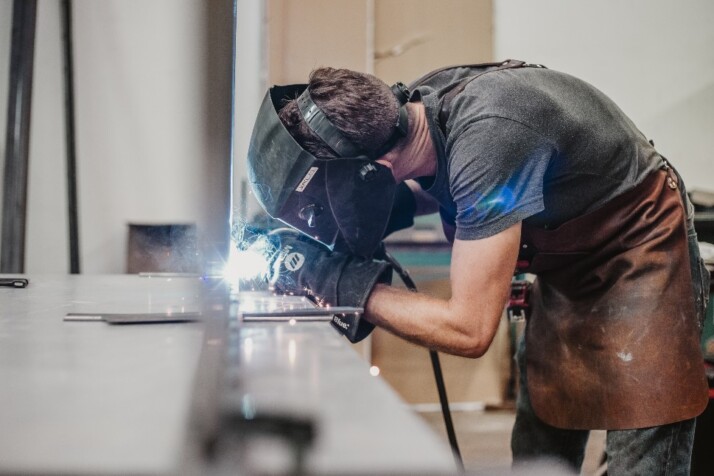 An Effective Welder Job Description Example
Let's look at an excellent welder job description example to help you understand what skills and duties are associated with this role:
Job Description Example:
We are looking for a passionate and experienced Welder to join our team. You will be responsible for the assembly, fabrication, and welding of components and ensuring the accuracy of work and safety regulations.
Responsibilities:
Interpret blueprints, sketches, or product specifications to determine the appropriate welding process
Assemble and fabricate metal components using MIG/TIG welding methods
Utilize knowledge of metallurgy, geometry, and engineering requirements to develop successful welds
Follow prescribed safety standards while operating equipment
Monitor fitting, burning, and welding processes to avoid problems
Use precision measuring instruments such as calipers, micrometers, and laser gauges
Skills and Qualities:
Proven experience with MIG/TIG welding techniques
Knowledge of relevant safety regulations
Ability to read technical drawings and interpret measurements
Attention to detail
Good hand-eye coordination
At our company, we strive to create an enjoyable working environment where everyone is given equal opportunities. We offer competitive benefits and great career prospects. If you believe this position is perfect for you, don't hesitate to apply today!
Conclusion
The job of a welder is an essential role with many responsibilities. It requires both technical expertise and safety knowledge to be successful in this position.
The key skills needed for a welding career are cutting materials with hand tools, inspecting work for conformance to standards, and interpreting engineering drawings. When crafting your job description for a welder, use the information in this article to create an engaging opportunity that will attract top talent.
Explore All
Write Job Descriptions Articles