In the current competitive job market, it's important to have a resume that stands out from the rest. One way to do this is by highlighting your leadership skills in your resume's objective statement.
A strong resume objective will demonstrate your ability to lead and showcase other desirable qualities, such as teamwork and problem-solving skills. You don't need to stress yourself looking for how to write a good leadership resume objective.
This article has professional summary examples for leadership positions you can use as a template. The next time you write a resume for a leadership or management job, you should use these templates.
What Are Leadership Skills?
Leaders are individuals who can guide and direct a group to achieve a common goal. This could be something as simple as getting a team to work together harmoniously on a project.
It could be something more complex such as making strategic decisions that will steer a company in the right direction. In order to become an effective leader, it is important to possess certain skills.
Some of these skills include but are not limited to:
Communication (Oral and Written)
Leaders must be able to articulate their thoughts and vision clearly. Good communication helps ensure that everyone on their team understands what needs to be done and why. They also need strong writing skills so they can compose clear emails, reports, etc.
Decision Making
Leaders often have to make quick decisions under pressure; being able to make sound judgments quickly is essential.
Problem-Solving
When things don't go according to plan, leaders need to come up with alternate solutions fast. A good leader must be able to lead from the front if things are not going as planned.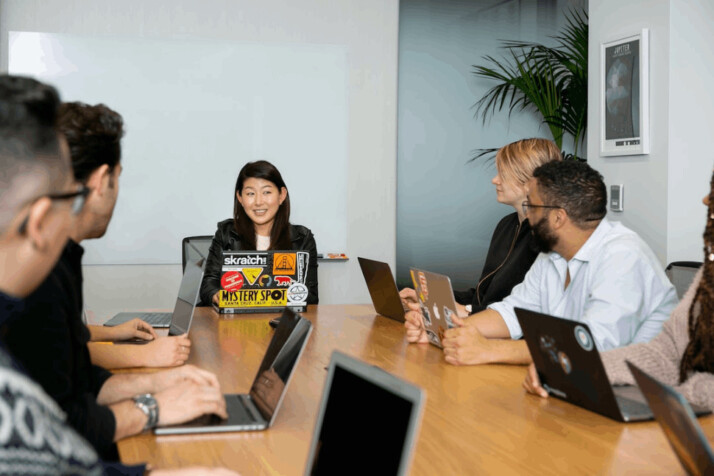 Multi Tasking
Leaders typically have many things going on at once. They need excellent time management skills in order to juggle all those balls without dropping any!
If you have any of these leadership skills, the hiring manager won't know automatically. It is your job to put it on your resume. In the section that follows, we show you samples of resume summaries you can use to tell employers you're a capable leader.
Tips for Writing Professional Resume Summaries for Leadership Jobs
So, how can you go about writing leadership resume summaries? Below are some tips on how to show effective leadership in your resume summary:
Give a Brief Overview of Your Leadership Experience
Start with a brief overview of your experience leading teams or projects. This could include specific examples of times when you took charge and got things done.
Talk About the Results You Got
Talk about the accomplishments or results you achieved while in a leadership role. Did you increase sales figures? Reduce costs? Make any notable improvements? Be sure to quantify these achievements if possible!
Highlight Leadership-Related Soft Skills
Another key component of an effective leader resume objective summary is soft skills. Soft skills are personal traits that make someone successful in a given task or situation.
Highlight any soft skills that make you an effective leader. These soft skills include communication (oral and written) and multitasking. These traits should be evident through the examples provided in the first two parts of your resume summary.
Professional Summary Examples for Leadership
Here are some well-written professional summary examples for leadership positions. Feel free to read through and select the one that best describes you.
Leadership Resume Objective 1
I am an accomplished business professional with experience in creating and leading development operations. With a proven track record in delivering tangible results, I can't wait to leverage my skill set to help your organization achieve its goals. In previous roles, I have been responsible for directing teams of engineers, overseeing budgeting and planning initiatives, and handling customer relationships. My expertise lies in maximizing efficiency through process improvement and automation; I firmly believe that scalability is key to success in any business venture. In the end, I want to make sure all aspects of production are running smoothly.
Leadership Resume Objective 2
I'm an experienced manager with a proven record of improving output in fast-paced environments. I have a sharp eye for detail and thrive under pressure, making me the perfect candidate for a leadership position in your company. With my experience managing teams and working closely with clients, I know how to get the most out of each member of staff. I'll do these while meeting deadlines and maintaining high-quality standards.
Leadership Resume Objective 3
A responsible career-driven individual with a proven record in leading teams and achieving results. Proven record of handling multiple tasks and responsibilities while maintaining focus on the main objective. Adept at managing change, motivating team members, and delivering awesome output under pressure.
Leadership Resume Objective 4
A highly motivated and experienced leader with a proven track record in managing teams, driving results and delivering value to employers. Skilled at creating a motivating environment that drives performance while ensuring compliance with company policies and procedures. I excel at building relationships both internally and externally to drive consensus and achieve results.
Leadership Resume Objective 5
A highly accomplished and forward-thinking leader with experience in directing all facets of production for a company. Strives to achieve strategic goals by optimizing outputs, streamlining processes and maintaining high standards.
Leadership Resume Objective 6
A leader in the field of civil engineering with extensive experience in job management. Skilled at overseeing all aspects of production, ensuring timely and accurate delivery of products to meet customer demands. Outstanding organizational and problem-solving abilities, which have resulted in increased efficiency and cost savings for employers. Keen ability to cultivate positive relationships with clients and team members, leading to success in collaborative environments.
Leadership Resume Objective 7
A result-oriented professional with over six years of experience in a leadership role within the manufacturing industry. Seeking to leverage my skills and abilities as an Output Manager for an organization that emphasizes teamwork, productivity and efficiency. Possess excellent communication and multitasking skills, which I am confident will benefit the organization.
Leadership Resume Objective 8
A business professional with experience in leadership and development. Skilled in strategic planning, process improvement, and change management. Looking for a job that will allow me to use my skills to improve the company's output.
Leadership Resume Objective 9
A smart and innovative leader with expertise in leadership development and business transformation. Proven success in driving growth, building sustainable teams and creating value for businesses. Specialized in aligning organizational objectives with employee potential to create an efficient and productive workplace culture.
Leadership Resume Objective 10
I'm a proven leader with experience in team management. I thrive in fast-paced environments and have a track record of producing high-quality output. My goal is to use my leadership skills and abilities to help your company reach its goals as efficiently as possible.
Conclusion
Ultimately, a professional resume summary isn't just a shortened version of your resume. It tells the recruiter what you can offer them in terms of leadership and its importance in the current workplace.
You can create great leadership summaries like the templates above using the Hey INK tool. The tool allows you to access more than 130 AI writing tools from a single interface.
Explore All
Write Professional Overview Articles