After Black Friday and Cyber Monday, it's time to focus on the Christmas shoppers. Growing your Christmas sales will need using email marketing, just like it did for the BFCM weekend. It certainly requires making an effort with your email design and content. But your Christmas email subject lines significantly impact how well your campaigns perform.
This article provides a list of some amazing subject lines for Christmas that you can use as inspiration to come up with your own.
Why Are Christmas Email Subject Lines Important?
Your email subject line is one of your most powerful marketing tools. These subject lines do an amazing job of describing what you'll be talking about in your holiday email. It's up to you to create a title with a great hook that will make your email stand out to your recipient.
The email has to be concise, stand out, and give a general idea of the content of the email. It should also be relevant so that the recipient is interested and engaged. Companies are increasingly opting for email marketing rather than billboard advertising because email marketing has proven more cost-effective.
Tips to Craft Winning Email Subject Lines
You must craft a winning email subject line. These subject lines often help you determine which email marketing campaigns will be the most successful and which you should abandon.
When you create an attention-grabbing subject line, it's also possible to increase your click-through rate and conversions. Follow the tips below to craft amazing subject lines for successful campaigns.
Incorporate Pain Points of Your Readers
You already know the challenges that come with Christmas. The holiday season comes with its fair share of stress too. Let your email subject line reflect the pain points and offer a solution for the hectic schedules, purchasing problems, depressed mood, and more.
Increase open rates by including holiday stressors in the subject line. However, make sure to include realistic problem areas to maximize the effect of the campaign.
Maintain Mobile-Friendly Character Length
Keep your subject line short and sweet to make it mobile-friendly. The ideal range is between 30 and 50 characters. If you can't condense it, make sure the opening characters pack a powerful punch.
It can be difficult to fit your resounding message into a small space, but this is important to make potential customers open your email.
Personalize the Subject Line
Make sure to collect personal information. Include information about the recipient in your email, such as what they like or what they're looking for. You must personalize your Christmas email subject lines because you need to persuade people, not force them to open your email.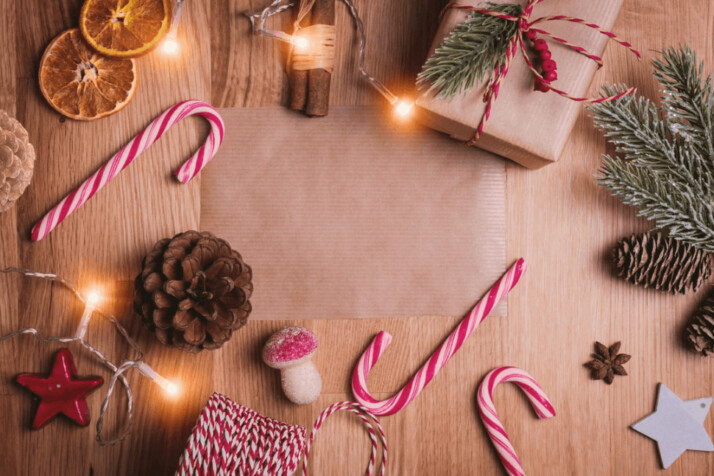 Creative Email Subject Lines for Christmas
Creative email subject lines are a big part of a good email campaign. A good email subject line is important if you want to offer Christmas deals, greet current clients, or wish existing employees on Christmas.
Here are some great Christmas email subject lines for an effective marketing campaign.
General Christmas Subject Lines
It's time to get festive!
Deck the halls with these savings
Awesome Gift Ideas for Xmas
Beat the holiday rush with these early offers
Sleigh your Christmas list with these gifts
Give the perfect Christmas gifts this year
Holiday Offer Email Subject Lines
Wrap up your Christmas shopping with free shipping!
25% Off Storewide – It's a Christmas Miracle!
Jingle All The Way With 25% Off
50% Off Flash Sale: Happy Holidays!
Up to 40% off our Christmas Sale
Order by 4 pm TODAY for Christmas delivery!
Christmas Sale Email Subject Lines
Deliver Some Cheer this Holiday Season
Spread Happiness This Holiday Season
Season's greeting— 25% off + free shipping
Buy One, Get One-Half Price Before Christmas
30% off All Christmas Gift Items!
Last 24 hours for the Early Christmas Sale!
Last-Minute Email Subject Lines for Chrismas
Only 7 More Sleeps 'Til Christmas!
New Arrivals Just In Time For Christmas
OH NO! Christmas Is Just 1 Week Away!
You Can Still Get It In Time For Christmas!
The Ultimate Last Minute Guide To Holiday Shopping
Last Chance: Christmas Shipping Deadline Is Tomorrow
Merry Christmas Email Subject Lines
It's Our Very Merry Christmas Sale
Going on now… The Very Merry Sale.
Say Merry Christmas With These Gifts
Celebrate a Merry Christmas with these Savings
Have A Very Merry Christmas With These Specials
Our End Of Year Sale. Our Way Of Saying Merry Christmas
Happy Holidays Email Subject Lines
Enjoy our Happy Holidays sale!
Spread Happiness This Holiday Season
Get in the festive mood with our holiday sale
It's the Happiest of all Holidays
Deliver Some Cheer this Holiday Season.
Stress-Free Holiday Shopping!
Conclusion
It's important to get excited and think of creative ideas before your email campaign. There is no precise formula to follow. But you should be trying to address the readers' pain points and make use of social media marketing while still being personable.
For an effective Christmas sale marketing campaign, you need to craft an engaging email subject line. This article lists some great Christmas email subject lines that should make your readers feel appreciated and acknowledged.
Explore All
Catchy Email Subject Lines Articles