If you're looking to improve your essay-writing skills, this article outlines some basic essay examples for you. Writing essays is a typical assignment for students in high school and college. And essay writing is often considered a daunting task. Students either lack creative writing skills or don't understand how to effectively put their thoughts on paper.
There are many different types of essays, such as narrative, expository, descriptive, and argumentative. Each of these essays has a distinct purpose. While some narrate a story, others attempt to prove a point or describe an incident. In this article, we'll look at the different types of essay writing with example excerpts of each essay.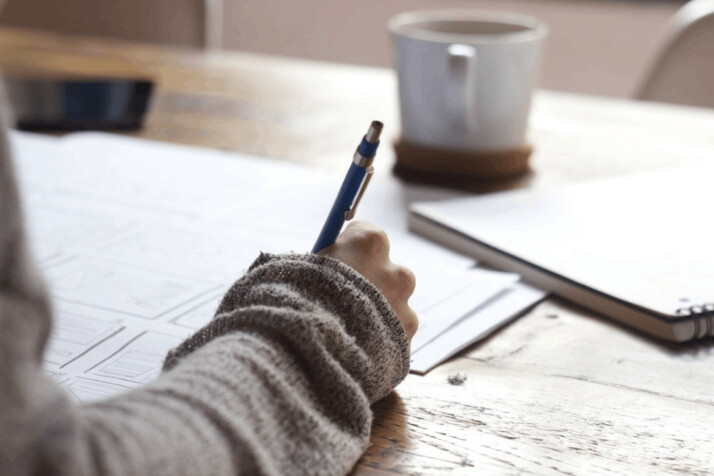 Types of Essays & Basic Essay Examples
Learning how to write a convincing essay is an important skill that is necessary for every aspiring writer. There are different types of essays in the English language, each with its unique purpose. College and high school students are often assigned essay-writing tasks. But they dread essays because most students struggle to develop ideas fluently, making the process difficult and daunting. Writing becomes easier when you understand the structure and key elements of each type of essay. Let's learn about the most common types of essays with examples.
Narrative Essay Writing
Narrative writing is about telling a particular story from a certain point of view, and there is often a purpose for telling the story. These essays could be made-up anecdotal stories, real-life personal or experiential narratives. It gives students the freedom to express themselves in unique and emotional ways. A storyline, together with characters, a setting, a climax, and other features, are required in all narrative essays.
When writing a narrative essay, keep the following points in mind:
Include sensory and emotional aspects so the reader can experience the story rather than just read about it.
Allow the narrative to support your argument, and make sure to refer to your argument or point in the opening sentences.
Use the first or third person while writing.
Example of Narrative Essay Excerpt
I find it challenging to choose just one memory from a childhood full of experiences. The memories to this day give me a warm and cozy sensation. I had the luxury of traveling across America on numerous moving tours as the daughter of an Air Force major. I have stood on the rim of the Grand Canyon and visited the enormous trees in the Sequoia National Forest.
Descriptive Essay Writing
Descriptive essays include in-depth descriptions of the attributes and characteristics of individuals, things, events, and feelings. This essay thoroughly describes the topic or subject matter of the essay. For example, if you're describing your dream house, you might want to talk in detail about its looks, location, amenities, interior decor, and more.
You want to appeal to the senses and emotions of the reader when writing a descriptive essay. You need to provide vivid descriptions of everything in a way that makes the reader feel that they are there.
Example of Descriptive Essay Excerpt
As you walk in the door of Jenny's restaurant, there are two things you'll notice almost immediately. The place rarely has an empty room, and it appears to be made up of a labyrinth of rooms. The main portion of the restaurant is located in the first room, past the door. Off to the right is another dining room that is rarely used. Through the main eating area is yet another chamber; it watches over the entrance to the kitchen. The most sought table in the entire building is in this room. Jenny's ability to grant anyone access to seats at this table is the highest tribute she can pay to them. This table is the family table; only Jenny and her son John's close relatives and cherished friends are permitted to eat at it.
Expository Essay Writing
Expository writing compares, analyzes, and discusses problems. They do have some storytelling potential, but their goal goes beyond that. It's always to help the reader understand some key idea. Essentially, they educate, describe, and explain core ideas or issues to the reader.
An expository essay must have the following features:
Brief and easy to understand
Describe an occurrence or condition
Present various perspectives on a topic
Explain a complex idea
Example of Expository Essay Excerpt
Did you know that seven out of ten students cheated in the last academic year? You may be surprised to learn that 50% of those kids have cheated more than twice. These startling figures come from a poll of 9,000 high school students in the United States. Surprisingly, teachers can even push their pupils to cheat! Teachers at a school in Detroit were accused of giving children the answers to state-mandated exams last year.
Argumentative Essay Writing
In an argumentative essay, the author tries to persuade the reader by proving the truth or falsity of a subject. They provide proof, such as data or professional opinions, to support their claims. The author presents a case for or against a topic in these essays. The author backs it up with evidence rather than merely expressing an opinion.
To create an argumentative essay, you must conduct research and provide evidence to back up your claims. You may also combine persuasive writing with argumentative essays, which employ emotions to convince the reader.
Example of Argumentative Essay Excerpt
It's time to throw the boxes and bottles of drugs out of your house. A new theory claims that medication may be harmful to your health. This is at least good news for those unable to purchase expensive medication. However, it is a setback for the medical sector and an even bigger setback for our confidence in the advancement of science. According to this new theory, we have the power to cure ourselves and maintain our health by regularly practicing Reiki.
Conclusion
Before you begin your essay, it is important to understand the different types of essays that students typically write. These essays include narrative, descriptive, expository, and argumentative. This article explains the key features of each of these essays, along with some basic essay examples. Hope you find this post helpful!
Explore All
Essay Outline Tool Articles