Facebook App Install Ad is a cost-effective strategy for promoting Apps and driving more users to download and engage with the app. You can set up a campaign using Facebook App Install Ads to increase downloads, re-engage existing users, or enable users to sample your app. The platform's social analytics dashboard tool also helps you track and measure the performance of your campaign.
Facebook App Install Ad is an excellent advertising channel if you want to drive traffic and users to your app. In this guide, we'll discuss how it works and offer a few tips for achieving success.
What Are Facebook App Install Ads?
The Facebook App Install Ad is a form of display ad that showcases a specific app or game on a user's timeline. Originally designed to allow developers appeal to potential new users, app ads have proved to be successful with their high conversion rates.
The CTA button is a major difference between typical Facebook Ads and App Install Ads. Unlike typical ads with CTAs like "Buy Now," an App Install Ad has "Play Now" or "Install Now" as a call-to-action. When an interested lead for an app installs ad clicks on the link, it takes them to the app store to download the app.
Benefits of App Install Ad
The Facebook App Install Ads is beneficial for several reasons.
Firstly, it skips the landing page. Users do not have to visit a website but go directly to the download page once they click the link. Landing pages can decrease conversions, especially when they take time to load. With the App Install Ads, this phase is bypassed.
Another benefit of the Install Ads is that you can easily track and optimize conversions using Facebook's Reporting Tools. You may consider using App Install Ads to drive more traffic to your app.
Facebook App Install Ad: Getting Started
Targeting Facebook App Install Ads
Before you set up your Facebook ad campaign, you'll need to identify your audience and conduct audience-based research to understand their interests. Create a user persona that includes your audience' demographics and interests. It should also include the problems and pain point your app solves for them, and the motivations for downloading your app.
Once you know what kind of people will be interested in downloading your app, you can begin creating tailored ads. You can use Facebook's database to target your ideal audience anywhere in the world.
Defining Your Facebook App Install Ad Goals
Next, you'll need to understand your goal. What do you want to accomplish? How do you want to tailor your ad to achieve these goals?
Facebook App Install Ads are different from wall posts and offers. You need to have a specific "goal" to be successful with your ad. There are a few options when you're creating your Facebook ad campaign:
Increase app installs campaign
App engagement campaign
Lead retargeting campaign
If your goal is to increase app installs, you'll need to consider the ad sets, placement, copy, format, CTA button, and budget and schedule.
Structuring Your Facebook App Install Ad
You'll need to choose which App Store to send traffic to. You might decide to test two or more platforms to see which your audience prefers to visit.
The app store and Google play are the two most popular places to download apps. You might decide to publish your app on both; if you do so, you'll need two ads set to target each store.
Tracking & Optimizing Your Facebook App Install Ad
You'll be able to track standard events once your app is integrated with Facebook. Some of such events are "viewed content, achieve a level, added payment info, initiated checkout, spent credits and added to wishlist."
Using any of these events, you can optimize your ad delivery and choose your delivery style from the Facebook Ad Setup page. These styles include app installs, retention, app events, and others.
Use App Installs or an app event that tracks conversions for the best results. This way, your ad will be displayed to people that are likely to download it, make a purchase, or complete registration.
Designing an Effective App Install Ad.
Let's see what makes a creative and successful App Install Ad.
1. Choosing Your Target Audience
Your goal should be to target a smaller, more relevant audience than as many people as possible. You can determine your ideal audience by analyzing the following:
What kind of people want to install your app?
What are their biggest problems?
How does your app help fix those issues?
2. Finding the Right Ad Placement
Next, find out where your ads are going to be displayed. You can choose the automatic placement option, which means Facebook picks the best placements for you. Or customize the ad placement yourself with the 'edit placement' option.
You can showcase your app on several platforms, including Facebook, Instagram, and Audience Network (i.e., third-party mobile apps and websites affiliated with Facebook).
3. Understanding Ad Budgets
With mobile app install ads, you can pay per link click, per installation, per app event (engagement), or 10-second video view. Pay per link click and pay per install are the most popular ones.
Paying per app install is most efficient but more expensive than paying per link click. The only way to maximize the pay-per-click option is when you're sure your ad campaign will drive high conversions.
If you choose this option, you'll be at a loss if many people click on your ad but only a few install it.
4. Selecting the Right Visuals for the Ad
With a compelling visual, you can make your target audience stop and notice your ad. You need to determine the best graphic format for your ad before you start designing your Facebook ads. Some of the popular ad formats include:
Single Image
Single Video
Carousel
Slideshow
5. Creating a Compelling Copy
You'll need a persuasive copy to go with your unique visuals. The headline should be attention-grabbing and catchy. You can use this space to hint at sales or special offers. The body of your copy should convey the app's benefits and persuade the users to click on the ad. It should be short but powerful.
The call to action is a vital part of your copy. It should specifically tell the user the action you want them to take. Without the call to action, your interested leads will not know what to do.
Facebook offers 11 CTA buttons from which you could pick. Your call to action will typically depend on your campaign objective. Choose the one that best conveys what you want your audience to do after viewing your ad.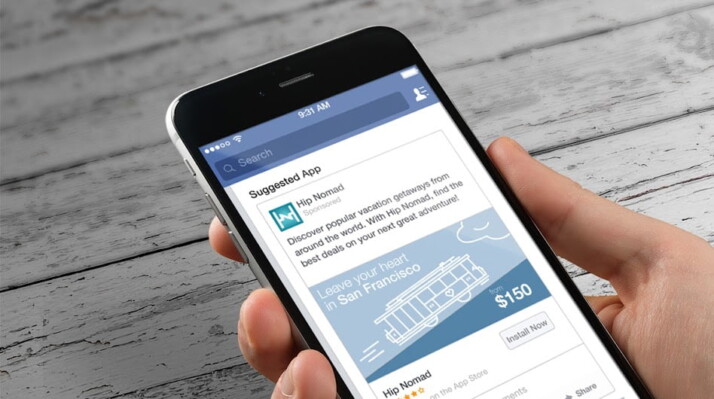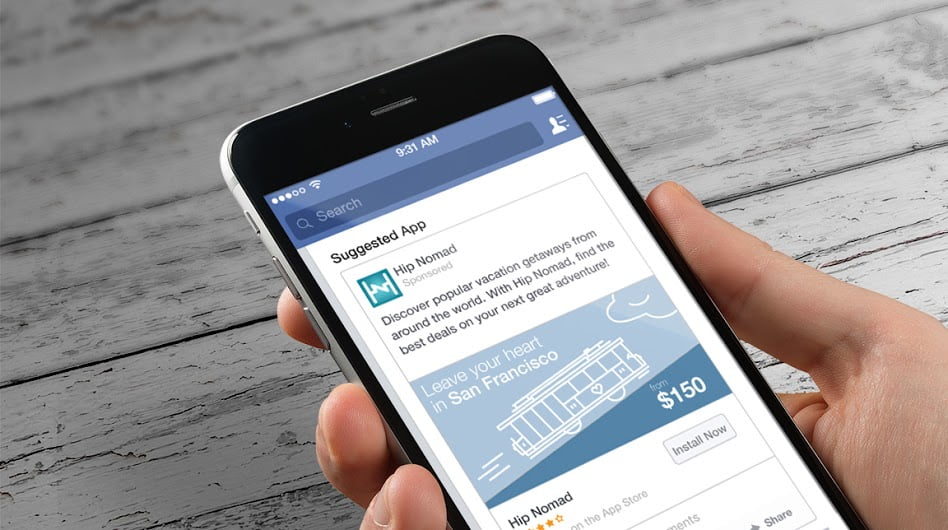 To Wrap Up
Facebook App Install ads are a great way to promote your app to users and drive traffic for downloads. This strategy aims to reach the right audience with an exciting ad that uses a catchy copy and compelling visuals.
Before you start your campaign, it's essential to identify your target audience, their pain points, and how your app will help solve their problem.
Explore All
Facebook Marketing Articles