Facebook is one of the largest social media platforms to date. It has billions of users who actively create and share content. So if you want to connect with an old colleague or someone you just met, you can find them here! Keep on reading to learn some key steps on how to find a person on Facebook.
There are several different methods to search for someone's Facebook account. And this article will talk you through all of them. So get those Facebook binoculars (see photo below) on and get ready to find just about anyone on Facebook!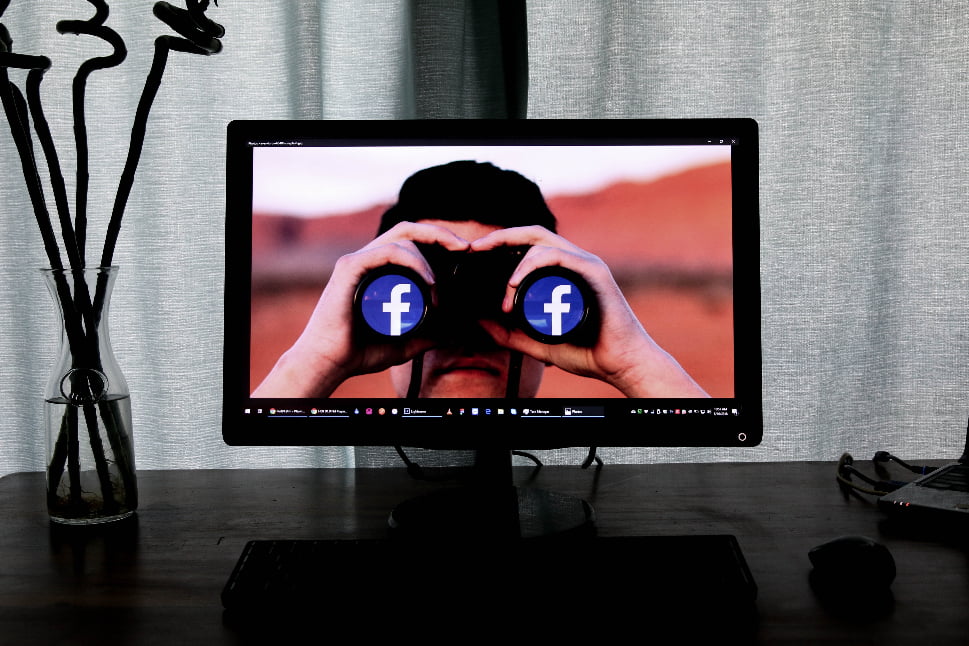 How to Find a Person on Facebook
With so many people on Facebook, looking for one person may seem like looking for a needle in a haystack. But it's a lot easier than you might think.
There are tons of search tools that Facebook has. You can now do a Facebook search for people with just a few clicks. Facebook also has a sophisticated algorithm that will show search results that are most relevant to you.
Some methods to find a friend on Facebook are:
Facebook Name search
Email account search
Facebook Page or Group search
Image search
These methods and others will be discussed in detail in the next section.
Ways to Find a Person on Facebook
1. Facebook Name Search
This first approach is very straightforward. If you know the name of the person you're looking for, type it into Facebook's search bar. Click the search icon or press enter.
You'll want to select people in the filter options. This will save you from the trouble of scrolling through Facebook pages, events, and other content.
If you can't find their name, try using their nickname. Other people spell their name backwards on Facebook, so trying their name backwards could be worth a shot.
2. Search for School or Company
Don't know the person's name? Well, that shouldn't stop you from finding their Facebook profile.
A lot of people add their schools and work to their Facebook profiles. So if you know the name of their school or the company they work for, you can use that in your Facebook search. Enter the school or company in the search bar. Click search or press enter and select people in the Facebook search filter options.
3. Look at Mutual Facebook Friends
You may have common friends with the person you are looking for on Facebook. If so, go to the Facebook profile of your mutual friends and try examining their friend lists. Depending on their privacy settings, you should be able to see a complete log of their friends on their Facebook profile.
Look out for any familiar names that may be associated with the person. Also, keep an eye out for their Facebook profile picture to help you determine if it's really their Facebook account.
4. Search for Them in Facebook Public Groups
Go to a Facebook group that's related to the person you're seeking. If they're interested in art, or they like painting, you may want to look at a Facebook group for art enthusiasts.
You can also look through different Facebook groups that may be related to the area they live in. This will help narrow down your Facebook search.
When searching for groups on Facebook, toggle the switch for Public Groups. A Facebook group needs to be public for you to view its members.
5. Search Using Their Phone Number or Email Address
If an unknown phone number sends you a message or calls you, you can get to the bottom of their identity. Search for them on Facebook using their contact information. The same goes for an unfamiliar email address. Type the data on the search bar and click search.
Look through Facebook posts that may contain it. They may have posted it when they were posting something to sell online or a job vacancy.
6. Do a Reverse Image Search.
If you have a photo of the person you're looking for, you can do a reverse image search. It doesn't even have to be a solo photo. You can also use a group photo.
You can't do this directly on Facebook. But there are a lot of great image search websites you can use, one of which is Google. You can use this link https://images.google.com/ to go to google image search directly. Send or upload the photo on the site and click search. The results should show you where else on the internet the photo exists.
Check the results for Facebook pages that may lead you to their account. Also, check different web pages that may contain the photo.
To Wrap Up
Facebook is a great avenue for finding and reconnecting with people. And even with the billions of Facebook users, you can still easily find your friends and colleagues.
Searching for someone on Facebook has never been easier. Follow the steps in this article on how to find a person on Facebook. You're bound to find any Facebook account using any information you have available.
Frequently asked questions
What happens when you search for someone on Facebook?
What happens if you search someone on Facebook and view a profile? Your ex receives an alert that you've been checking them out. However, Facebook does not let users track who visits their profiles, and it doesn't allow third-party apps to do so.
Can you do advanced search on Facebook?
Use the Facebook app on your device. Tap the "Search" icon on the top right corner of the app (magnifying glass). Fill in some text in the search bar. The advanced search page opens, which allows you to narrow down the search results by categories.
How do I find someone on Facebook without 2022?
With Facebook Directory, you may search for a person without having to log in without having a login. Upon searching the results page, the names you are looking for are shown.
Can people see who viewed their Facebook?
Facebook does not let people watch their profiles. Apps that use third-party technologies can't also provide this functionality. If you find an app that claims to offer this feature, please notify the app. Was this helpful?
Can you search someone's Facebook for keywords?
Their profile display a separate search box in the right-hand corner of their profile, allowing you to search their page for specific words or phrases.
How do you search all of someone on Facebook?
Visit Facebook and log in.
Search the bar
Enter the name of a person and press Enter (Windows) or Return (Mac).
Click People
How do I make it easier to find people on Facebook?
Google Image Search. An initial Google search for the person's name may suffice, but an image search can be much faster.
PeekYou. PeekYou can also turn to a search engine for people.
Username. Most people don't realize that they use the same username for every account.
How do I make myself unsearchable on Facebook 2022?
Tap the Menu icon from the bottom menu (iOS) or top menu (Android).
Tap Settings & Privacy
Tap Settings
In the Audience and Visibility section, tap How People Find and Contact You.
Make your privacy preferences personal using one of the options above.
How can I find someone without any information?
If you have access to someone's social profile or email address but do not know their name, try looking for their same username, or a username similar to their email address on other social networks to see if you can find any associated.
How can I find someone by name?
BeenVerified: You should use a dedicated person finder (the easiest). Spokeo.
You can search Google.
Search on Facebook
Search on LinkedIn
Why can't I find someone on Facebook and I'm not blocked?
You may have been blocked from accessing their privacy settings or blocked your browsing. A lot of people forget that their settings have been limited. If you are still unable to find someone you love, ask them about their privacy settings.
How do I find someone on Facebook without their profile?
What determines Facebook search results?
People's activity on Facebook influences the search results on Facebook. No effect on Facebook's search results is manifested through what people do. Users who search for content on Facebook are ranked according to their Facebook activity and the activity of the community as a whole.
Can people find me on Facebook by my name?
You can find your Facebook profile, photo, and much more about your activities and interests on this public listing. Facebook says making this information public allows friends to find you; however, it can draw unwanted attention to an account you use for social reasons.