If you own a business, a Facebook business page is essential. To use Facebook for business, you need to learn how to optimize your Facebook page effectively.
Facebook's 1.82 billion daily active users make it impossible to ignore as a social network. Possibly this is why over 200 million businesses utilize Facebook's free services. Yes, having a Facebook Page is a free way to promote your business.
The good news is that starting a Facebook account for a business is relatively straightforward. You probably have everything you need to get started. Let's dive in.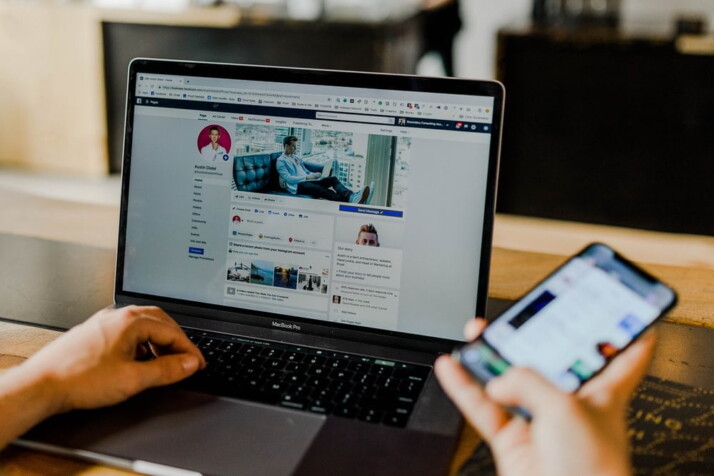 What Exactly Is a Facebook Business Page?
A Facebook Page is a public Facebook profile that brands, groups, artists, and the general public can utilize.
Businesses use Facebook Pages to share contact information, post updates, share content, promote events and releases, and – most importantly — engage with their Facebook audiences.
You can link your Facebook page to Facebook Shops and Facebook ad accounts.
8 Steps to Create a Facebook Page for Business
It is necessary to login into your personal Facebook account before creating your Facebook Business Page. This is the only way you can use Facebook for business.
This is because an administrator(s) is in charge of each business page. Individuals with personal Facebook profiles act as administrators.
Your account is the key that unlocks your company's new page. Once they create accounts, staff can access the features and services related to their employment and responsibilities.
If you aren't already, please log in to your account before continuing with the steps to create a Page.
1. Sign up by Creating a Facebook Page
Visit facebook.com/pages/create for page creation. Input your business information in the left panel. As you make changes, the page preview on the right will update in real-time.
Use your business's name or a keyword that people are likely to use to find your business as the page's title.
In the category field, provide a few words that characterize your business, and Facebook will recommend alternatives. You may select up to three of the recommendations.
2. Fill the Description Field
This is the summary that appears in search engine results. It should be no more than a few sentences (maximum 255 characters). When satisfied with your description, click the "Create Page button."
3. Fix Profile Photos
You will then upload your profile and cover images to your Facebook Page. It is essential to make a solid initial visual impression, so choose carefully here. Ensure that your selected photos correspond with your brand and its identity.
Your profile picture is the first thing you want to upload. It appears beside your company's name in search engine results and when interacting with users. Additionally, it shows in the upper-left corner of your Facebook page.
Employing your logo is often the safest option if you have a well-known brand. Are you a star or a public person? A photograph of your face will serve you well. And if you are a local business, consider using a well-shot photograph of your signature product. It is essential to make it easy for potential followers or customers to recognize your page.
Your profile photograph should be 170 × 170 pixels. Avoid placing important information in the corners. After selecting a fantastic photo, click "Add Profile Picture."
4. Add Cover Images
Now is the time to select your Facebook cover image, the image with the most prominence on your page.
This image should capture the spirit of your business and communicate the personality of your company or brand. Facebook suggests selecting an image with dimensions of 1640 by 856 pixels.
Once you select a suitable image, click "Add Cover Photo."
After uploading photographs, you may shift between desktop and mobile views using the buttons in the upper right corner of the preview.
Use them to ensure that your pictures seem satisfactory on both displays. You can reposition the images in the left column by dragging them. Click "Save" to finish.
5. Integrate Your Page With WhatsApp (optional)
After clicking Save, a pop-up will appear asking if you wish to connect your business to WhatsApp. This is optional. However, it allows you to put a WhatsApp button on your website or send visitors to WhatsApp from Facebook ads.
To connect your business to WhatsApp, click the Send Code button. Close the window if you wish to continue without connecting to WhatsApp.
6. Create Your Username
Your username, commonly referred to as your vanity URL, is how others will find you on Facebook.
Your username can be up to 50 characters long, but you should avoid using extra characters simply because you can. You want it to be simple to type and simple to recall. Your company name or an evident version thereof is a safe wager.
Click "Create username" on the "Page preview" to create your username. Enter the desired user name. Facebook will notify you if the item is available. If you receive a green checkmark, you are free to proceed. Click "Create Account." You'll get a confirmation pop-up. Click "Done".
7. Add Your Business's Information
Do not leave the "About section" of your Facebook Page for later, it is essential that you do it immediately.
Facebook is generally the first place a customer looks for information about you, so it is essential to have all of your information there.
Thankfully, Facebook makes this process relatively simple. Scroll to the "Set Your Page Up for Success" section and expand the item titled "Provide Information and Preferences."
Beginning with your website, fill out the fields. Also, indicate if your business is open to the public only during certain hours. The data is displayed in search results.
8. Add a CTA
Facebook's built-in call-to-action button makes it simple to provide costumers with the information they seek. It also enables them to interact with your company in real-time.
The appropriate CTA button will entice visitors to learn more about your company, shop, download your app, or schedule an appointment.
To add your CTA, click the blue box labeled Add Button and select the type of button you desire.
Use Facebook for Business: Optimizing Your Page
Now that you understand how to construct a Facebook Page for your business, it is time to consider strategies to improve it.
These methods will help you achieve your Facebook (and social media) marketing objectives by maximizing engagement. We will examine these components in further depth below.
1. Consider Adding a Pinned Post
Is there essential information you want all Page visitors to see? A special offer that you don't want them to miss? A piece of high-performing content you wish to showcase? Insert it into a sticky post.
A pinned post is shown at the top of your Facebook Business Page, immediately beneath the cover photo. It is an ideal spot for an object that will attract visitors and encourage them to stay.
Start by going through your feed to locate an existing post that you would want to pin to the top of your page. Click the three dots in the post's upper right-hand corner, then select "Pin to Top of Page."
Once you've pinned the post, it will appear at the top of your page under the headline PINNED POST. This is intended for your eyes only. It will appear as the first item under Posts with a blue thumbtack icon to signify that it has been pinned.
2. Take Advantage of Templates and Tabs
Tabs are the many sections of your Facebook page, such as the About and Photos sections. In the left Manage Page menu, you may modify the tabs you want to include and the order in which they appear.
If you're uncertain about which tabs to include, peruse Facebook's templates. Each template has a set of buttons and tabs that correspond to a specific type of business. To access templates and tabs, select "Settings" from the "Manage Page" menu, followed by "Templates and Tabs."
3. Like Similar Pages
Since Facebook is, after all, a social network, it is a good idea to use your business's page to establish a community.
Connecting with other Pages pertinent to your business is one method for building community (but not competitors).
For instance, if you own a store in a busy shopping district or mall, you may link with other stores in the neighborhood.
To follow other businesses on Facebook:
Visit their page and click the icon with three dots under the cover photo.
Click the "Like as Your Page button."
If you have several Facebook Business Pages, select the one you want to use to like the other business, and then click "Submit."
Pages will be notified when you like them; they may visit your page or possibly like it in return.
Your company page receives a separate news feed from your profile, allowing you to communicate with firms you follow from your business profile.
To view all the content from the pages you have liked, simply select "Page" and click "News Feed" in the menu on the left. If you have not yet liked any Pages, Facebook will give you a list of ideas.
4. Join Groups Utilizing Your Page
Without paying for ads, Facebook Groups provide an organic way to contact a large number of individuals who are interested in a given issue.
Joining and posting to relevant Facebook Groups as your business page encourages visitors to visit your page rather than your profile.
To Wrap Up
Identify the goals of your Facebook marketing plan, then experiment with the Facebook interface to boost your business.
You can check out pages that use Facebook for business, ask for feedback and advice from your peers. You can also check out specific tips from your social media consultant.
Explore All
Facebook Marketing Articles