Stumbling your way around an SEO strategy is a wrong idea. It's like deliberately walking in a maze without a map. You may make some lucky accurate guesses– but it doesn't change the fact that you need a map.
A well-written SEO roadmap strategy is a blueprint for achieving your SEO strategy (the maze). With a structure map that aligns with your goals, you can easily wound your way through the SEO maze!
It's not enough to define the initiatives driving your SEO strategy or set search engine optimization plans for the year. Drawing up a realistic workflow sustains those plans and makes them achievable.
Your SEO roadmap strategy reveals where your website is, where you would like it to be, and how you plan to reconcile these two. It breaks down a growth process into action points, tasks, and a scalable work process.
In this article, we'll walk you through creating an SEO roadmap to achieve your SEO strategy.
What Is SEO Roadmap?
An SEO roadmap is a document that outlines actions and steps to implement your search engine optimization strategy. This document details each activity's actionable steps, tasks, and deadlines.
The general idea is that an SEO roadmap strategy answers the questions of "how" and "what" of your SEO strategy. Beyond that, it explains the reason behind each action item. This document makes it easy to carry your whole organization along with your plans. It spreads a team-wide understanding of the tactics needed to achieve the set SEO plans.
In summary, this road map identifies SEO slacks in your business, prioritizes your efforts to resolve them, and provides an action plan.
Why do you need an SEO roadmap strategy?
Defining a plan to optimize your website is straightforward, but actualizing those plans is challenging. That gap between what and how needs to be bridged! That's exactly why you need an SEO roadmap.
A search engine optimization roadmap is a management plan that helps you find ways to invest more efficiently in SEO. It defines ways to add value to your business and beat competitors.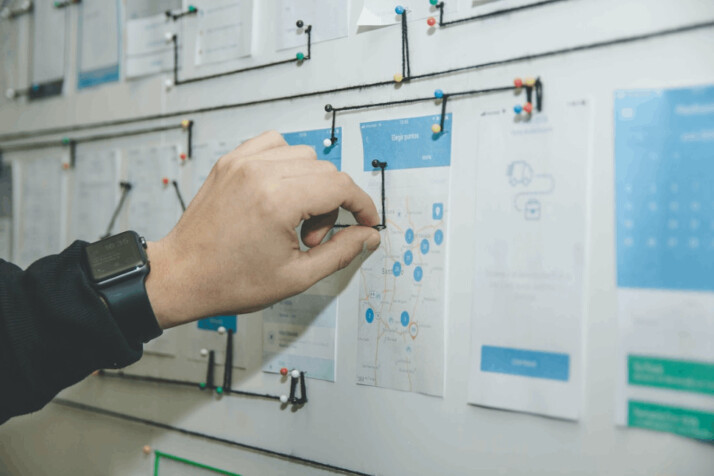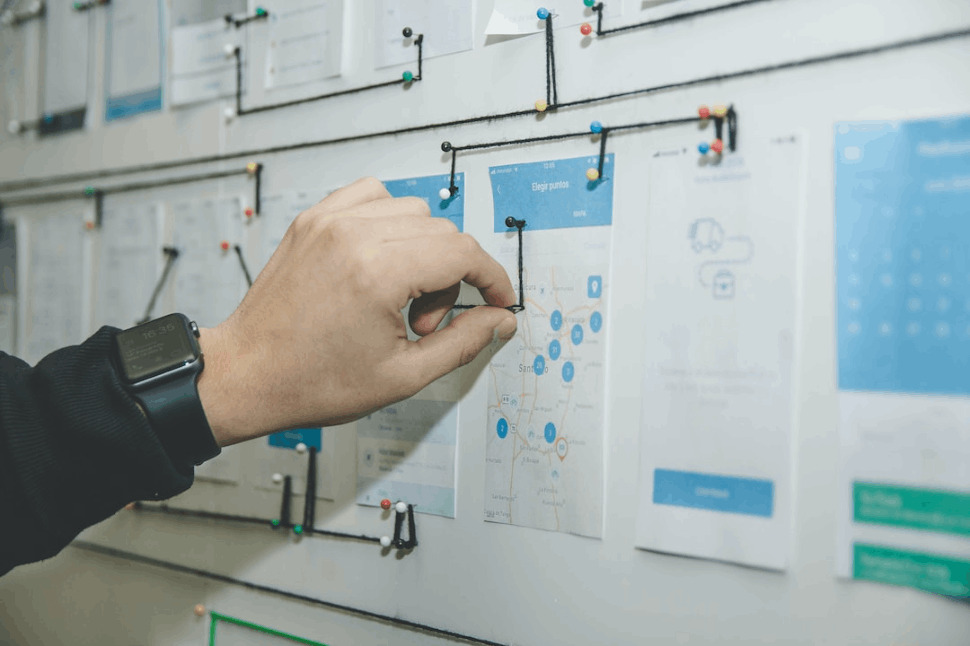 Although business goals vary, we've highlighted why your organization might need an SEO roadmap for scalability.
Aligning Your SEO Strategy with your Goals
An SEO roadmap organizes your digital SEO efforts and priories them in the order of relevance to your goals.
Foundation For Strategy Success
It guarantees the success of your SEO strategy by providing the "how" to achieve your goals.
Keep Your Team On The Same Page
It offers team-wide context to your strategy. Thus, your team gains more insight into the company's optimization plans.
Streamlines Your SEO Project
The first step to achieving your digital marketing SEO goals is establishing the required optimization projects in clear terms. A roadmap helps you focus on what matters per time to drive revenue.
Answers All Questions Regarding SEO Plans
It settles any doubts or queries about SEO on your team.
Building Your SEO roadmap Strategy From Ground Up
Find Quick SEO Wins
SEO is an ever-evolving practice. It may seem like your website is perfectly optimized– and boom! You run a content audit and realize your site has a few errors. And you are slowly losing traffic.
The error could be a broken link, duplicate pages, or content that can climb up Google's SERPs with a few tweaks. These are quick wins in SEO; capitalize on them to improve your SEO quickly.
Giving existing content a facelift is a hack to getting instant results for your SEO efforts. Take advantage of this opportunity to screen out your quick wins and snatch them.
Explore Your SEO Needs
A well-rounded SEO roadmap yields better results. Companies often make the mistake of focusing on two or three SEO aspects. By doing this, they limit their reach.
Depending on your SEO strategy, you should explore as many SEO elements as possible to determine your core SEO needs. That's the best way to skyrocket your revenues and organic growth maximally!
While exploring your search engine optimization needs, consider the following SEO components:
Technical SEO
On-page SEO
Off-page SEO
Data analytics and process reports.
Determining which of these factors addresses your needs would better inform your SEO roadmap. Strategically prioritize each component by deciding their essentiality in terms of alignment with your business goals.
Besides these strategic SEO elements, you should also consider the varying SEO types and determine which coincides with your strategy. This could range from local SEO to international or Domain SEO.
Evaluate Your Competition
SEO is like a comparison game. The rules are simple: make your content more valuable than competitors' content. It's all based on relativity.
To create a practical SEO roadmap, you need to spy on your competitor's page. And ask yourself these questions:
What are they doing right?
What am I doing better?
How can I improve?
After answering these questions, focus on their website structure, keyword usage, and ranking.
Here are some key points to note:
UI/UX (Is it better than yours?)
Site speed (Whose website is more responsive?)
Keywords connection (Do primary keywords align with your business goals?)
Content structure (Do they have better-structuring ideas? What's working for them?)
Backlinks investigation (How many links does the site have? What's the authority level?)
Establish Level of Effort (LOE)
Beyond having a strategy, your roadmap breaks down your SEO projects into tasks focused on achieving the bigger picture.
However, you need to create realistic timelines for each task and highlight the resources you need to invest while completing the tasks. Afterward, prioritize these tasks based on their importance and value to your SEO strategy. Use technical tools to complete important repetitive SEO tasks or outsource them to freelancers.
Such a structured plan will optimize your efforts and help your team keep on top of all your SEO projects.
Define a Timeline
Defining a realistic timeline drives positive results in SEO. You can break down your deadlines into phases. For instance, you could set milestones per week or quarterly.
The first step to defining a timeline is to outline all the activities in your SEO roadmap. Next, assign the projects to timelines in their order of importance. Remember to include ongoing activities in appropriate time slots. A definite deadline breeds accountability regarding your SEO roadmap.
Assign The Work Accordingly
Afterward, assign each task to the appropriate team member or qualified personnel. In doing so, you'll set up a steady workflow with everyone on the team on board, working towards the business goal.
Consolidate tasks where necessary and determine the proficient team to take on the tasks. Agreed, this is stressful, but it streamlines work processes toward achieving your SEO goals as a team.
Create Strategic SEO Content
Strategically managing your content is vital for building an SEO roadmap strategy. To achieve this, you can either retrofit existing content or create new optimized content.
The best practice is to explore both options. Revamping existing content helps you take advantage of quick wins and boost your SEO within a short while. Creating new SEO content enables you to explore new topics that could help you rank.
As long as your business goal includes a high ranking in SERPs, you must strategically create SEO content. Engage in keyword research to explore new possibilities and rank for more keywords in your niche. In addition, use internal linking dexterously to keep readers on your website.
Define Necessary Tools
Throwing your team into SEO tasks without defining essential tools is unproductive. It promotes confusion and a chaotic workplace. That's precisely why you need to include all SEO tools in your roadmap.
Since your SEO roadmap describes the "how," it would be incomplete without a detailed list of tools that enhances the "how."
You should list plagiarism checkers, keyword trackers, analysis websites, etc.
With the sheer number of SEO tools, you should define each tool's task for clarity.
Monitoring Traffic
Which strategy works? What tactics need improvement? Are your audiences responding to this content?
The need to answer these questions necessitates traffic monitoring. Including traffic monitoring in your SEO roadmap is crucial because it helps your team track progress.
Several SEO tools for traffic Analytics include SEMrush, Ahrefs, Content guard, etc.
Final Words
SEO roadmaps strategy is invaluable to businesses. They help you get your team on the same page while they perform their tasks. Since you need all hands on deck to implement your SEO strategy, a roadmap is necessary to optimize your site.
It's never too late to start building an SEO roadmap! Use the tips in this article to develop a blueprint and drive the organic growth you need!
Explore All
SEO Keyword Research Strategy Articles