Search Engine Optimization (SEO) has become increasingly important for businesses to incorporate into their online marketing strategy.
You need it to stay competitive in an increasingly saturated online space. And if you want to be an authority in your niche, you need more than just the basic SEO tactics. You'll need a well-planned SEO strategy and objectives that you can work towards.
There's so much you can gain from an SEO strategy built to fit your brand's unique selling points and industry relevance. And we're going to delve into that in this article.
We'll also share some great tips on making a winning SEO strategy and setting definitive SEO objectives.
What Is an SEO Strategy?
An SEO strategy is a plan of action that helps businesses increase the visibility of their websites on search engine results pages (SERPs). It involves optimizing various elements of your website, such as headings, descriptions, and images, to maximize its chances of appearing higher in SERP rankings.
Other tactics, such as link-building and keyword research, are also commonly employed by SEO professionals to ensure their sites have an edge over competitors. By leveraging an effective SEO strategy, businesses can create more organic traffic for their site and ultimately drive more revenue.
What Are SEO Objectives?
Essentially, SEO goals are specific and measurable goals you aim to achieve over time. Each objective should contribute to SEO's goal: reach more prospective users through organic search and turn them into customers.
Some common examples of SEO objectives are:
Improve organic rankings
Increase brand awareness and engagement
Drive more traffic to specific pages on your site
Develop a comprehensive SEO strategy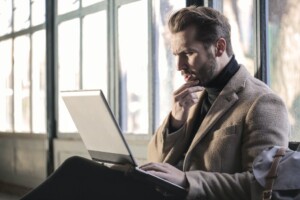 Why You Need SEO Strategy and Objectives
Your SEO strategy needs to work hand in hand with your objectives.
A comprehensive SEO strategy can help increase website traffic, which leads to more conversions and higher profits. Additionally, it will allow you to target a specific audience and optimize content for better visibility and rankings.
By ensuring that your SEO strategy is closely aligned with your objectives, you can take full advantage of all the benefits of effective SEO. You'll also save time and resources by creating tailored strategies to reach your goals quickly and effectively.
How to Set Your SEO Objectives
Before you can start your strategy, you need to have your objectives in place. This will give your efforts some direction so that you don't waste your time on things that won't get you the desired results.
To set your objectives, you can look at the SEO goal pyramid. If you're unfamiliar with this, it's basically composed of three stages: Process Goals, Performance Goals, and Outcome Goal.
The idea is to break your goal down into stepping stones to make it more achievable. Let's take a look at these stages from top to bottom.
Outcome Goal
Your Outcome SEO goal should align with your company's goals. Think about the SEO outcome that can contribute to your company's wider goals. It can help to look at your mission statements.
You want a specific outcome goal. Don't just say that you want to increase traffic to your website. This won't give you much to work on. Instead, you set your goal to "Get 1,000,000 website visitors in one year." This goal ticks all the boxes for a SMART goal. It's Specific, Measurable, Achievable, Relevant, and Time-based.
Performance Goal(s)
Your performance goals are mini milestones placed at various points that keep you going and help you reach your outcome goal.
You can have more than just one performance goal. And they will mostly depend on the outcome you want to have. Note that the SMART criteria are still applicable to your performance goals.
If your outcome goal is to "Get 1,000,000 website visitors in one year.", your performance goals could be:
Obtain 40 high-quality backlinks within a year
Create 1,000 SEO-optimized content within a year
Process Goal(s)
Process goals are more specific and measurable steps that you can control. Try asking yourself, "What will I do to achieve my performance goals?". And then, you can start laying out the steps you'll need to take.
Tips for Creating a Winning SEO Strategy
With your SEO objectives down, it's time to create a winning SEO strategy that you can use to achieve them.
Here are some tips that can help you out:
Do a Competitive Analysis.
Competitive analysis is the process used to evaluate your competitors to improve your SEO strategy. Analyze your main competitors' organic ranking, review, blog strategy, and backlink profiles.
Learn about their user experience, social media, target audience segments, and differentiators. Aside from your main competitors, it's also best to look at other websites on the first page of search results for your target keyword.
Do Keyword Research and Build Topic Clusters.
A comprehensive approach to keyword research involves analyzing a range of factors, including the target market, relevant topics, current trends, and existing competition.
It also includes looking at how people actually search—the phrasing they use and what kind of language they prefer. Doing this kind of analysis allows you to identify key terms that will help you reach your audience and establish authority.
It is common for large brands to overproduce content that doesn't target specific keyword phrases or targets the same term repeatedly. Keyword research can help prevent this mistake and increase SEO ROI.
Align Your Content With Search Intent
Google's search objective is based on search intent, which is one of the most crucial aspects of keyword research. It will always present users with the most relevant content to their search. This is why you can never go wrong with matching your destination pages with search intent.
Even if a keyword has a high search volume, if its intent doesn't align with your content, you won't be able to rank well.
Using search intent in SEO helps create more relevant pages and improves the overall user experience by providing valuable content tailored to each query.
Capitalize on Your Strengths
Another way to dominate organic search results is to capitalize on your strengths. How? Simply by Doubling-down on the categories where you already rank well in.
Instead of cherry-picking a few unrelated high-volume search terms, attack the vertical you already have. This will give you a greater advantage and allow you to saturate the funnel while conveying your expertise to search engines.
Create a Consistent Blogging Schedule.
Blog posts and web pages do not necessarily need to belong to a topic cluster. You may also choose to write about tangential topics your customers care about to build authority with Google.
Try to make it a point to blog at least once a week. Don't forget you are blogging primarily for your audience, not search engines, so check your target market and write about things that interest them.
Know How to Measure and Track Your Content's Success.
Tracking your metrics is essential to understand how well your overall process is performing. There's no point in spending much time and effort on an SEO strategy that doesn't work. The sooner you know if a strategy is ineffective, the sooner you can switch gears and try again.
You can monitor organic traffic with your preferred web analytics tool or create your own dashboard using Excel or Google Sheets. Also, tracking indexed pages, conversions, ROI, and your ranking on SERPs can help you recognize your success and identify areas of opportunity.
Final Words
Having a well-defined SEO strategy and objectives that work in tandem can make it easier to measure progress and stay ahead of trends.
Not only will this help you reach more people, but it will also help you build credibility and increase conversion rates. Investing time and effort into developing an SEO plan now will save valuable time and money down the road!
Explore All
SEO Keyword Research Strategy Articles