Even if a call felt like it went well, you can improve your odds of success with a follow-up effort. A follow up email after phone call conversation doesn't need to be all that complicated. Read through our breakdown below for tips and samples on crafting emails that build rapport and keep the conversation moving forward.
These tips will help you follow up effectively, using your previous phone conversation as a medium to build a stronger relationship. Whether it's to close a sale, keep in touch, or gather new information, these will help you get the job done!
Why Send a Follow-Up Email?
Phone conversations are a great way to connect with someone and build rapport, but it's only the first step in the communication process. Following up after a phone call is just as important as making the call itself because:
It helps to solidify the relationship with the person you called.
It shows that you are interested in what they say and value their opinion.
Allows you to clarify any points that may have been confusing during the call. It also helps ensure to get both parties are on the same page.
Demonstrates your professionalism and commitment to the conversation, which can reflect positively on you and your company.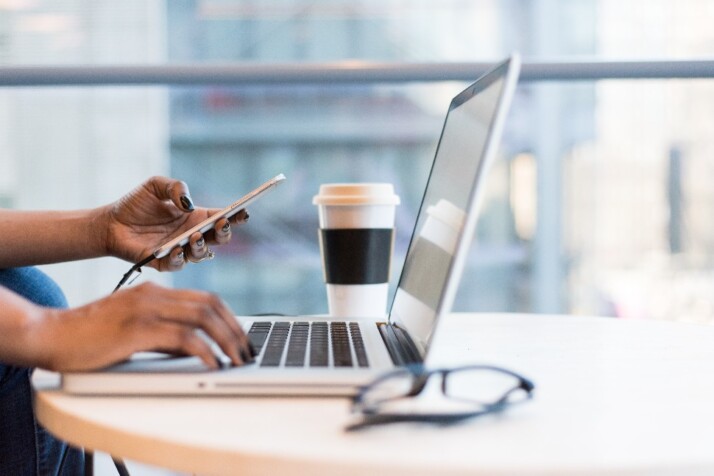 Key Tips For Following Up After A Call
As we said earlier, a follow-up email doesn't need to be complex. It needs to offer your contacts a gentle reminder of your call. Let's take a look at what you can do to make sure you make the most of the follow-up email you send out.
Recap the conversation in your email – In your follow-up email, recap the main discussion points from your phone call. This will ensure that both you and the recipient have a clear understanding of your previous discussion. And it can also serve as a reminder for any tasks or next steps agreed upon.
Thank them for their time – Always take a moment to thank the person you spoke with for taking the time to speak with you. It's both polite and respectful.
Include any relevant documents or files – If any supporting documents are relevant to your phone conversation, attach them to your email. This makes it easier for everyone involved and can help keep things organized moving forward.
Include any next steps that were agreed upon. If specific tasks or action items need to be taken care of, make sure to list them in your email. This way, there won't be any confusion about who is responsible for doing what.
Be clear and concise in your wording. Keep your sentences short and easy to read so that the other person doesn't have to spend too much time deciphering them.
Follow Up Email After Phone Call Conversation Examples
Follow Up After a Sales Call
Hello [First Name],
Thank you for discussing your telecom needs with me yesterday. I appreciate your time and candid feedback about our services. Based on our conversation, I believe we can provide significant cost savings for your business.
I will put together a proposal for you and will be in touch soon to schedule a meeting to review it. Please get in touch with me at [phone number] or [email address] if you have any questions or need assistance.
Thank you again for your time and interest, and I look forward to working with you.
Sincerely,
[Signature]
After No Response
Hello [Recipient Name],
I hope you're doing well. I am following up with you about my phone interview with you from last week. Unfortunately, I did not hear back from you after we spoke, so I am not sure everything is OK.
If you need to clarify anything about the proposal, please let me know as soon as possible. I look forward to hearing from you very soon.
Best,
[Signature]
To Ask For a Referral
Hi [Recipient Name],
I emailed you a few days ago about [offer], and then it struck me that I might have been barking up the wrong tree. Currently, my company offers [products/services], which I think would be an ideal fit for [niche or industry].
Are you the right person to speak with regarding this? If not, could you refer me to the right decision-maker? I'm looking forward to your response! Thanks!
Sincerely,
[Signature]
General Follow Up Email
Hello [First Name],
Thank you for speaking with me on the phone yesterday. I appreciate all of the information that you were able to provide. After discussing everything, here is what I think would be the best next steps:
[Enumerate the next steps]
I will order and review the products that we spoke about
Based on my findings, I will create a proposal that outlines what product(s) could work best for your business and why
I will send this proposal over to you for further discussion.
If there is anything else that you would like me to look into, please do not hesitate to let me know. Thank you again, and have a great day!
Kind Regards,
[Signature]
When to Follow Up After a Meeting
You don't want to bombard your recipient with several follow-up emails. Here are some general rules for sending your follow-up email, so you don't appear too pushy.
Within 24 hours: A meeting, conference, event to meet, a meeting, or a special event.
Within 1-2 weeks: A follow-up visit after no response about a meeting request or the status of a job application.
Every three months: Keep in touch with a member of your network to maintain your relationship with them.
Conclusion
Spending time crafting a well-written follow-up email is time well spent. Get ideas from the key tips follow up email after phone call conversation samples in this article. These will surely help you craft an effective follow-up email to get the job done.
Explore All
Write A Follow Up Email Articles