On our conquest to find the ultimate job, many of us forget the importance of one powerful tool: follow up email to talent acquisition.
Sending a follow-up email is a way of showing courtesy. Additionally, it helps the candidate reinforce their interest and enthusiasm for the job and keeps them on top of the hiring manager's mind.
In this article, we'll discuss how to follow up with a recruiter after an interview and share different tips to create an effective message.
Why Send A Follow Up Email To Talent Acquisition
If you're going to find a job, you don't necessarily have to be the best. Sometimes, you just have to be memorable.
Interestingly, over 50 percent of companies expect the candidate to follow up after an interview.
Following up with a recruiter can make you stand out from other applicants and appear confident and active. Instead of sitting around and waiting for a call, you can take the first step yourself.
In simple words, a proactive approach can help you land better job opportunities.
The longer you wait to send a follow-up email, the more time you allow the employer to notice and hire another candidate.
How To Write A Follow-Up Message To A Recruiter
Recruiters are mainly concerned with finding the best person for a job. If you believe that's you, then keep in touch with them.
A good follow-up mail reaffirms your interest in the company and increases your chances of winning your desired position. Moreover, the hiring manager will also appreciate you for showing thoughtfulness and appreciation.
It is important to remain polite and professional but not pushy. This includes respecting the recruiter and understanding that they have other priorities.
Here are the four main elements to keep in mind when writing the email:
Choose a subject line. Make sure the subject will be easy to spot in the recruiter's inbox and catch their attention.
First paragraph. Use the first paragraph to introduce yourself again as an applicant. Make sure to thank the recruiter for their time.
Body. In this section, you must show that you're a unique and valuable candidate. You may also provide additional details about yourself or ask any questions that you had in mind.
Closing. End the email with a professional sign-off and include your full name and contact information.
Types of Follow-Up Notes For Recruiters
In general, you can shoot three types of follow-up messages to the hiring manager.
In any case, always personalize your email as much as possible, as it shows that you understand and value your potential employers.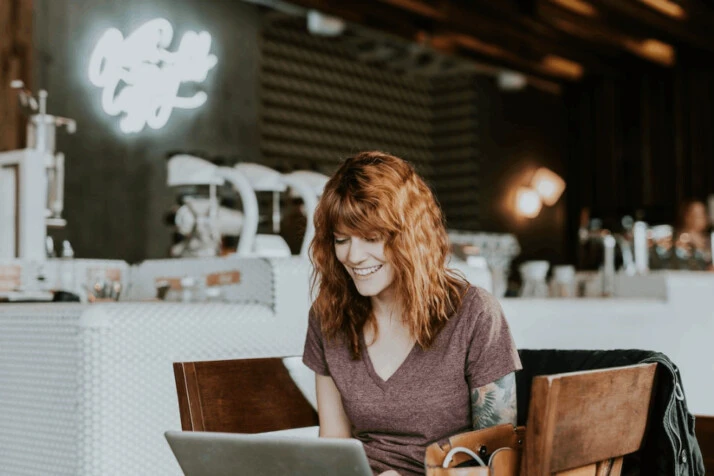 1. Send A "Thank You" Note
You just gave your interview, and now you have another chance to leave a perfect impression.
You can send your first note precisely one day after the interview. Send a short email to thank the recruitment manager for their time.
Make it a habit to write notes after an interview with a group of people. Then, in your follow-up, describe one specific aspect of their organization or what you learned from the interview experience with them.
This is an opportunity to show your excitement and the potential value you can add to their organization. Finally, let them know you hope to hear from them soon.
Here are some tips for writing an impressive thank-you letter:
Keep it brief, clear, and conversational. Write naturally and let your gratitude and personality shine.
Reiterate your interest in the position. Don't go overboard and briefly reinstate your excitement for this opportunity.
Appreciate them for their time. Job interviews take time and energy. Saying thanks shows that you are considerate and grateful.
Add more information. If you had forgotten to say something in the interview, use this chance to say it now.
Email Template Example
Hi [Interviewer Name],
Please accept my sincerest gratitude for meeting with me today. After learning more about the position, I'm excited about the opportunity to join your team and help inspire prospective clients for [company name].
I really enjoyed hearing your perspective on why your company stands out.
I know my years of experience working on sales would greatly benefit [company name].
Please feel free to contact me at any point. I look forward to speaking with you soon.
Warm regards,
[Your Name]
2. Send A Follow-Up Note
If you don't get a response from the employer by the date they announced, don't email them immediately. Wait until the deadline has passed before messaging them again.
It may be possible that you weren't selected for the job but you're still among the shortlisted candidates. Give them some time to think things through.
Put a note on your calendar to reach out one week after the interview if you still haven't heard back. Then, send a small, positive note – no more than three paragraphs – to the manager who interviewed you.
For most candidates, it can be awkward to communicate after days of silence. You might be worried that it will come across as desperate or annoying.
However, if you communicate carefully, you can come off as highly motivated and interested. You may even build a relationship with the team and they might eventually consider you fit for this position.
Email template Example
Dear [manager],
I am writing to follow up on my interview on [date] for [position]. I was wondering if you had any updates to share about the position.
Moreover, I enjoyed our meeting and getting to know more about [company]. Your team's commitment to training and development impressed me in particular. In fact, I feel that this growth mindset fits perfectly into my career goals.
Please let me know if there is any more information you request.
I would be thrilled to work with you at [company], and I look forward to hearing from you.
Regards,
[Your name]
3. Stay in Touch
Rejection is a normal part of the job-hunting process. Regardless of the final outcome, you can always use this chance to find new connections and build your network.
Even if you don't get the position, having them as a contact may be beneficial in the long run. If you keep in touch, they will likely reach out to you when another job opening comes up.
So, treat this like a new opportunity to socialise with others in the industry. However, be careful not to overdo it. Always be professional, genuine, and proactive.
Here are some tips to help you start:
Network through social media. Keep the conversation going. Occasionally send them articles or information that might interest them, congratulate them on recent achievements, and engage with their posts.
Update your social media. In addition to connecting with the company on LinkedIn, remember to update your profile to reflect your current role, skills, and certifications.
Email Template Example
Dear [Name],
Hope you're doing well. I am reaching out to say thank you for your time and consideration. I genuinely enjoyed my meeting with you and others at XY Inc. To be specific, I found your career journey truly inspirational.
As someone who hopes to build a career in graphic design, I am interested to learn how you developed and refined your skills.
I understand you're busy, but if you have 20 minutes to spare, it would be great to chat with you. Will you be available for a phone call or coffee chat sometime in the next few weeks?
Thanks again,
Regards,
[Your Name]
Final thoughts
Now you know the different ways to write a follow up email to talent acquisition.
Always read your follow-up email carefully before sending it. You should ensure you're spaced correctly, punctuated, and fixed any typos.
Keep your communications professional, polite, and prompt with recruiters.
You'll soon find the dream job you've been looking for!
Explore All
Write A Follow Up Email Articles