So you've just finished your job interview, what now? Well, it might be a great idea to follow up. Only a few people realize the importance of a well-written follow-up email after an interview.
This simple gesture can significantly improve your chances of getting that job offer. And we've got some key steps you can follow for a killer follow up email after interview. These won't only get you a response but also leave a good impression!
You want your follow-up email to sound professional and not too eager or desperate. It's the perfect opportunity to stay in touch with the Company's hiring manager and thank them for their time. And it's certain to keep you at the top of their minds.
When To Send Out A Follow-Up Email After Interview
You don't want to wait too long before sending that follow-up email. It's best to follow up within no more than 24 hours after the interview. This will ensure that your interview is still fresh in the hiring manager's mind.
Why You Should Send Out A Follow-Up Email After the Interview
The often ignored follow-up email has the potential to make a great impact on the future of your job prospects. They are essential for several reasons, including:
It reinforces your interest in the position.
Leaving a follow-up email after a successful interview is an excellent way to let the hiring manager know you're serious about joining their team. Your follow-up message can provide a way to clear their doubts about your enthusiasm during an interview.
Exhibits that you're not afraid to take the initiative.
Employees tend to choose candidates ready to take control of their jobs rather than wait for detailed instructions. You can show your interviewer you're driven and bold by sending them a follow-up email soon after your conversation. This may be the thing that convinces them to choose you for the position.
Keeps you in the mind of the hiring manager.
If you have been interviewed for a position at a reputable company, chances are you're in for some intense competition. Following-up emails are a great way to remind someone you're a terrific candidate and effectively increase your chances of getting hired.
It gives you a chance to mention other important information.
Have you ever been at a loss for words during a job interview? Well, it can happen to the best of us. Job interviews can be stressful, and that stress can make you forget to highlight important details about your skills.
Sending a follow-up interview email is a great way to fix this. It can be an opportunity to share more about what you can offer in a few short sentences.
It shows your understanding of professional courtesy.
Respect and good manners are values that will never go out of style. By saying thanks after a job interview, you'll demonstrate professionalism and increase your chances of building a good relationship with the hiring manager. If they decide not to hire you for this particular job, they might recommend you for other open positions.
Key Steps For Killer Interview Follow Up Emails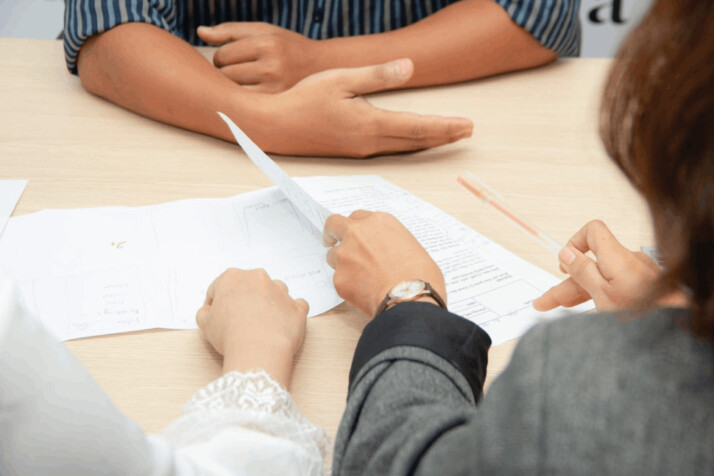 Write a clear and engaging subject line.
Your email subject is one of the first things your interviewer will see. And as such, it needs to be clear and engaging enough for them to open it. Do not overthink or try to be too creative. You simply want to clarify your email's intent.
Here are some great and simple subject lines that you can refer to:
I'm very grateful for the opportunity, [Hiring manager's name]
I'm so happy to have learned more about [Company's name]
Thank you for your time and advice [yesterday/today/whenever the interview was] [Hiring manager's name].
Remember to include your interviewer's and/or company's names in the email subject line. Personalization is an effective way to create rapport.
Start the body of the email by expressing your gratitude.
Tell your interviewer that you appreciate them for taking the time to discuss the position with you.
Address your recipient by name and include their specific job title. You can also include your interview date if you couldn't send a follow-up email on the day of the interview itself.
Explain what value you can add to help the Company achieve its goals.
Try to include a paragraph that briefly outlines your experience, skills, and interests and explain how they align with the Company's goals. This is another opportunity to sell yourself to the manager.
Refrain from repeating everything you said in the interview; instead, talk about the essential things you failed to mention.
Highlight what sets you apart from the other applicants
Mention what you bring to the table and what qualities set you apart before you close your email. It's time to state any vital information regarding your experience or skill set that you previously failed to mention. Lastly, let your interviewer ask any questions they may have, and tell them you anticipate hearing from them soon.
End the email in a positive and professional manner
Finish your email with a polite closing phrase like "Best regards" or "Yours sincerely" and your professional email signature. Your Signature should contain your contact information, such as your email address and phone number.
Killer Follow Up Email After Interview Message Examples
Example 1
Hi [Hiring Manager],
Thank you so much for taking the time to interview me yesterday. I enjoyed meeting with you and learning more about the [position].
My skills and extensive experience are an excellent match for this role. I'm excited about using my skills to contribute to the Company's success.
I appreciate your consideration, and I'm looking forward to hearing from you soon.
Sincerely,
[Signature]
Example 2
Hi [Recipient Name],
Thank you very much for your time in interviewing me for the [Job position]. I greatly appreciate it. Based on our conversation, my skills and background greatly fit this position.
In particular, my experience with [skill] and [skill] makes me confident that I would excel in this role. I am also excited to learn more about [relevant topic].
I look forward to hearing from you soon.
Sincerely,
[Your name]
Example 3
Hello [name of interviewer],
Thank you so much for sharing some insightful advice with me during our interview today. I enjoyed learning more about the Company and the role. And I am confident that my skills and experience are a good match for this position.
I am passionate about [skill] and have [number] years of experience in [relevant field]. In my previous role, I increased sales by [percentage] due to my creative marketing strategies. I am confident that I could bring similar results to your team.
Thank you again for your time, and I look forward to hearing from you soon.
Sincerely,
[Your name]
Conclusion
A killer follow up email after interview might just be the thing that helps you get the job offer you've been hoping for. Take the time to implement these key steps to get the best result possible. Make sure to sell yourself and remind the interviewer why they should pick you!
Explore All
Write A Follow Up Email Articles