Congratulations! You aced the interview, and now you're just a few steps away from starting your ideal career.
But there is still an essential task before you can finally be sure of the job offer. You need to know when to follow up after an interview and how.
Following up after an interview is often overlooked, but it's one of the most critical steps in the process. It shows that you have enthusiasm for the position and, depending on how well you do it.
This could give you a better chance at making a lasting impression on the hiring manager. Plus, following up offers them another opportunity to learn more about you as a potential candidate – what's not to like?
So, if you're wondering when and how to follow up after an interview, read our seven steps to get the job.
When to Follow up After an Interview
It's vital to know when the best time to follow up after an interview. Doing it too soon can appear desperate or pushy, but waiting too long can make you seem uninterested. You want to strike a delicate balance between being eager and patient.
Your first step should be to ask the interviewer when they expect to make their decision. This indicates when you should check back with them – usually, one or two weeks later is appropriate. If they don't give a definite timeline, then aim for one week after the interview as a good rule of thumb.
Seven Ways to Follow up After a Job Interview
Once you know when it's time to follow up, here are seven steps to make sure your follow-up stands out: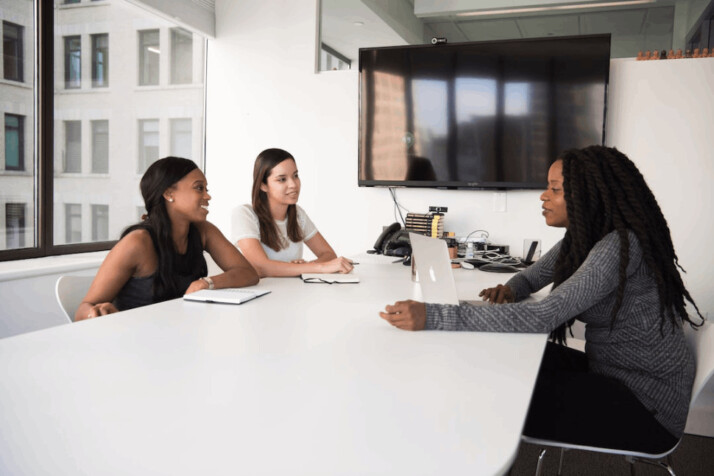 Step 1: Aim to Follow up Within 24 Hours of Your Interview
The sooner you follow up after your interview, the better. Hiring decisions are often made quickly, so send a follow-up email within 24 hours of leaving the office. This will demonstrate that you are keen and motivated and that they should consider your application further.
Step 2: Send an Email or a Handwritten Note
Although calling the hiring manager immediately may be tempting, sending an email with a handwritten note is always the best practice. It allows you to craft an articulate, professional message to which they can refer back.
Step 3: Express Your Gratitude
Start your email with a thank you for your time and consideration. That way, the hiring manager will know you are grateful to them for taking the time to pay attention to you. They'll also be more likely to read through your message if it starts on the right foot.
Step 4: Mention Something You Enjoyed About the Interview Process
There might be something about the interview process that struck a chord with you. Be it the conversation topics or even just how polite everyone was, make sure to mention it in your follow-up. Doing this shows that it made an impression on you and will also break up the monotony of your message.
Step 5: Provide Further Information
There might be something you didn't discuss during the interview or something you think would be beneficial for them to know. Make sure to include it in the follow-up. This could be a skill or experience that wasn't mentioned in the original application but that you believe necessary for the job.
Step 6: Ask Any Questions You May Have
The follow-up email should also include any questions you may have after interviewing them. For example, you might want to know more about their expectations from a successful candidate. Or what specific skills they are looking for, now is the time to ask.
Step 7: Conclude With a Positive Note
End your follow-up email positively expressing your desire to work at their company. Doing this will remind them why they should consider you a potential candidate. It will also make them more likely to remember you during the hiring process.
Example of an Email Template to Follow up After an Interview
To give you a glimpse of what the perfect follow-up email might look like, here's an example to get you started.
Subject Line: Thank You for Considering Me
Dear XXX,
Thank you again giving time to meet with me and discuss the position of XXX at your company. I was very impressed by both the office atmosphere and all the friendly faces on your team – it made a great impression on me!
Moreover, my experience and interest in XXXIX make me an excellent fit for this role. Please inform me if you have additional information that would be helpful for you to consider when making your decision.
I hope to hear from you soon, and the prospect of joining your team intrigues me.
Thank you again for welcoming me into your office!
Warm regards,
(Your Name)
Tips to Writing an Effective Interview Follow Up
Following up after an interview is a great way to demonstrate your enthusiasm and interest in the job. Keep this advice in mind to make sure your follow-up stands out:
Craft a professional, well-thought-out email – think of it as another chance to show off your writing skills;
Personalize your message for each company you interviewed with;
Don't be afraid to ask questions; and
Make sure you include links to relevant portfolio pieces or other documents.
Final Thoughts
Following up after an interview is a critical step in the job-hunting process. It allows you to demonstrate your enthusiasm for the position and provides an excellent opportunity to stand out from other applicants. Use the tips outlined above to make sure your follow-up makes an impact with potential employers – and best of luck!
Explore All
Write A Follow Up Email Articles