As the best man at a wedding, you have the vital role of delivering a heartfelt and memorable speech at the wedding reception. But how do you write a best-man address that will leave an indelible impression on the couple and the audience? When you're unfamiliar with public speaking, it can be overwhelming. Don't worry; you can rely on our tips to learn how to write a best man speech.
In this article, we'll provide a step-by-step guide on how to craft a speech that perfectly captures the love and connection between the couple. With research, organization, practice, and confidence, you'll be able to create a memorable speech.
What Is A Best Man Speech?
The best man speech is a heartfelt and meaningful address delivered at the wedding reception. Traditionally, the groom's best man is tasked with crafting and delivering this speech. It is now becoming more commonplace for other wedding party members, like one of the groomsmen, to deliver this kind of speech.
The "best man" speech is a unique opportunity to articulate the lovely relationship of the couple. And deliver unique words of wisdom to the newly married. It's also the time to celebrate the marriage by sharing beautiful memories of the couple's adventurous and romantic beginnings. The speech should be about the couple. It should celebrate the union of the two people and their commitment to each other as wonderful, life-affirming, and triumphant.
As the best man of the wedding, your speech should be lighthearted and funny and detail your relationship with the groom. You may use anecdotes and jokes to engage the audience. Ultimately, the goal of the speech is to leave guests with warm memories that will last far beyond the day of the ceremony.
Elements of an Effective Best Man Speech
1. Introduction
The best man's speech should begin with an introduction, thanking guests for coming, and acknowledging other people at the party.
2. The Bride & Groom Story
Briefly describe how the bride and groom met or highlight some of their favorite activities that made them so compatible. Use humorous anecdotes about the couple to add a personal touch.
Reminisce on past experiences shared with the newlyweds. Share funny stories that showcase what makes them unique as a couple.
4. Special Message
Share your opinions on why you believe the couple can have a lasting marriage. Focus on the positive attributes they both bring to their relationship.
5. Toast
Finally, make a toast to congratulate the happy couple!
How to Write A Best Man Speech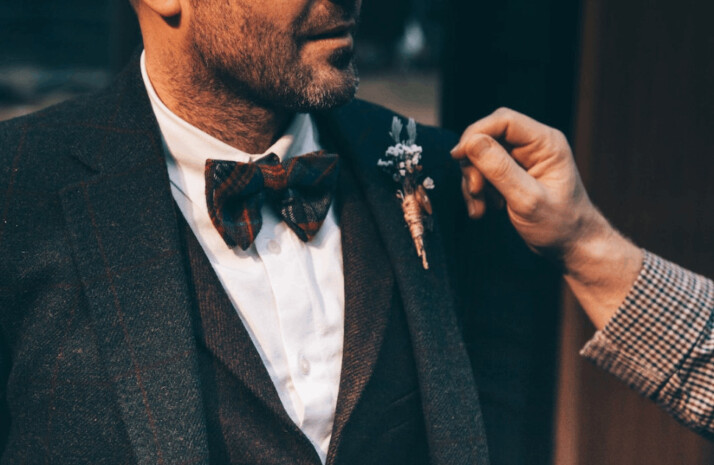 Step 1: Brainstorm ideas before the main day
Think of funny stories that reflect the groom's personality and your relationship with him, anecdotes from shared experiences, and well wishes to the couple. Take notes on these ideas as they come up.
Step 2: Structure your speech
Structure the speech into three parts: introduction, body, and conclusion. Introduce yourself, describe how you know the groom, and get right into the body of the speech. Then, include a special message for the couple, and don't forget the big finish – the call for a toast!
Step 3: Use anecdotes
Include funny stories about the groom and anecdotes about the groom's journeys to finding his beloved. You may also point out his deep commitment and love for his partner.
Step 4: Wrap things up
Offer a piece of advice to the couple. Also, express gratitude to the wedding attendees. Say your congratulations to the newlyweds and wish them a happy future together. Be sure to add emotive and be lighthearted but sincere.
Step 5: Review
Once the structure is complete, fill it in with more detail and use specific examples to make the story relatable. Use colorful language, and varied sentence structure, and include at least one uncommon word per sentence. Also, check grammar and spelling!
Step 6: Practice out loud.
Practice out loud until you can deliver your speech without looking at your notes. Speak naturally and expressively like you would during a conversation with friends. Time yourself so that you don't go over any time limits specified.
Step 7: Deliver your speech on wedding day
Take deep breaths before delivering your speech. Believe in yourself and trust that you will do an excellent job as the best man – because you will!
Tips for Delivering a Great Best Man Speech
Delivering a great best-man speech takes work, but you can do it with the proper preparation.
Here are some tips that will make your speech stand out:
1. Know Your Audience
Before writing your speech, think about who will be in attendance and what type of language they will appreciate. Use anecdotes that are relatable and entertaining for your audience.
2. Choose an Appropriate Length
Aim to keep your speech between 3-5 minutes long. Make sure to time yourself when practicing ensuring you're staying within this window.
3. Practice
Rehearse your speech several times before the big day so that you feel confident and comfortable delivering it. Practicing also allows you to become familiar with the flow and content of your speech.
4. Be Engaging
Don't just read off your notes – engage with the crowd. Speak up and smile while showing enthusiasm and creating a positive atmosphere.
5. Utilize Humor
Inserting funny stories or jokes into your speech is one way to get people laughing and engaged in the conversation. However, make sure these jokes are appropriate for all ages!
6. Include Positive Anecdotes
Talk about memories shared with the bride and groom to show how much they mean to you. Touch on special moments shared to give everyone a glimpse into their relationship.
7. Finish Strong
End your speech by thanking guests for coming and wishing the couple luck as they start their new life together. This will leave a lasting impression and wrap up your address nicely.
Mistakes to Avoid When Writing a Best Man Speech
Writing a best-man speech can be intimidating and nerve-racking. To make your speech as perfect as possible, it's important to avoid certain pitfalls. Here are some mistakes to steer clear of when crafting your best man speech:
1. Omitting Practice
A good speech comes with preparation. Spend ample time practicing in front of a mirror or recording yourself so that you feel confident before stepping up to the mic.
2. Relying on Humor
Humor goes a long way but don't rely too much on jokes that may not land well with the crowd. Balance out funny anecdotes with heartfelt emotion and respect for the couple.
3. Venturing Too Far Into Personal Stories
Your experiences with the groom should bring the audience closer to him but keep things tasteful and appropriate. Stick to stories that emphasize the groom's qualities that made him worthy of his bride.
4. Neglecting to Incorporate Others
The speech is mostly about the couple, but give thanks for all the efforts and hard work that went into planning the wedding.
5. Lack of Emotional Impact
This special day calls for emotion and sentimentality, two qualities you mustn't overlook! It's okay to show vulnerability and sincerity to create a touching moment.
Best Man Speech Examples
If you are still wondering how to write a best man speech, these examples should help you get started.
Example 1
"I'm honored to stand here today as the best man of my dear friend, [groom's name]. We've known each other for [number] years, and in that time, I've seen [groom's name] grow and change in so many ways. However, one thing that has always remained is his love for [bride's name]. From the moment I met her, it was clear that she was the one for him. [Bride's name], you bring out the best in [groom's name] and make him the happiest man I know. You guys make an amazing couple, and I'm confident you'll always be there for each other. May your marriage be full of love, laughter, and all the things that make life worth living."
Example 2:
"Good evening, everyone! It's an honor to be here today as Best Man for this special occasion. In fact, my relationship with the groom has been unchanged since we were children. We've seen a lot of life together. And what a dense journey it's been! His moral code is respected in all aspects of his life, even when it means making hard decisions.
He puts the needs of others before himself, often giving up personal rewards for someone else. This speaks volumes about his character and spirit strength, which deserve to be commended and celebrated.
The groom and his fiancée are united by their affinity for adventure and exploration. Theirs is a bond characterized by courage and audacity; they aren't afraid to try new things or venture into unknown realms together. That courage will serve them well in their married life together as they navigate its successes and challenges.
I'm sure everyone will join me in wishing these two lovebirds a long and healthy union filled with joy, solace, and beguilement. Congratulations!"
Conclusion
When writing a best man speech, there are many things to remember. Most importantly, practice, practice, practice. To speak eloquently and make it feel genuine, bring some personal insight into your speech. Be honest about your thoughts about the bride and groom, and let them know your sincere love for them.
With the tips above, you can craft a best-man speech that will be remembered for years. If you still need help on how to write a best man speech, you can use Hey INK. It will get you an excellent speech in minutes!
Explore All
Write A Speech Articles