People around you, whether family, friends, or acquaintances, will get married someday. And you might be tasked with delivering the grand wedding speech.
Well, it's a great honor, and you have to nail it so you won't embarrass the couple and yourself. Wedding speeches are a time-honored tradition that allows friends and families of the newly wedded to express their wishes on the couple's special day.
The thought of giving a wedding speech alone can send shivers down your spine, but it needn't be that scary. Just take a deep breath and follow the steps on how to write a wedding ceremony speech in this guide.
With practice and the right dose of confidence, you'll know what to say the minute you step up to the podium. But first, you need to draft a memorable and heartfelt wedding speech that will be remembered for years.
This article provides tips on writing a great wedding speech that will get the couple and audience laughing, and cheering.
How to Write A Wedding Ceremony Speech
Writing and delivering a wedding speech can be challenging but also a fun and rewarding experience.
Here are some steps to guide you in writing a perfect wedding speech:
1. Determine your role in the wedding
Are you the best man, maid of honor, father of the bride, or a close family member or friend? This will help you determine the focus of your speech and how you should address the couple and the guests.
2. Consider your relationship with the couple.
What is your relationship with the couple? And what do you love about them? What are your favorite memories with them? Stories and anecdotes that reflect your fondness for the couple will make your speech personal and meaningful.
3. Make a list of the points you want to cover in your speech.
You don't want to leave out any important detail from your speech. Highlighting all crucial points will make you cover everything you want to discuss. It will help you deliver an organized speech.
4. Add a personal touch.
Your wedding speech is not a debate or news. It is an excellent opportunity to share your favorite feelings and memories about the couple. Including your personal experience with either couple will make your experience meaningful and memorable.
5. Keep it light and add humor.
A wedding ceremony is a time to celebrate and have fun, so try to inject humor into your speech. However, avoid anything that might be inappropriate or offensive.
6. Practice your speech
Rehearse your speech a few times before the big day to feel more comfortable and confident. You can record yourself giving the address to see how you perform and the areas you need to work on.
7. Be yourself
When it comes to delivering your speech, don't sound boring or act robotic. Be yourself and have fun! The most important thing is to be genuine and authentic in your speech. It will show if you're having a good time, and your audience will do the same.
Tips for Writing and Delivering the Perfect Wedding Ceremony Speech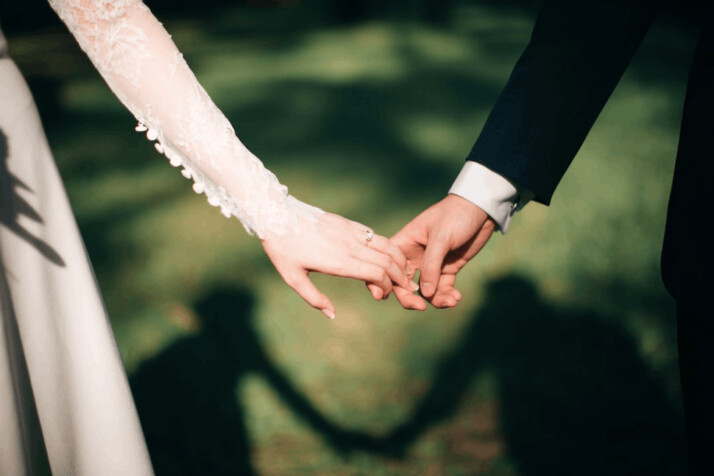 Start by introducing yourself and stating your relationship with the couple. This helps set the context for the rest of your speech.
Keep it short and sweet. A wedding speech is not the time for a long-winded monologue. Aim for 5-7 minutes in length.
Be sincere and authentic. Your speech should come from the heart and reflect your true feelings about the couple.
Use personal stories to illustrate your points. This helps to make your speech more memorable and engaging.
Practice, practice, practice! Make sure you have your speech memorized or a good outline to follow. This will help you deliver a flawless speech.
Use appropriate humor, but be mindful not to offend anyone. A little humor can be a great way to lighten the mood, but it's important to avoid making inappropriate jokes or comments.
Conclude your speech with good wishes for the couple and a toast to their future together.
Examples of Wedding Ceremony Speech
Example 1
Good evening everyone,
I'm honored to be here tonight, celebrating this special day with the newlyweds. I am someone who has attended many weddings in my life and experienced the joys of marriage firsthand. However, today's occasion is unique and beautiful.
A union between two souls is no small feat. It requires much devotion and fortitude to surmount any hardships together and ultimately reach true felicity. We mustn't take for granted the power of love which allows us to face those trials head-on with unwavering courage and tenacity.
As you both enter into this new stage in your lives, don't forget to give time for yourselves away from all these festivities. You see, in the flurry of activity and commotion, there exists an immense solace to be found only in moments of intimate repose. Appreciate every single moment spent together as if it were your last. Because you are blessed to have found each other amid a world of uncertainty at the end of the day.
Let me express my heartfelt congratulations to the happy couple in their nuptial bliss. May they live happily ever after – not just on paper, but in reality!
Cheers!
Example 2
Ladies and gentlemen, it is my great pleasure to stand before you today as we celebrate the union of this beloved couple. I have been lucky enough to know them both for many years now and can confidently attest to their profound commitment to each other. They are indeed a dynamic duo. They do everything together, from picnicking on sunny days to rallying for their favorite political causes.
I am in awe of their willingness to take risks and face hardships. Even when times are tough, they never cease to foster resilience and espouse indefatigable determination. Theirs is truly a symbiotic relationship, as they tenaciously seek out new opportunities while supporting one another through thick and thin. It warms my heart to see these two embarking on an intrepid journey into wedded bliss!
Let us bid farewell to their singlehood with sincere cheerfulness and serendipitous sentiment. As friends, let us offer our utmost congratulation and wishes of everlasting felicity. May the newlyweds continue to live joyfully and harmoniously evermore!
Example 3
Good evening friends and family; it's a pleasure to be here tonight celebrating the union of our dear friends [Couple]! Having known them for quite some time, I can confidently say they make an extraordinary couple.
Their relationship is so strong how well they balance each other out – opposites attract and all that – while maintaining such profound compatibility. They give one another room to grow while still being supportive and affectionate. I've seen firsthand how this pair deals with life's ups and downs; together.
[Couple] have always been genuinely interested in the well-being of others, not simply paying lip service. It's admirable when people understand that there are more incredible things than just themselves and take action accordingly.
On this beautiful occasion, I wish you both nothing but peace and joy on your journey ahead. May your unyielding devotion continue to flourish in perpetuity!
Congratulations on your sweet union!
Wrapping Up
If you have the opportunity to give a speech at a wedding ceremony, it is a great honor. It means that the couple trusts you enough to give you the room to share their beautiful day with them. You must not take this for granted.
Take out time to write a wedding ceremony speech that is short, sweet, and beautiful. Be comfortable, and don't embarrass the couple by presenting a poor or offensive speech. This guide on how to write a wedding ceremony speech will help you write the most beautiful and memorable address.
Explore All
Write A Speech Articles