Writing a memorable memorial speech that captures the life and legacy of your loved one can be an incredibly daunting task.
From finding the right words to sharing personal memories, it is often difficult to know where to begin. That's why understanding how to write a great memorial speech is essential for any eulogy or remembrance ceremony.
With careful consideration and adequate preparation, you can write a powerful memorial speech that truly pays tribute to the dearly departed. This article provides practical tips for crafting an effective and heartfelt speech about your beloved family member or friend.
What Is a Funeral/Memorial Speech?
A memorial speech, also known as a eulogy, is an emotive and deeply personal address. In this speech, a speaker pays tribute to the life of their departed loved one. It can often be a difficult task. Speakers must find ways to effectively communicate the essence of a person's being while simultaneously conveying heartfelt emotions.
Some draw on factual examples to capture how the deceased positively impacted those around them. Others focus on poetic passages to emphasize the beauty of life.
The aim is not just to commemorate but also to comfort. Such speeches strive to bring solace by reminding listeners of the fond memories shared and the love lost.
Tips on How to Write a Great Memorial Speech
Keep the following tips in mind to write a heartfelt memorial speech that touches the audience and makes it more meaningful.
Start With a Strong Opening Line
Begin with an inspiring quote or message to set the tone of the speech. Consider using a phrase relevant to the deceased, such as a favorite saying or advice.
Connect Your Story to the Audience
Connect your story to the audience and share how you are all connected through grief and loss. Tell stories about the deceased that showcase their unique characteristics, humor, and positive outlooks on life.
Be Vulnerable and Honest
Allow yourself to be vulnerable and honest when writing the memorial speech. Speak from the heart so that those in attendance can relate to the emotion behind each word.
Incorporate Vivid Descriptions in Your Words
Use vivid descriptions and metaphors to illustrate moments with the deceased. Paint a picture with words to bring back fond memories for all who knew them.
Make Sure to Thank Everyone
Don't forget to thank everyone who attended, sharing what their presence means to you during this difficult time. This helps create a sense of community for all present.
Choose Strong and Powerful Words
Choose strong words that evoke powerful imagery and emotions to honor the memory of the deceased. These words will also effectively convey how much they will be missed by all who love them.
End on a Positive Note
Always end the speech on an uplifting note, like telling a happy anecdote about the deceased or offering encouraging words for those grieving.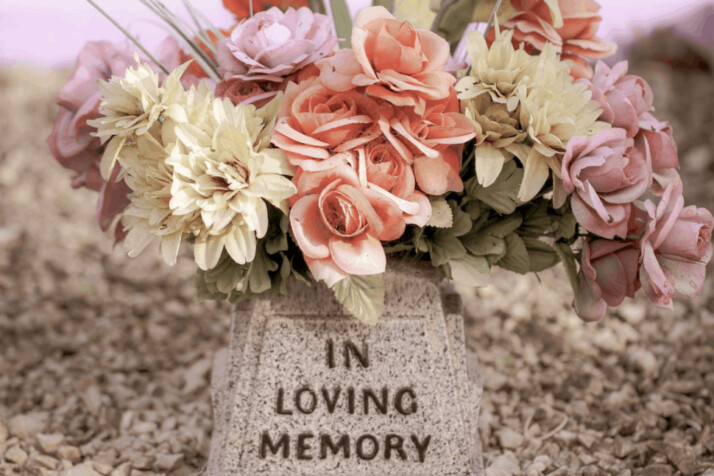 List of Great Memorial Speech Examples
If you know someone who has recently passed away, it may be difficult to know where to start when writing a funeral speech. If you are looking for a possible template, take ideas and inspiration from the speeches below to write one on your own.
Example 1: Eulogy for a Parent
I stand here today at my mother's funeral, surrounded by family and friends, to pay tribute to her with this eulogy. It is such a heartbreaking time for us all as we try to come to terms with the loss of someone so precious. Yet, I know that our fond memories of her will never fade away.
My mother was always one for doing whatever she felt was needed for those around her. From volunteering in the community to helping out family and friends when they were in need, she did it all with unwavering enthusiasm. She had an innate ability to make people feel special and loved, regardless of their situation or background. Her generosity of spirit was truly remarkable and something many of us could aspire to have.
As a parent, she provided me with everything I could ever need. From physical protection to emotional guidance – I could not be more thankful for how much she cared about me. Even in moments of struggle, her kind words were enough to remind me that everything would work out in the end. I shared countless laughs, tears, and hugs with her over the years, and I'm sure many others present can say the same.
Losing a beloved mother is never easy. If there is any solace to take, it is knowing somewhere out there is a world full of happy memories we can cherish forever.
I will miss you, mum, but your memory will live on in each and every one of us.
Example 2: Eulogy for a Partner
I want to take a moment and talk about my wife, who has been the best partner I could have ever asked for. I remember when we first met, it was love at first sight. From then on, our relationship blossomed into something so beautiful and amazing that words cannot do it justice. She helped me in more ways than I can count, from keeping me organized to helping me think through difficult situations.
When she passed away, it felt like all the light had gone out of the world. But if there is one thing I know for sure, it's that her memory will never be forgotten. Her legacy will live on forever in everyone's hearts that knew and loved her dearly.
I read stories about how many people are inspired by her life and work. And it fills my heart with immense joy knowing that her impact lives on. One of the most important things she taught me was always to put family first and give back to those less fortunate than us.
It's hard to say goodbye, but I know she's watching over us, guiding us each day. Goodbye, sweetheart; you will always remain in our thoughts and prayers.
Example 3: Eulogy for a Sibling
Today we are gathered here to honor and celebrate my brother's life. He was an incredible person with a unique personality that touched the hearts of many. My brother had a special way of comforting people in any situation, no matter how hard times were or how dire they seemed. His time on this earth was filled with laughter and support for those he loved most: his family and friends.
My brother always put others before himself. No matter what experience came his way, he always found a way to help out. From being there for me when I needed someone beside me to providing support for our parents, his presence will be sorely missed by all.
I am blessed to have spent so much time with him throughout my life, as it has enriched me immeasurably. His unwavering spirit, kind heart, and infectious laugh will forever live on in my memory like waves reflecting off an ocean of contentment. As we bid farewell to my brother, may we never forget the joy he brought into the lives of everyone who knew him. May today's funeral bring peace and solace to all those his spirit touched.
Conclusion
Overall, writing a memorial speech can be an emotionally fraught task. However, with the right approach and examples, you can craft an appropriate tribute that will capture the essence of the person's life.
Utilize both personal anecdotes and factual evidence in combination with unique language choices. It will create an effective memorial speech that honors your loved one in a meaningful way.
This article outlines effective tips along with examples to use as inspiration when crafting a memorial speech.
Explore All
Write A Speech Articles