Writing an effective salutatorian speech is a challenging yet rewarding experience.
It takes creativity, dedication, and plenty of practice to craft the perfect words. It must inspire your peers as you send them off into their future endeavors. But with the right guidance and valuable tips, anyone can learn how to write a salutatorian speech that celebrates the occasion. It highlights the importance of being there for each other in our collective journey through life.
This article discusses how to create an impactful salutatorian speech and provides examples of how to best accomplish this important task.
What Is a Salutatorian Speech?
A salutatorian speech is an address typically given by a graduating student with the second highest grades in their class. It often serves as a symbolic gesture to recognize students' academic achievements and hard work while offering inspiration to their peers.
This type of oration is unique because it combines elements of both reflection and motivation. It allows the speaker to impart words of wisdom gleaned from their educational experiences and hope for the future. As such, a salutatorian speech can be considered a meaningful moment of closure as graduates bid farewell to their alma mater.
How to Write a Salutatorian Speech
To craft a compelling salutatorian speech for your graduation day, follow the tips below on how to write an effective salutatorian speech:
Brainstorm Ideas
Take the time to reflect on meaningful memories, important lessons, and experiences you have had during your school years.
Consider stories or quotes from teachers, mentors, friends, family members, etc., that have positively impacted your life. Incorporate these elements into your salutatorian address.
Outline Your Speech
Start by outlining the main ideas and points you wish to convey in your speech.
Aim to be clear and concise with each point while conveying emotion as needed. Be sure to include examples that will help illustrate a specific idea or point. Use uncommon words to add variety and interest to your speech.
Write the Draft
Taking your outline as a guide, begin writing out the full draft of your speech. Include powerful imagery, metaphors, and storytelling elements throughout to bring it alive for the audience. Incorporate humor where appropriate.
Also, use this opportunity to recognize and thank key individuals who have helped shape you throughout your school experience.
Practice Your Delivery
Once you've written down your speech, practice saying it aloud several times before delivering it to your classmates. This will give you an opportunity to refine and tweak it until you are completely comfortable with the delivery.
Enlist the help of a friend or mentor if desired to provide feedback on phrasing, pronunciation, and flow of the message.
Delivering the Speech
On graduation day, take a few deep breaths before beginning your speech. Speak confidently and clearly, and make sure to look up at the crowd often as you deliver your address.
Finally, end strong and with impact – after all, this is likely one of the most memorable days of your young life!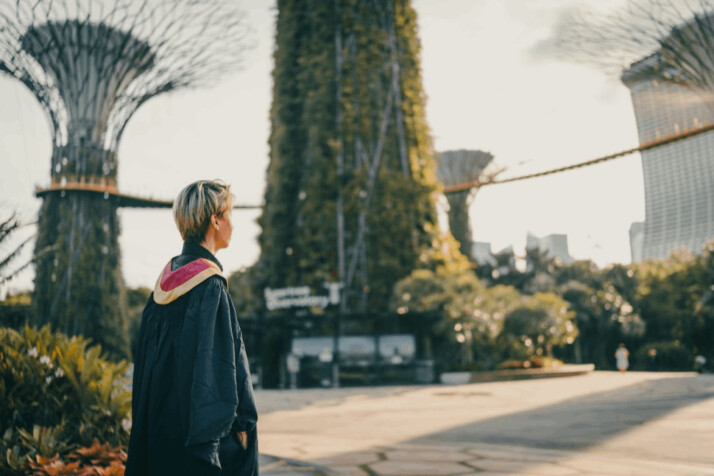 Great Example of a Salutatorian Speech
Below are two examples of great salutatorian speeches to help you craft a compelling one for your own.
Salutatorian Speech Example 1:
Good evening everyone! I want to take this moment to congratulate the entire graduating class of 2021. We made it! What an accomplishment, what a huge milestone in our lives! All that hard work finally paid off, and now we stand here today, ready to move on to the next chapter.
I'd like you to join me as I reflect on these past few years at school. We've gone through countless exams, projects, and assignments together. As individuals, each of us worked diligently toward our own success. But despite having different aspirations for our futures, our class was united by something deeper: camaraderie. Throughout every obstacle and challenge we faced, someone from our class always had our back. That is what has kept us going this far – and will continue to help us achieve even more great things in life.
You won't want to lose focus in the hustle of everyday life. But don't forget to pause for a minute and appreciate how far you have come – because no one gets here alone. So I encourage you to look around and acknowledge those who helped you reach graduation day. It's our family, friends, teachers, and classmates alike.
We may be parting ways soon but know that with all the knowledge and experience gained throughout these years at school, anything is possible. The world is full of opportunities – go out and make your dreams happen! Congratulations once again, class of 2021!
Salutatorian Speech Example 2:
Good morning, fellow classmates and guests! Today marks the end of our journey together in this school. I want to take a moment to reflect on all that we have achieved over the past four years. From sports championships won to friendships forged, these accomplishments are worth celebrating.
I know many of us have mixed feelings as we leave our beloved class behind. We've studied hard, laughed loud, and shared some incredible experiences. Graduation day is an opportune time for us to remember those moments with fondness and look ahead to the future with anticipation.
Today is about the commencement of a new chapter and an opportunity to honor the people who helped us get here. From parents, teachers, and coaches, to friends, they all offered guidance along the way. For without them, none of us would be here today ready to tackle what lies ahead.
As we go forth into the world beyond our classrooms, let us embrace its challenges and seek out ways to grow as individuals. Class of 2021, congratulations on your graduation and best wishes for a bright future!
Conclusion
Writing an effective salutatorian speech is a skill that requires careful thought and planning.
By paying close attention to details such as structure, language, experience, and emotion, you can create a unique and memorable experience for the audience. With these tips and examples in mind, you will be well on your way to crafting an inspiring speech!
Explore All
Write A Speech Articles