Writing an effective welcome speech is a form of art. It requires a delicate balance of knowledge, wit, charm, and the right dash of emotion to make your audience feel valued and at home.
Knowing how to write a welcome speech that resonates with people and draws them in is no small feat — it takes practice and finesse!
In this article, we'll delve into the intricacies of writing a successful welcome speech. This will help you confidently greet guests, create lasting impressions, and set the tone for any event.
What Is a Welcome Speech?
A welcome speech is an important part of any event that marks the beginning of a new journey or celebrates a milestone. It sets the tone for the rest of the event and helps create a sense of community amongst guests and participants alike.
A well-crafted welcome speech should have a captivating opening, personalized introductions, acknowledgments, humor, and appreciation for those present. It must also highlight other key elements to ensure that everyone in attendance has an enjoyable experience.
Crafting such a speech can be gratifying as it gives a voice to people's collective enthusiasm and will help make the event truly special.
Great Tips on How to Write a Welcome Speech
We have compiled some effective tips onhow to write a welcome speechthat will set the tone and engage the audience. Follow these suggestions and make your speech stand out.
Establish a Connection
Greet the guests at your event with warmth and enthusiasm, welcoming them to the occasion. A few personalized touches can go a long way in making attendees feel welcome and appreciated.
Set the Tone of the Event
Start by thanking everyone for coming, and be sure to use language that reflects the tone of your event. This is especially important if you are having an informal gathering versus a more formal one.
Express Gratitude
Make it a point to thank special guests or anyone who went above and beyond to help make the event possible. Doing so will show how much their efforts were appreciated.
Give an Overview
Summarize what attendees can expect from the event and provide any key information they should know before participating.
Offer Words of Encouragement
Provide encouraging words to guests and remind them why attending this particular event was important to them. Invite them to make the most out of this experience while also stressing the importance of taking some time to relax as well.
End on a High Note
Conclude the speech by wishing everyone a good time. Express your appreciation once again, or provide an inspiring quote that encapsulates the purpose of the gathering. Be sure to thank each person present for being part of the day.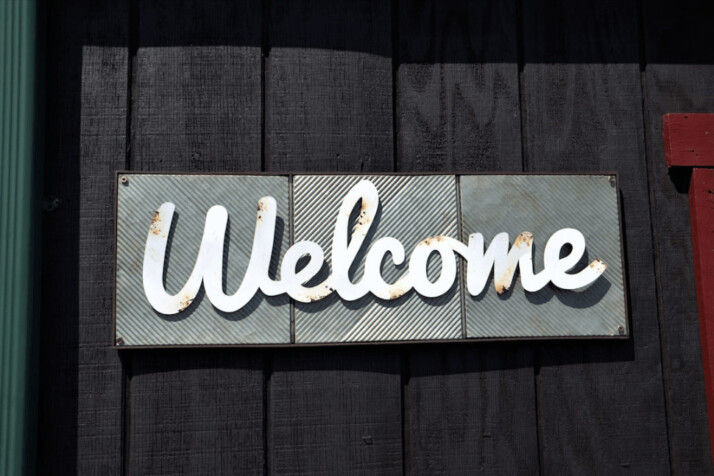 Examples of Effective Welcome Speech
Take inspiration from the examples below to help you write an effective welcome speech based on your requirements.
Example 1: Welcome Speech for a Corporate Event
Good evening everyone, and welcome to our special corporate event. I'd like to start by introducing myself; my name is [Name], and I'm honored to be here with all of you today.
I would like to extend a warm greeting to our esteemed guests who joined us this evening. Your presence truly makes this night that much more special. It's great to see such a lively audience here tonight!
As we begin, let me remind each of us how essential it is to include the various perspectives gathered in this room. Only when we come together can we form solutions tailored to fit each individual's needs.
So without further ado, let's get started on making this an unforgettable night. Thank you for being here!
Example 2: Welcome Speech for a Church Event
Greetings and welcome to our church event! Let us take a moment to express gratitude for the many blessings and the special opportunity to come together like this today.
We are delighted to introduce you to the amazing speaker who will be presenting here today. He is an individual with vast knowledge of the topic at hand. He has graciously agreed to work with us and share their wisdom with us.
I'm sure by the end of the presentation, we'll be feeling invigorated, enlightened, and ready to put into practice what we have learned today. So let's show appreciation for this good fortune, and bid our guest a warm welcome!
Example 3: Welcome Speech for a Cultural Event
Greetings, everyone! Welcome to our cultural event of the evening!
I want to thank all of you for coming here today and participating in this unique experience. I am confident all of us will leave with an appreciation for our cultures and a better understanding of how similar we truly are.
This is a great opportunity to learn about different customs and traditions from around the world. With luck, skill, and hard work, this year could bring success to our mission of global unity through shared experiences.
Good luck to everyone who is showcasing their talent or displaying traditional artifacts! We are eager to witness your ingenuity and creativity. Like all meaningful endeavors, there will be challenges along the way, but the rewards will outweigh them if we work together.
So let's make sure that this cultural event succeeds by collaborating effectively and celebrating each other's differences!
Example 4: Welcome Speech for a Fundraising Event
Good evening everyone. I am honored to be here on this very special occasion! Let's all take a moment to show our respect for the people who have come together tonight with one common purpose. That is – raising funds for an incredibly important cause.
I want to welcome each and every one of you warmly in a formal manner to this function which we are hosting annually. As many of us know, the money raised tonight will go toward helping those affected by natural disasters in our own country. We need your help to make this event successful so we can continue providing aid in the upcoming year.
So let's make tonight count and work together to reach our fundraising goals! Thank you again for joining us; it is truly appreciated.
Example 5: Welcome Speech for a College Event
Good evening everyone! I am excited to welcome you all to the annual college event tonight. It has been my privilege and joy to be a part of this school and see the amazing students come through each year. So it is a special night when we get together to celebrate our achievements!
I want to take a moment to recognize the incredible job our staff has done in the past year. They helped us focus on improving our skills and growing as individuals. Our faculty members are some of the best around, and they are truly committed to seeing every student reach their highest potential.
Finally, let's not forget why we're all here: to have fun and enjoy the company of friends. We've worked hard and deserve a break, so with that said, join me in celebrating another successful year for our college. Enjoy the rest of the evening!
Conclusion
This article explains how to write a welcome speech effectively, along with examples. Nail your welcome speech by making it personal, informative, friendly, and outgoing.
The key to a great welcome speech is a brief and well-crafted introduction. As the first speaker, it is important that you establish rapport with your audience. It will leave them in a positive and receptive mood, leading to a successful event for everyone present.
Explore All
Write A Speech Articles