Graduation is a key part of any person's life. It is a transition from academic life to a more vital stage, be it higher education or professional life. As with all forms of change, the transition can be a scary phase. Learning how to write a commencement speech is crucial to any authority figure.
Not only is it a way to calm the nerves of graduates, but it's also an opportunity to inspire a new generation. If you want to master the art of writing an impactful speech, read on.
What is a Commencement Speech?
It is an inspiring address given to graduating students to motivate and encourage them as they transition into the next stage of their lives. It provides insight into success, offers advice for challenges, and encourages graduates to pursue their passions.
A good commencement speaker utilizes anecdotes from personal experiences, humor, and powerful language to captivate the audience and impart a timeless message.
The writer's expertise can be demonstrated by presenting pertinent facts alongside humorous stories to drive home key points.
Using uncommon words, he can create an impactful narrative that resonates with the audience and remains memorable well beyond the moment of delivery.
Esteemed leaders usually give commencement speeches not just because of their authority.
The Significance of a Commencement Speech
A commencement speech is an important opportunity to advise and guide those beginning a new chapter in their lives. As such, you should craft your speeches carefully and imbue them with the speaker's experience and wisdom. A commencement speech serves as both a source of knowledge and a vehicle for inspiring others.
Personal experiences and examples relevant to the audience allow the speaker to impart essential lessons that will help guide graduates into their future.
Commencement speeches are significant to the audience because they help mold and direct the potential in each individual. The following section will show readers how to write a moving commencement speech.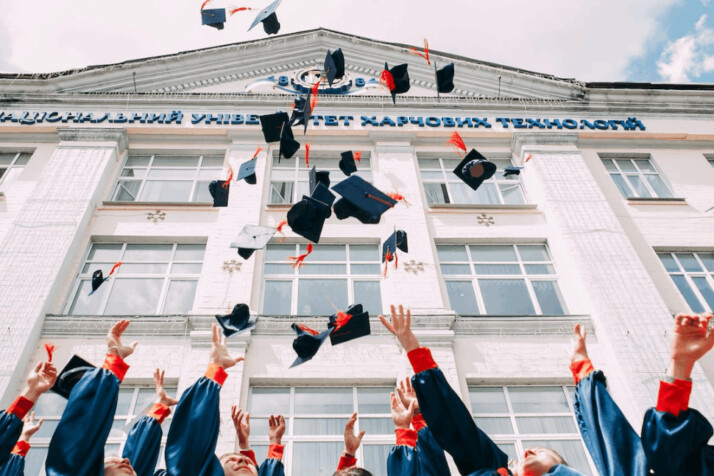 How to Write a Commencement Speech
Prepare Thoroughly
Before starting to write a commencement speech, take time to research and reflect on the topic. Gather as much information as possible about the school's culture, values, and goals so that you can incorporate these elements into your address. Additionally, preparation is essential because it grants you the confidence needed for effective delivery.
Choose your ideas carefully, and make sure to keep your speech short and inspirational. Long speeches tend to be tedious.
Invoke Emotion
Try to evoke emotions in your audience while maintaining professionalism. Emotional stories, inspiring quotes, and anecdotes are great ways to engage listeners with your message. Few things can move people the same way that emotions do.
Emotions also make your speech more memorable. Many principles of Psychology point out that people are likelier to remember the feelings introduced by an experience than specific details.
Speak From Personal Experience
To make your words more meaningful and authentic, draw upon personal experiences. For example, share moments of success or lessons learned along the way that demonstrates your knowledge and insight.
Personal anecdotes come across as authentic and credible, thus creating a deeper connection with your audience.
Balance Humor and Seriousness
While it's important to keep things lighthearted, remember to be serious. Use well-crafted jokes and humorous comments when appropriate but avoid going off-topic. Again, it's a matter of tact and context.
End with a Powerful Closing Statement
After delivering an impactful message, end strong by tying together all of your points. A memorable conclusion will inspire and motivate audiences, thus fulfilling the main purpose of your speech.
Sample Commencement Speech
Good morning everyone, and congratulations to the Class of 2021! Today is a day for celebrating all that you have achieved. However, as someone who experienced the hardships, successes, and lessons life can bring, I want to leave you with some key advice.
First, be bold in your endeavors and take calculated risks. Life is full of challenges, but don't let them paralyze you; look for opportunities to grow. As Teddy Roosevelt said, "Do what you can, with what you have, where you are." Second, don't just strive to succeed – strive to learn. By proactively seeking out knowledge and wisdom, you'll reap the rewards far beyond those of monetary gain. Finally, never forget the power of self-reflection and introspection. In an age of immediacy, it's easy to get caught up in distractions. Take time to observe yourself objectively, so you can identify areas of improvement and further develop personally.
I am confident that each one of you will make use of these values and go forth to achieve greatness. Thank you, and congratulations once again – my heartiest felicitations to the Class of 2021!
In Summary
A commencement speech is a structured message that imparts wisdom and words of comfort to graduates. Effective speeches can leave lasting impressions and may even influence the outlook and behavior of your audience. This is why you must learn how to write a commencement speech.
The same principles apply if you're writing a graduation speech for college or high school graduates. Use these tips to set an example for a younger audience.
Explore All
Write A Speech Articles